Top Lists
5 Unknown Facts About Marketa Vondrousova's Sister: Does She Play Tennis Too?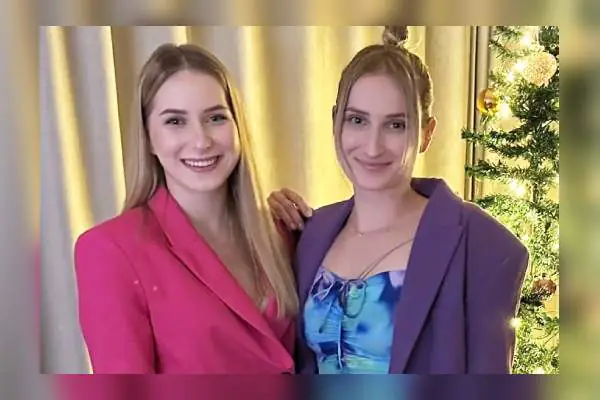 Marketa Vondrousova's Sister. Image Source: Social media
The Czech tennis player, Marketa Vondrousova's sister, experiences the clicks and flicks of constant media attention. This shows that being associated with a celebrity relative brings you under the inevitable spotlight.
Meet Julie Kalouskova, a celebrity sibling who won the hearts of tennis fans in the 2023 Wimbledon tournament. After knowing what Julie did for her sister, the act will surely leave you with a smile. In the dazzling world of fame and fortune, she stays clandestine, but it's her bond with her celebrity sister that truly illuminates her inner persona.
Stay with us as we present you the five unknown facts about Julie Kalouskova, her relationship with her big sister, Marketa, and their companionship.
5. Family with a History of Sports
Julie is frequently seen accompanying her sister's tennis matches and training sessions, which shows her enthusiasm towards the sports. The young lady might serve and swing her racquet here and there in a few bits, but she has yet to become a professional tennis player. Talking about Julie Kalouskova's older sister, Marketa has been surprising tennis pundits with her exceptionally solid performances over the past few years.
Marketa Vondrousova was born on June 28, 1999, to parents David Vondrous and Jindriska Anderlova, in a town called Sokolov, located in the Karlovarsky Kraj region of the Czech Republic. Similarly, Marketa's younger sister, Julinka (Julie), was born in September 2005. She is 18 years old as of 2023.
Marketa followed in the footsteps of her father, David, a former sportsperson who introduced her to tennis at the age of four. Meanwhile, Julie played volleyball as a kid and followed in the footsteps of her mother, Jindriska, who played volleyball for SK Slavia Prague team in the top Czech league, Extraliga. Likewise, their grandfather, Frantisek Frk, was the renowned Czech national Penthalon champion in 1935.
4. Raised by a Loving and Supportive Stepfather
Marketa was just three years old when her parents divorced, but both David and Jindriska stayed in her life and supported her growth as a tennis player. Now you must be wondering and raising your eyebrows. There might be a question strolling in your consciousness about Julie's biological father.
After three years of her mother's divorce, Julie was born, but the exact information about her biological dad is extremely secret. As per Jindriska's social media, she remarried on August 8, 2009, with her second husband, Tomas Anderle. Since then, Tomas has been raising and supporting his stepdaughters' pursuits like his own children.
Both sisters are very fond of tattoos. They both have multiple tattoos on their body, some with a message such as "No rain, no flowers," which means no pain, no gain. As of now, Julie prefers to live a low-key life, but she gets clicked on a few times by the media, thanks to her big sister's fame.
ALSO READ: Popular golfer, Jeff Maggert Biography
3. Mysterious and Hidden Away from Social Media
After excavating some information through social media, we found that Julie actually played school volleyball. At present, she might be focused on her studies. Who knows, the celebrity sister might have something else planned for her career.
Despite coming from a lineage from a sports family, Marketa Vondrousova's sister Julie manages to keep her personal life behind the curtains. She is very young, and the reason behind her secretiveness might be the overwhelming aspects of fame and glamour. Further, she is not so active on social media, with her Instagram being private and Facebook being inactive.
Nevertheless, Julie has a powerful connection and bonding with her older sister, which makes us believe there is nothing like sisterhood. Likewise, Marketa is also very fond of her little sister. The two have gone on several vacations, parties, and family outings.
2. Marketa Vondrousova's Sister's Reaction went viral
On July 15, 2023, Marketa made history by becoming the first unseeded Wimbledon champion. For the information, the term unseeded refers to those players who have not been ranked among the top 16 players by the competition's organizers.
During the final moments of the match, Marketa's sister, Julie's heartfelt reaction, won the hearts of tennis fans. As she watched her sister win, her reaction was caught on camera, which melted tennis fans' hearts.
In the moving clip, Julia can be seen nervously watching from the sidelines while holding her head and biting her lip. She held back her tears as she watched intensely until Marketa won the Wimbledon title. The sisters get together and celebrate the big win in the latter moments of the video.
Similarly, you would like to read about NFL player Kamren Curl's Bio.
1. Knowing Marketa Vondrousova
The 24-year-old Marketa Vondrousova is a Czech professional tennis player. She became the first unseeded woman to win the 2023 singles titles at Wimbledon. In the 2019 French Open, she became the runner-up and became the first teenage major to finalist in nearly ten years. Also, Marketa has won two singles titles out of six finals on the WTA Tour and a silver medal at the 2020 Tokyo Olympics.
View this post on Instagram
Marketa Vondrousova's husband, Stepan Simek, is an IT manager and the player's longtime boyfriend. After five years of dating, the couple married on July 16, 2022. They were engaged in August 2021. Their marriage ceremony took place at Chateau Mcely, one of the most luxurious hotels in the Czech Republic.
As per reports, Marketa has an estimated net worth of $5 million and has major lucrative deals piping up. Moreover, she defeated Ons Jabeur of Tunisia in the Wimbledon women's single, which became a major turning point in her career.
Looking at Marketa and Julie's sisterhood, one can realize the siblings has a strong connection where their hearts intertwine, laughter harmonizes, and creates the strength of a thousand bonds of love, support, and cherished memories.
Keep visiting BroadBiography to check out more interesting news, article, gossip, and biographies.
References
Did you notice an error ?
Please help us make corrections by submitting a suggestion. Your help is greatly appreciated!