Sports
Henry Arundell Biography: Rising Star of Racing 92 and England Rugby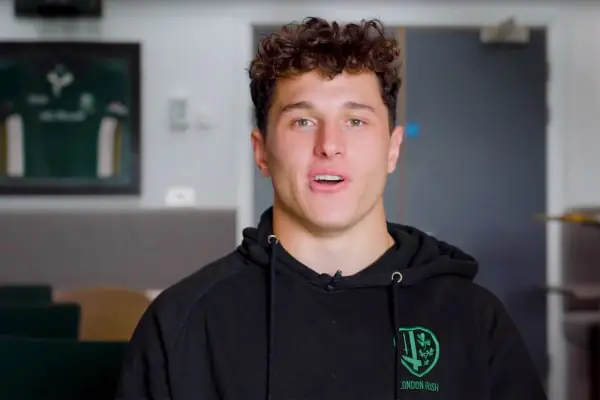 Henry Arundell Biography. Image Credit: Social Media.
Full Name

Henry Arundell

Age

21 yrs

Birth Date

November 8, 2002

Country

England

Relationship Status

Not Confirmed

Nationality

English

Profession

Rugby Union Player

Awards and honors

England squad – 2023 Rugby World Cup third place

Education

Beechen Cliff School, Harrow School

Height

6 feet 0 inches
In the heart of rugby's realm, a captivating tale unfolds where passion and skill intertwine. Within this realm emerges Henry Arundell, a rising star whose brilliance ignites the field like an unforeseen celestial phenomenon.
As he dons the Racing 92 jersey and carves his path in the England rugby team, Arundell captivates fans and experts alike with his exceptional abilities heightened by unwavering determination. With every electrifying stride enveloped in strategic precision, he leaves an indelible mark on the sport, propelling him toward greatness.
Delve into Henry Arundell biography as we embark on a spellbinding journey through the Englishman's life and career – an odyssey that reveals not only a rising star but also an icon destined to etch their name profoundly within rugby history for generations to come.
A Passion Ignited: From Cyprus to Rugby Dreams
Born in 2002 at the Royal Air Force base in Dhekelia, a Sovereign Base Area and British Overseas Territory on Cyprus, Arundell's early years were marked by this unique setting before eventually relocating to the United Kingdom.
Henry's father, Ralph Arundell, served as an army officer with The Rifles for thirty years, accomplishing tours of duty across locations such as Northern Ireland, Iraq, and Afghanistan. Meanwhile, his mother, Jane, brought her healthcare expertise to her role as a nurse and health visitor within the NHS.
Having shown promise in various sports during his time at Holt VC Primary School, Arundell began honing his athletic abilities from an early age. He continued his education at Beechen Cliff School near Bath prior to enrolling at Harrow School when his father joined its staff. This move positioned him conveniently within reach of London Irish's academy, which he became part of upon reaching fourteen years old.
ALSO READ: Kyle Sinckler Biography: The Prop Powerhouse of Bristol Bears and England Rugby
Rising Above: Arundell's Journey Through the Ranks
Arundell's innate talent and unwavering dedication quickly garnered the attention of astute talent scouts and accomplished coaches within the highly competitive rugby community. With each game he played, Arundell's exceptional performances at the junior level not only ignited a spark of recognition but also propelled him forward towards remarkable opportunities.
In the Premiership Rugby Cup of 2022, Arundell displayed exceptional skills and caught the attention of many with his standout performances. One memorable instance was when he scored two tries against Leicester Tigers in a thrilling semi-final match. Another notable display came during a 20-minute substitute appearance against Wasps, where he not only scored a try but also earned the title of Man of the Match.
Additionally, Arundell showcased his extraordinary abilities by scoring an incredible try that began on his team's own goal line while competing against Toulon. His outstanding contributions to London Irish led to him being recognized as Premiership Rugby's young player of the season for 2021-22.
Demonstrating his commitment to the club, Arundell signed a new "long-term" contract with London Irish on June 10th, 2022. However, due to unfortunate circumstances surrounding administration issues at London Irish in June 2023, Arundell made a decision to join Racing 92—a prestigious French side based in Paris—in pursuit of continued success and growth in his career. Henry will join fellow countryman David Ribbans to play in the French league.
Triumph and Transformation: Arundell's Professional Debut with Racing 92
Henry Arundell has emerged as a true force to be reckoned with since joining the esteemed Racing 92 in 2023. His impact on the team has been nothing short of remarkable, as he quickly rose through the ranks to become an indispensable asset for this renowned French club.
What sets Henry apart is not just his exceptional speed or agility but also his innate ability to forge attacking opportunities that leave opponents astounded. In a mesmerizing and awe-inspiring display, the prodigious talent of England Rugby's rising star, Henry Arundell, was undeniable as he graced the French Top 14 stage.
ARUNDEEEEEELLLLLLLLLL!!!!

HE'S OFF THE MARK ON DEBUT!

— RugbyInsideLine (@RugbyInsideLine) November 12, 2023
Racing 92 witnessed firsthand his unparalleled skill and remarkable athleticism when he lit up the field with an astonishing hat trick against Toulon in their clash. With just 21 years to his name, Arundell's decision to make the switch from the English Premiership to join Racing 92 proved to be a masterstroke as he effortlessly adapted himself to the intense and fiercely competitive realm of French rugby.
Arundell's arrival at Racing 92 sparked a transformative shift in the team's attacking dynamics. His remarkable combination of speed and agility enables him to effortlessly leave defenders behind, paving the way for numerous scoring opportunities for his teammates. Beyond creating chances, Arundell consistently showcases his exceptional finishing prowess through expertly executed tries.
Not limited to offensive contributions alone, Arundell also demonstrates formidable defensive capabilities. A forceful tackler with an unwavering commitment to protecting the defensive line, he epitomizes diligence while continually honing his all-around game.
It comes as no surprise that Arundell's outstanding performances have garnered immense praise from coaches and pundits alike. Renowned as one of French rugby's most captivating young talents, he is poised for a dazzling future in the sport – undoubtedly destined to become an instrumental figure in England's national team throughout the upcoming years.
A National Honor: Representing England on the International Stage
In the highly anticipated 2022 Six Nations Under 20s Championship, Arundell showcased immense talent and caught the attention of both fans and experts alike. He emerged as one of the standout players in the competition, achieving an impressive feat as he shared the top spot for try scorers with a total of four magnificent tries.
Following his outstanding performances, Arundell's potential was duly recognized by being named an "apprentice player" in England's squad for their exhilarating tour of Australia in 2022. Making his debut on July 2nd, he wasted no time leaving a lasting impact on his first match by scoring a sensational try moments after stepping onto the field from the bench.
As a further testament to his remarkable abilities, Arundell received yet another notable accolade when he earned a coveted place in England's esteemed squad for the prestigious Rugby World Cup held in 2023. His inaugural appearance at this grand stage against Chile proved nothing short of spectacular as he etched himself into English rugby history by equalling their joint record with five breathtaking tries during that memorable match on September 23rd — resulting in an emphatic victory with an astounding scoreline of 71-0.
Since then, Arundell has continued to impress on international duty, amassing 35 points and scoring an exceptional tally of 7 tries. With teammates like Maro Itoje, Ollie Chessum, and Ellis Genge to guide the young star, the future of England is in safe hands.
A Bright Future Ahead: Arundell's Prospects and Legacy
The 21-year-old rugby player is widely regarded as one of the most promising talents in the sport. His exceptional skills were on full display during the recent Rugby World Cup, where he scored an impressive five tries. Currently playing for Racing 92 in France, Arundell's contract with London Irish ended abruptly when they entered administration last season.
It comes as no surprise that there are speculations about his potential return to England after his tenure with Racing ends, thus maintaining eligibility for the national team. However, it's worth noting that financial instability plagues Premiership clubs at this time.
Interestingly, other leagues have become increasingly enticing from a fiscal standpoint. Reports suggest that rugby league clubs in the NRL are expressing keen interest and eyeing him as a potential recruit. Intriguingly enough, sources indicate that Arundell is open to exploring opportunities outside of the union and might consider transitioning towards rugby league once this current season concludes.
Notably, individuals close to Arundell have already made initial contact to express their interest on behalf of various clubs within the 13-man code; however, formal approaches from teams are yet to be made official or finalized.
The Mystery of Henry Arundell's Love Life and Net Worth
Despite the spotlight on Henry Arundell's successful rugby career, little is known about his personal life, particularly in regard to his romantic relationships. The elusive nature surrounding Arundell's relationship status has led both fans and media outlets to indulge in speculation concerning whether he is currently involved or unattached.
Maintaining a sense of privacy regarding their personal lives is not uncommon among young athletes like Arundell, who are wholly dedicated to their professional pursuits. With each new achievement propelling him further into stardom within the world of rugby, it may only be a matter of time before additional glimpses into his personal life and the identity of Henry Arundell's girlfriend begin to surface.
Notwithstanding lucrative contracts boasting substantial earnings, Henry Arundell's net worth remains a mystery as the player has chosen to remain tight-lipped about his exact fortunes.
As previously noted, given that the French league typically offers more generous financial rewards when compared to its English counterpart, as well as sponsorship deals with brands like Kymira, Twenty Sports Group, and Nike London, it wouldn't come as a surprise if Arundell's assets amount to millions. Nonetheless, we will have no choice but to exercise patience until concrete numbers emerge conclusively.
As fans eagerly anticipate the next chapter of Henry Arundell biography, there is no doubt that the English prodigy's name will be forever etched in the annals of rugby history, celebrated as an icon of the game.
Did you notice an error ?
Please help us make corrections by submitting a suggestion. Your help is greatly appreciated!