Sports
Brittany Lincicome Biography: From Florida to Fairway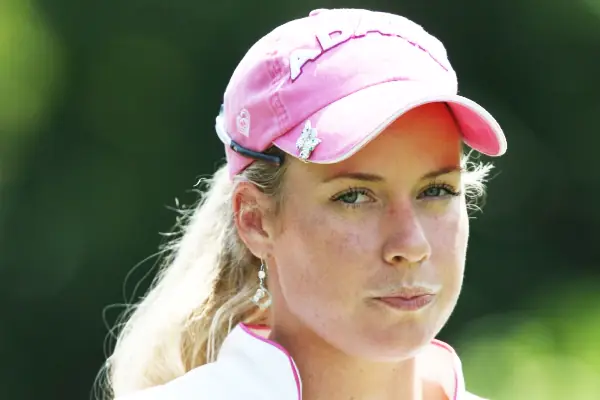 Brittany Lincicome Biography. Image Credit: Keith Allison.
Full Name

Brittany Grace Lincicome

Age

38 yrs

Birth Date

September 19, 1985

Country

America

Relationship Status

Married

Spouse

Dewald Gouws

Nationality

American

Ethnicity

White

Profession

Golfer

Children

Emery Reign Gouws and Sophia Grace Gouws

Awards and honors

Chevron Championship

Education

Seminole High School

Height

5 feet 10 inch
The world of golf is about the thriving community of players who bring their passion to the fairways often. Not only men but women have also been instrumental in raising the sport's profile. Among such prominent golfers lies a force to be reckoned with, and she is none other than Brittany Lincicome, a swinging success in LPGA.
Let's delve into the details of Brittany Lincicome biography, exploring her early life, career highlights, major achievements, and personal life. Needless to say, some of her groundbreaking moments kicked off a journey of progress and achievement in women's golf that continues to this day.
In terms of visibility and recognition, Brittany and other prominent golfers began to make pivotal strides in golf. Amassing an impressive fortune out of the sport, the ladies are equally responsible for making women's golf a genuinely global and inclusive sport.
Early Life, Family, and Introduction to Golf
Born as Brittany Grace Lincicome on September 19, 1985, in St. Petersburg, Florida, this American native began playing golf early. Further, her parents and her brothers played a role in helping her find her passion for sport.
The only daughter of Tom Lincicome and Angie Lincicome, Brittany grew up with two older brothers named Hunter and Bryan Vickers. She started swinging the golf club by watching her siblings play and accompanying them to the local golf course.
At 9, Lincicome curated a dream of becoming a golfer, a feat which her parents well received. Therefore, she was homeschooled during her early years. All that training at a neighborhood golf course became enough supplement for Brittany to become a junior champion.
Early Success, Professional Debut, and Major Championship Triumphs
During her junior years at the Seminole High School Girls Team, Brittany showed exceptional golf skills. After high school, she qualified for the LPGA tour in 2004 at 19. Brittany secured her first LPGA Tour victory two years later at the HSBC Women's World Match Play Championship.
Following her first win, Brittany earned a spot in the U.S. Solheim Cup for the first time after winning the 2007 Ginn Open event. It didn't take long for her to make an impact on the LPGA Tour as she made her mark by winning two majors, the 2009 Kraft Nabisco Championship and the 2015 ANA Inspiration.
This early success marked the beginning of a career that would see Lincicome consistently competing at a high level. Known for her powerful drives and aggressive style of play, Lincicome earned herself the nickname "Bam-Bam" for the length off the tee. Moreover, she has often been among the longest hitters on the LPGA Tour.
ALSO READ: Ashleigh Buhai Biography: From Amateur Golfing Sensation to Major Champion.
Brittany Lincicome Husband: Is He a Golfer too?
Brittany Lincicome is a happily married woman with two adorable daughters. But the story of her longtime marital union dates back to 2012 when she met her future husband for the first time.
A South African native, Dewald Gouws, competed at the 2012 World Long Drive Championships in Nevada, where he first saw Brittany. For information, Long Drive is a sport where players compete to hit or drive a golf ball the farthest.
After the event, Dewald was fascinated from the moment he said hello to Brittany. Moreover, they bonded quickly due to their shared passion for golf. From then onwards, the pair began dating each other within a few months.
Two years later, the golfing lovers engaged in Clearwater Beach in December 2014. Likewise, Brittany Lincicome married her longtime boyfriend, Dewald Gouws, on December 12, 2015, at the Sandpearl Resort in Clearwater Beach, Florida. The guests included some of their mutual friends, such as Morgan Pressel, Jessica Korda, Sandra Gal, and Paula Creamer. As of now, they have been married for eight years.
Balancing Motherhood and Professional Career
They say behind every successful man is a woman, but Brittany Lincicome's husband proved that the roles can be interchanged. Before their engagement, the lovebirds were in a one-year-long distance relationship. Dewald was working in South Africa but quit and moved to the United States to live with his beautiful wife.
After marriage, Brittany Lincicome's partner, Dewald, left his professional long-drive career. He remained in the background to support his dear wife. 
Despite being tough to balance the act of having a golf career and raising a family, Brittany did exceptionally well in maintaining both arcs. However, her journey to being a mother was not always joyful. Before delivering her first child, Brittany and Dewald struggled to conceive. Unfortunately, she had a miscarriage in 2018.
On July 8, 2019, Brittany and Dewald welcomed her first child, Emery Reign Gouws, eight weeks premature, weighing 4 pounds, 11 ounces. Two years later, the golfer again suffered a second miscarriage at 12 weeks in May 2021. Luckily, they had their second baby girl, Sophia Grace Gouws, on August 5, 2022, at 36 weeks old, weighing 6 pounds and 7 ounces.
Net Worth, Earnings and Lucrative Deals
Over the years, the LPGA has grown into a premier women's professional golf organization, hosting numerous events annually with millions of dollars in prize money. On a similar note, Brittany Lincicome's career is filled with honorary victories and accolades. These achievements established Brittany's reputation as one of the top female golfers and contributed considerably to her net worth through prize money and endorsements.
View this post on Instagram
The evolution and expansion of the LPGA have been pivotal to the growth and development of women's golf. Therefore, Brittany Lincicome's net worth and her prominence rose after she became a Rolex First-Time Winner in 2006, winning six consecutive games as the HSBC Women's World 39th seed. According to Spotrac's most recent reports, the LPGA golfer is rated 27 on the All-Time Money List Female Golfer in 2023. Take a moment to look at her earnings.
| | | |
| --- | --- | --- |
| Date | Tournament | Winner's Share (Earnings) |
| Jul 9, 2006 | HSBC Women's World Match Play Championship | $500,000 |
| Apr 15, 2007 | Ginn Open | $390,000 |
| Apr 5, 2009 | Kraft Nabisco Championship | $300,000 |
| Jun 5, 2011 | ShopRite LPGA Classic | $225,000 |
| Apr 5, 2015 | ANA Inspiration (2) | $375,000 |
| Jan 29, 2017 | Pure Silk-Bahamas LPGA Classic | $210,000 |
| Jan 28, 2018 | Pure Silk-Bahamas LPGA Classic (2) | $210,000 |
Table Source: ESPN
Brittany Lincicome's career earnings from 384 events stand at $9,663,831. Brittany Lincicome's success in professional golf is undoubtedly reflected in her career earnings. Beyond her success on the golf course, Brittany's marketability and relatable personality have attracted various endorsement deals and sponsorships. No doubt, her yearly shares in prize money are lucrative. Check out a few statistics given below:
| | | |
| --- | --- | --- |
| Year | Tournaments Played | Earnings |
| 2011 | 21 | $1,154,234 |
| 2015 | 26 | $933,521 |
| 2018 | 21 | $833,586 |
| 2023 | 13 | $57,505 |
Table Source: ESPN
Brittany Lincicome has a net worth of millions, which she accumulated through her nearly two decades of golf career. Likewise, she also earns a substantial amount from endorsement deals, sponsorships, or appearances, which would further boost her net worth. Her sponsors include DEX Imaging, Barbasol, Abacus Sportswear, Titleist, Footjoy, STORE Capital, and SParms.
In conclusion, Brittany Lincicome biography is a testament to her dedication, skill, and achievements in professional golf. As she continues to make her mark on the sport, fans can anticipate further accomplishments and contributions from this talented and accomplished athlete.
Did you notice an error ?
Please help us make corrections by submitting a suggestion. Your help is greatly appreciated!