Top Lists
Find Out About Golfer Carlota Ciganda's Boyfriend: Who is He?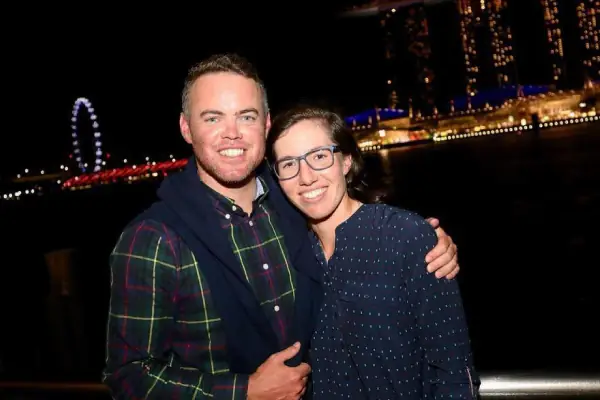 Carlota Ciganda Boyfriend. Image Credit: Instagram.
Sports is one of the basic joys of life, but sometimes joy finds us within the sport. Spanish professional golfer Carlota Ciganda found her loving partner within the golfing community. But does that mean her man is also a golfer?
If you are curious, then why don't we find out about the Spanish golfer Carlota Ciganda's boyfriend? We assure you that after reading this article, you will realize why the world is full of magical surprises. So, stay with us till the end.
From the time Ciganda qualified for the LPGA Tour on her first attempt, she has become a force to be reckoned with over the years. Recently, she represented her home country in the 2023 Solheim Cup.
Facts About Carlota Ciganda
Born as Carlota Ciganda Machinena on June 1, 1990, the Spain native grew up in Pamplona. Carlota Ciganda's parents, Jesus Ciganda and Maria Jesus Marchinena, are her biggest inspirations. Similarly, she began playing golf at 5 with her father's major influence.
Carlota's uncle, Jose Angel Ziganda, is a former football manager and former player who played as a center-forward in 381 La Liga matches. He has been a supportive figure in Carlota's sports career. Carlota grew up with a brother named Inigo Ciganda.
Just like American golfer Brittany Lincicome, Carlota enjoyed a successful amateur golf career. From 2000 to 2006, Ciganda became the Spanish National age group champion, winning the British Ladies Amateur and European Ladies Amateur Championship events.
Ciganda marked her debut with an outstanding performance, winning the Ladies European Tour's money title in 2012. While attending Arizona State University in the U.S., she became the first golfer to win Pac-10 Championships in 2009 and 2010.
Carlota Ciganda's Boyfriend: What Does he do?
The Spaniard is currently in a romantic relationship, and she is happily living the moment with her partner. Carlota Ciganda's boyfriend, James Longman, works as a caddie on the LPGA. Recently, he was spotted cheering for his girlfriend's match in Spain for her sixth Solheim Cup in 2023.
Although the couple hasn't openly discussed their love affair, it seems their love story began in 2015. Looking at Carlota's social media, we can see that she and James first met casually at a golf event. What seemed like a jolly friendship blossomed into a long-lasting relationship. As of now, the couple has been together for eight solid years.
Talking about Carlota Ciganda's lover, James Longman has caddied for several professional golfers, including Caroline Masson, Linn Grant, and Moriya Jutanugarn. Meanwhile, he has always been a supportive influence on his girlfriend's career.
ALSO READ: Who is Curtis Blaydes' Girlfriend? Meet The Woman Behind His Happiness
Togetherness, Golf Career, and Passion
It is common to see players fall in love with a caddy on the golf course. Take, for example, Ashleigh Buhai and her husband, David Buhai. Just like them, Carlota and her partner, James, have established themselves as a perfect couple in the LPGA.
On social media, Carlota and James often share their love for their one another. Also, we can say that the couple has strengthened their bond to the point of developing an intense relationship. Furthermore, Longman has caddied for his golfer girlfriend on numerous occasions, including the 2018 KPMG Women's Open PGA Championship.
So, is Carlota Ciganda married? The Spanish golfer and her English boyfriend have been dating each other for a long time. However, the couple is yet to be married. Also, they haven't shared any information regarding their wedding and further plans. But James is a part of Carlota's family, as he has been spotted with her family in numerous strips.
A Caddie and A Golfer's Love
It is known that James Longman is from England, and he is a professional caddy. Other than that, there is little information about his background. Nevertheless, he enjoys a loving memory with his girlfriend, visiting exotic places on vacations and watching sports tournaments.
Carlota's idol is Spanish tennis player Rafael Nadal, and she doesn't shy away from praising the legendary sportsperson. She tries not to miss his tennis games, and on one occasion, she took her lover, James, to watch the game in May 2018.
Thus, Carlota Ciganda and her love life might take a turn in the future. As of now, she hasn't been spotted with an engagement ring either; also, she hasn't spoken about her marriage plans. So let's just wish them all the best for their happy romantic affair.
FAQs
Q: Is Carlota Ciganda married?
A: No, Carlota Ciganda is not married.
Q: What does Carlota Ciganda's boyfriend do?
A: Carlota Ciganda's longtime boyfriend, James Longman, is a professional caddie on the LPGA.
Q: Who is Carlota Ciganda's caddy?
A: Carlota Ciganda's current caddy is Alvaro Prada.
Did you notice an error ?
Please help us make corrections by submitting a suggestion. Your help is greatly appreciated!