Activist
Annabel Caren Clark Biography: Discover The Life of Young Environmental Activist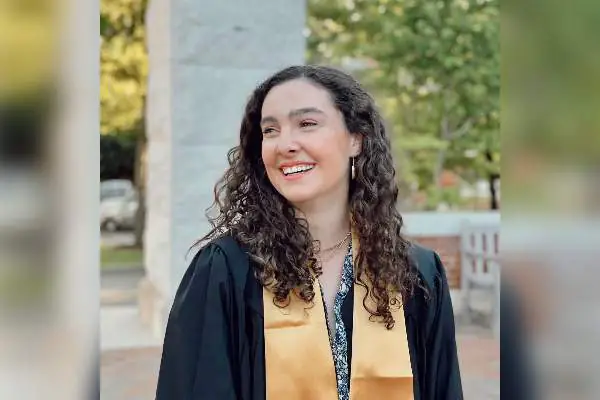 Annabel Caren Clark Biography. Image Source: Linkedin
Full Name

Annabel Caren Clark

Age

25 yrs

Birth Date

September 1, 1998

Country

America

Relationship Status

Not Confirmed

Nationality

American

Profession

Activist

Awards and honors

Hendrix College Book Award

Education

Emory University
The negative effect of environmental vandalism is clear, and such conditions should be aware as part of the societal community. People often neglect their desire to do good deeds thinking of hurdles and challenges. However, by looking at Annabel Caren Clark biography, we can take in the message that a big difference can be made even with a small effort.
The young and dedicated environmental activist, Annabel, is tirelessly working to protect the environment better. She is promoting youth leadership and is committed to natural sustainability.
Let's find out more about this energetic and passionate women's journey of activism in ecological stability and wildlife conservation.
Annabel Caren Clark Age, Family, and Education
Annabel Caren Clark was born in September 1998 in Dallas, Texas, U.S., to parents Cullum Clark and Nita Prothro Clark. Annabel Clark's age is 24 years old as of July 2023. In a small town in the Midwest, Annabel grew up with two sisters, an older sibling named Lili Clark and a younger sister named Charlotte Clark.
The Dallas native comes from a family of conservation activists, with her parents serving in prestigious positions. Her late grandfather, Jim Clark, was a longtime WWF National Council member and the first chair of the Northern Great Plains Advisory Committee.
Talking about her education, Annabel Clark went to The Episcopal School of Dallas (ESD) from 2002 until 2017. It was during this time that she founded a WWF student club and showed her passion for environmental conservation. For your information, Annabel's family has been a longtime supporter of the ESD.
From 2017-2021, Annabel attended Wake Forest University and graduated with a Bachelor of Arts in Environment and Sustainability with another major in Politics and International Affairs. To take her interest one step further, Clark got an opportunity to visit Denmark and Iceland to study a short environmental science course in 2019. Likewise, she was active on several campus-wide sustainability projects.
View this post on Instagram
In August 2022, Annabel joined the Nell Hodgson Woodruff School of Emory University to pursue a Master of Nursing Prelicensure. She is expecting to graduate in December 2023.
ALSO READ: Xiuhtezcatl Martinez Biography: Environmental Activist And Hip-Hop Artist
Beginning of Activism: Small Act Led Her To Become a Super Activist
From a small age, Annabel was interested in wildlife animals and always thought about preserving their habitat. In 2016, during her 12th grade, the young girl launched a WWF Club at her school. Further, her journey of activism started with a small act; she collected her high school classmates to plant milkweed around the school for monarch butterflies at the peak of their migration season.
The small act impressed her colleagues, and they expressed a desire to learn more about environmental conservation. However, unlike Clark, her friends lacked the knowledge about how to take action. This inner desire led Annabel to look for ways to get involved and found World Wildlife Fund's Panda Ambassador program. Moreover, she was chosen to serve as a super activist working directly with WWF to lead and advocate for conservation issues in the U.S. and around the world, including Denmark and Iceland.
From there, Annabel took her passion directly to her classmates. She built her school's very own World Wildlife Fund Club, where she continued researching and preparing presentations on species such as snow leopards, elephants, and ocean life. Do you know the club was one of the most popular student groups at the school?
Similarly, you would want to read about a young activist Isri Hirsi biography.
Father-Daughter Duo Carrying The Family's Legacy
The Clarks have translated their passion for natural preservation into a desire to help ecological sustainability. Over the past few years, Annabel and her father are actively working together to carry this legacy of conservation action forward.
Annabel's father, Cullum, has been serving as the president of Prothro Clark company, a family investment firm in Dallas, since 2002. He graduated with an M.A. in Political science and government from Harvard University in 1992. After graduating, Cullum worked as a research assistant for the U.S. Senate Select Committee on Intelligence for a year.
Similarly, he worked as an Analyst/Portfolio Manager for Brown Brothers Harriman from 1993 – 1996. Other notable employment includes being the vice president of Warburg Pincus, New York, from 1996-2000. Cullum has also served on the Board of Directors of ESD and its executive committee and chaired the Endowment Trust.
Talking about Annabel's mother, Nita Prothro Clark served as co-chair of Phase I of the Campaign for The Episcopal School of Dallas. She previously served as its honorary chair. Likewise, Nita has also served on ESD's Board of Directors, working in multiple roles.
Annabel Clark Contributions and Honors
For her environmental acts during her college, Annabel received the Hendrix College Book Award for artistic creativity and global awareness. The award also recognized her professional and leadership development, service to the world, and research.
Annabel is the founder of the non-profit organization Save the Planet and has been a vocal advocate for climate change awareness and action. Similarly, Clark has also been a successful fundraiser, raising millions of dollars for environmental causes. No doubt, she is a passionate and dedicated activist who is committed to making a difference in the world.
The young activist has worked on a variety of environmental issues, including climate change, pollution, and deforestation. Annabel has also been featured in numerous media outlets, including Teen Vogue. A tireless advocate for the environment, Clark is a powerful voice for change and is committed to making a difference in the world.
This article about Annabel Caren Clark biography is an inspiration to many as she is a role model for environmental activists everywhere.
References
Did you notice an error ?
Please help us make corrections by submitting a suggestion. Your help is greatly appreciated!