Authors
Gail Honeyman Biography: Unveiling The Life of Extraordinary Storyteller Behind Eleanor Oliphant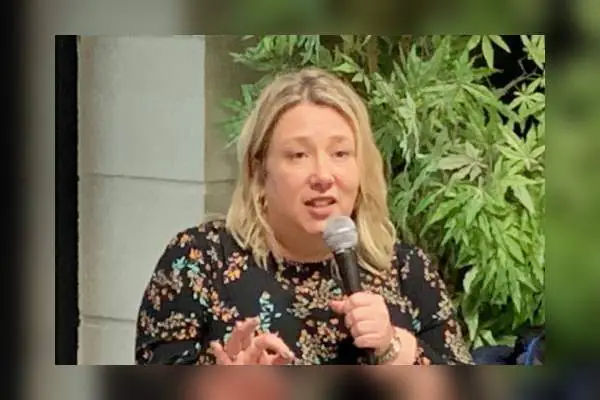 Gail Honeyman Biography. Image Source: Wikimedia Creative Commons.
Full Name

Gail Honeyman

Country

United Kingdom (UK)

Relationship Status

Not Confirmed

Nationality

Scottish

Profession

Author

Awards and honors

British Book Award

Education

University of Glasgow
For the majority of people, especially women turning 40 means tackling more household responsibilities. However, for Gail Honeyman, turning 40 became the major turning point in her life as she fulfilled her wish of becoming an author. Gail's debut novel Eleanor Oliphant is Completely Fine won the 2017 Costa First Novel Award and was named Book of the Year at The British Book Awards.
Honeyman's novel gets around the issue of loneliness with its lead character Eleanor's story of a social outcast and traumatic past. Upon its publication, the book received critical acclaim becoming the New York Times bestseller. Likewise, Eleanor Oliphant has been translated into more than 30 languages, and the film rights have been bought by actress Reese Witherspoon.
Gail Honeyman biography will reveal more information about the author, her personal life, and her professional achievements.
A Voracious Reader Since Childhood
Gail Honeyman was born in 1972 in Stirling, Scotland, in the United Kingdom. The oldest of two children, Gail grew up with a younger brother in a small village between Edinburgh and Glasgow in Scotland. Her mother is a former civil servant, while her father worked in the field of science.
Since childhood, Eleanor was a bookish child spending most of her time in the library. Since those earliest days, she harbored a secret dream to write a novel. As a child, she wrote numerous short stories and poems but got out of the habit during her teen years.
Honeyman studied French language and literature at the University of Glasgow. She pursued a postgraduate course in French Poetry at Oxford with the aim of becoming an academic. However, thinking about the long hours at the library distressed her, and she chose the administration field instead. In between, she also worked as a civil servant in economic development.
How Reading an Article Made Gail Honeyman an Award-Winning Novelist?
By her mid-30s, Gail had already become an accomplished administrator, but deep down, a writer in her always felt a void. During all adult years, Honeyman had taken a break from writing, and never had she thought of becoming a novelist.
A newspaper article about loneliness sparked Gail's desire to write again. She had read about young women in their 20s having difficulties in battling isolation and loneliness. Initially surprised, Gail then soon realized how loneliness had affected people of all age groups. From there, the outright character of Eleanor Oliphant was born.
Since Gail first published her first novel, the much-needed debate of loneliness has risen higher up the social and political; agenda than ever before. As per reports, the Jo Cox Loneliness Commission asked the government to plan a national strategy to fight loneliness, that affects around 9 million people in the UK.
ALSO READ: Helen Oyeyemi Biography: Inside The World of A Literary Sorceress
Fulfilled Her Dream After 20 Years: Late Success at 40 Years Old
It wasn't until her 40th birthday that Gail finally decided to bring life out through her pen and paper. While working as an administrator, she joined a Faber Academy writing course. Gail would write on the weekends, on her lunch break, and in the late evening after work.
Within weeks, Honeyman wrote three chapters and submitted them to a competition for unpublished fiction by female writers run by Cambridge's Lucy Cavendish College. Unfortunately, she didn't win, but one of the judges, who was also an agent, noticed her work. This was the beginning of Gail's fortune as an author.
Eleanor Oliphant is Completely Fine
After finishing writing all the stories for Eleanor Oliphant is Completely Fine, Gail was ready to publish the book. Likewise, her editor at HarperCollins praised the initial manuscript calling it an enjoyable and special book.
Gail's colleagues were also very enthusiastic as some of her publishers' friends hurriedly assembled in an auction that rose to six figures in four rounds of bidding. By the time the novel was published in 2017, it had created a huge hype selling in 30 countries and actress Reese Witherspoon taking the movie rights. Eleanor Oliphant sold nearly 300,000 copies and became the best-selling paperback of 2018, with over 1 million copies sold in the U.K.
Eleanor Oliphant is Completely Fine is a deeply moving and heartwarming book that tells the story of a socially awkward and isolated woman named Eleanor Oliphant. It has an alluring narrative and an original character who has a really different lookout on logic and conventional human methodologies.
Also, check out another famous author Sloane Crosley who is known for her mastery of words.
Eleanor Oliphant Themes and Impacts
The book is set in Scotland and explores themes of loneliness, friendship, trauma, and the healing power of human connection. Eleanor's office job limits her social interaction and exposes her to minimal social engagement. She keeps to herself and maintains a meticulous distance from her colleagues and the world around her. But as the narrative unfolds, it becomes apparent that the fragment of Eleanor's traumatic childhood slowly unravels the layers of her experience and the impact they continue to have on her adult life.
Through the lead character's perspective, the novel explores the lasting effects of abuse and neglect, shedding light on the resilience of the human spirit and the potential for healing. She develops an infatuation with a musician named Johnnie Lomond, and her journey toward self-discovery and connection begins. In the pursuit of a romantic relationship, Eleanor is forced to confront her own inadequacies and embark on a path of self-improvement.
The novel later becomes a story of hope as Eleanor learns to confront her past, embrace her true self and reach out to others for support. It serves as a powerful reminder of the transformative power of empathy, friendship, and self-acceptance.
Apart from praise from critics and fans, the novel received numerous awards and honors. Eleanor Oliphant won the Popular Fiction Book of the Year at the Specsavers National Book Awards. It won the Readers Choice Award at the Books Are My Bag Awards. Similarly, it won the British Book Award of the Year, the Author's Club Best First Novel, and was long-listed for the Women's Prize for Fiction.
Check back with us regularly as we will update Gail Honeyman biography with any new developments and accomplishments she achieves.
References
Independent. Ie. (2018, February 19). Glasgow girl Gail is living the dream. Independent. ie.
McNary, D. (2018, December 19). Variety. Variety.
Kroll, J. (2022, January 24). Deadline. Deadline.
Alexander, E. (2018, November 14). Gail Honeyman's Eleanor Oliphant is Completely Fine crowned the public's book of the year. Harper's BAZAAR.
BelfastTelegraph.co.uk. (2018, February 21). Scottish author Gail Honeyman: Turning 40 focused my mind; I'd daydreamed about writing a novel for 20 years, BelfastTelegraph.co.uk.
By The Newsroom. (2018, January 3). Scots author wins prize for "˜completely fantastic" first book. The Scotsman.
Edmonds, L. (2019, May 30). Eleanor Oliphant author on the list for first prize honouring women's comedy writing. Evening Standard.
Woods, B. J. (n.d.). Gail Honeyman: 'I hope Eleanor Oliphant has helped to fuel the debate on loneliness.' The Telegraph.
Armitstead, C. (2018, February 22). Gail Honeyman: 'I didn't want Eleanor Oliphant to be portrayed as a victim.' The Guardian.
Did you notice an error ?
Please help us make corrections by submitting a suggestion. Your help is greatly appreciated!