Authors
Josh Malerman Biography: The Life Of An Author and A Singer Of The Rock Band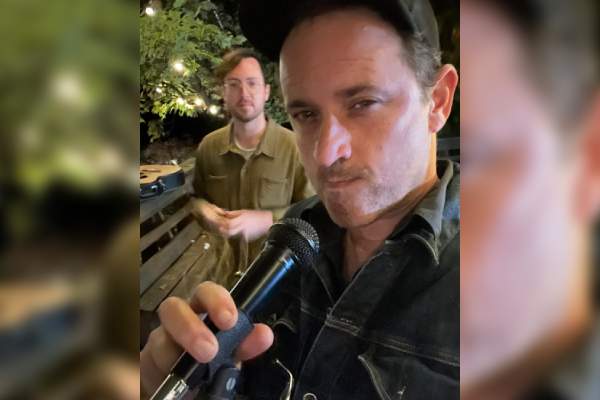 Josh Malerman Biography. Image Source: Instagram.
Full Name

Josh Malerman

Age

48 yrs

Birth Date

July 24, 1975

Country

America

Relationship Status

In a relationship

Spouse

Allison Laakko

Nationality

American

Profession

Novelist, Story writer, Film producer, Singer-Songwriter
From poetry to peril, Josh Malerman blends horror and hard rock with heart. Combining poetry, prose, and power chords, he confronts the darkness within and all around us. Launching literary chills with Bird Box and its acclaimed Netflix flick, Malerman made mainstream monsters out of unseen entities and everyday fears. But long before penning peril, he poured poetry into heavy rock riffs as frontman for The High Strung.
Honing his haunting horrors on endless highway drives, Malerman turned touring troubles into tales of human fragility facing unspeakable darkness.
So grab a blindfold, crank some rock, and join this monster mashup man on his journey from poetic punk to published phenom. Step into the dim light of Josh Malerman biography, a multi-talented artist who has made a name for himself in both the literary and music worlds.
From Poetry to Peril: Early Years and Influences
During his formative years, Josh Malerman's affinity for poetry and music was evident. Growing up in Michigan allowed him to draw inspiration from the beauty of nature surrounding him, as well as the works of writers who delved into the darker aspects of human behavior.
These early influences profoundly shaped both his musical pursuits and writing career. Driven by a deep love for music, Malerman not only learned to play the guitar but also began penning songs. This led to him co-founding his band, The High Strung, alongside fellow college friends.
As their popularity grew, they embarked on nationwide tours where Malerman showcased his distinct fusion of literary depth with melodic sensibilities.
ALSO READ: Learn about Jeff Maggert's Biography.
Bird Box Breakthrough: The Story Behind a Blindfolded Journey
Josh Malerman rose to prominence as an author when he released his first book, Bird Box, in 2014. This novel takes place in a dystopian future, where individuals are compelled to blindfold themselves or else face the terrifying prospect of succumbing to insanity and death caused by an enigmatic power.
Garnering immediate acclaim, this literary gem enthralled readers with its thrilling storyline, well-developed characters, and original concept.
The concept that sparked the creation of Bird Box originated from a simple query posed by Malerman himself: what if someone was unable to open their eyes? This curiosity led him on a journey delving into the notion of a world where vision could be fatal, with blindfolds serving as a prominent symbol in the narrative.
As he continued writing, Malerman found himself immersed in the intricacies of his character's psyche and captured the fear evoked by an enigmatic threatening force. The success achieved by Bird Box became pivotal for Malerman's career, garnering critical acclaim and amassing a dedicated fan base.
Furthermore, its adaptation into a highly popular Netflix film in 2018 solidified its status as an influential cultural phenomenon.
Similarly, you would love to explore Jay Alvarrez's biography.
Rockin' the Road: Touring Life with The High Strung
For over a decade before publishing Bird Box, Josh Malerman toured extensively as the frontman of the Detroit-based rock band The High Strung. Touring the U.S. had a profound impact on Josh's writing by exposing him to a wide range of experiences, people, and places.
Josh joined The High Strung in 1997 as their lead singer and guitarist. The band began touring regionally at first but eventually expanded to multi-week national tours. They would embark on roughly 25 tours across America over the years.
While on the road, Josh began writing short stories and poems in his journal as a way to capture his experiences. Touring instilled a strong work ethic and discipline in Josh, teaching him that success came through constant progress and momentum.
Josh wrote the first draft of Bird Box in 2006 while The High Strung was on a months-long tour. He would often write parts of the novel in the passenger seat of the touring van in between shows.
Touring also provided Josh with endless inspiration and story ideas. Meeting strangers at shows every night exposed him to fresh perspectives and life stories that filtered into his writing.
Even after Bird Box's success, Josh has continued performing and recording with The High Strung. Music and touring continue to fuel his imagination and feed into his novels. Josh finds parallels between expressing himself through music and through writing fiction.
Touring shaped Josh into the writer he is today. It taught him that anyone with passion and dedication can achieve their dreams, no matter how improbable they may seem at first. For Josh, success came from constant momentum forward – a lesson he learned by rocking the road with The High Strung.
Netflix Near-Hit: From Book to Blockbuster
When Bird Box was first published in 2014, it received modest sales and critical acclaim. Josh Malerman was pleased the novel had finally found an audience, even if on a small scale.
However, things changed dramatically a few years later when Netflix optioned the rights to adapt Bird Box into a film. The streaming giant saw the novel's cinematic potential and simple yet powerful premise.
Netflix developed Bird Box into a big-budget thriller starring Sandra Bullock as Malorie. Production values were high, and the film remained faithful to the essence of Josh's novel.
When the movie was released on Netflix in late 2018, it quickly became a viral phenomenon. Within its first week of release, over 45 million Netflix accounts streamed the film.
View this post on Instagram
The massive success of the Netflix film introduced Bird Box to a whole new audience. Readers who had never heard of the novel were now curious to see the original story that inspired the blockbuster movie.
The renewed interest in Josh's novel-turned-movie catapulted the novel back onto bestseller lists after being out of print for years. Sales soared as new readers discovered Josh's debut horror story.
Though Malerman had little creative input into the film adaptation, he was welcomed on set and met Sandra Bullock. He expressed his appreciation for how faithfully the core concepts of Bird Box were translated to the screen.
For Josh, the most memorable moment was telling director Susanne Bier after the LA premiere that he loved the film. That simple act of creative collaboration brought his story to a massive new audience in a deeply gratifying way.
Inspirations and Insights: Writing Life Today
The success of Bird Box has opened up many opportunities for Malerman as an author. In addition to writing the sequel Malorie, Josh has been able to explore other interests through his writing.
With the financial security derived from Bird Box, Josh has the freedom to write the kinds of stories he finds personally compelling. He is now developing several projects, including adapting other works, directing a horror film, and optioning two of his books published after Bird Box.
Josh continues to draw inspiration from rock music as both an outlet and source of ideas for his fiction. His band, The High Strung, released a new album in early 2019 that tapped into the same creative spirit that fueled Bird Box.
In addition to the phenomenal success of his book, Josh continues to pursue his creative endeavors actively. He finds solace and inspiration in rock music, which serves as an emotional outlet and a wellspring of ideas for his fiction writing.
The High Strung released their newest album titled Address Unknown. The album perfectly encapsulates the group's distinctive fusion of captivating guitar-driven rock tunes with poignant lyrics that delve into themes such as love, loss, and searching for purpose in an unpredictable world.
Looking ahead, it becomes evident that Josh Malerman biography has countless more narratives to share through both literature and music alike. Whether crafting spine-chilling horror tales or heartfelt rock ballads, he remains dedicated to exploring the intricate beauty inherent in the human experience.
Did you notice an error ?
Please help us make corrections by submitting a suggestion. Your help is greatly appreciated!