Authors
Rudolfo Anaya Biography: Unveiling the Life and Legacy of a Visionary Storyteller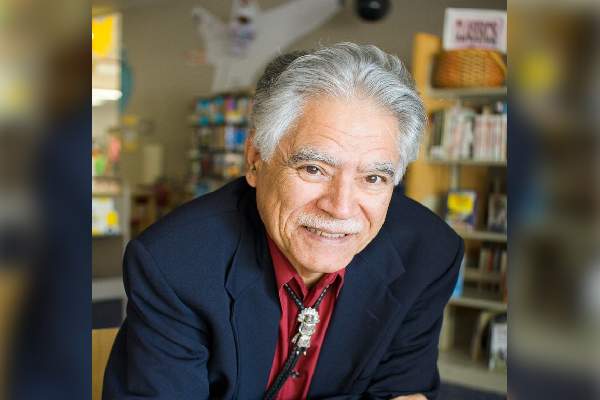 Rudolfo Anaya Biography. Image Source: Wikimedia Creative Commons
Full Name

Rudolfo Alfonso Anaya

Age

82 yrs

Birth Date

October 30, 1937

Country

America

Relationship Status

Married

Spouse

Patricia Lawless

Nationality

American

Ethnicity

Hispanic

Profession

Author

Children

2 Stepdaughters

Awards and honors

2015 National Humanities Medal, Premio Quinto Sol literary Award

Education

University of New Mexico

Death Date

June 28, 2020
No real social change has ever been brought without a revolution, and Rudolfo A. Anaya, the late author alone, helped launch a whole movement in the Southwest region of the United States. Rudolfo's novel Bless Me, Ultima had a lasting impression on the Latina community and was considered one of the trailblazing artifacts in Chicano and New Mexican literature.
Dear readers, stay with us to learn more about the 1960s radicalized Mexican-American movement and Rudolfo's contribution to its origination.
As you tear across the voyage of Rudolfo Anaya Biography, this expedition will surely leave you submerged in its depth. Further, Anaya's legacy as a pioneer story writer of the American Southwest has spread across the new generations.
Born Into a Family of Cattle-workers and Farmers
Rudolfo Alfonso Anaya was born on October 30, 1937, in New Mexico, U.S., to a family whose ancestors were livestock herders (cattle workers) and farmers. His father, Martin A. Anaya, was a livestock cattleman, while his mother, Rafaelita Mares Anaya, belonged to a family of farmers.
Anaya had three brothers, Salomon Bonney, Jr., Larry Anaya, Sr., and Martin Anaya, Jr.; two of them were half-brothers from his mother's previous marriage. Similarly, his father also had a child from a former wife. Further, Anaya had four sisters, Elvira Lopez, Susie Candelaria, Angie Marquez, and Loretta Gomez.
The Anayas lived in a small town called, Pastura before relocating to Albuquerque in 1952.
Talking about his education, Rudolfo graduated from Albuquerque High School. Afterward, he enrolled at the University of New Mexico(UNM) and graduated with a B.A. in English and American Literature in 1963. Similarly, he completed two Master's degrees at the UNM, one in English (1968) and another in Guidance and Counseling (1972).
While doing his Master's degree, Anaya worked as a high school teacher.
Blessed Married Life With Beloved Partner
Rudolfo Anaya's wife, Patricia Anne Lawless, was a voracious reader, writer, and a wonderful teacher. The two first met while students in a literature class at the University of New Mexico and got married in 1966. Throughout his writing career, Anaya's spouse was his editor and supporter of his publications.
Patricia was accomplished in her own respective career. A Kansas native, she moved to New Mexico to attend the UNM. Further, she received her B.A. in Literature and M.A. in Guidance and Counseling. As a writer, Patricia wrote a book titled Afternoon in Cuernavaca, a collection of short stories published in 1983.
From 1967 until 1991, Patricia worked as a teacher and counselor at the Albuquerque Public School for 24 years until her retirement. Meanwhile, Patricia's husband, Rudolfo, taught in the same school from 1963 until 1970. He then became a director of counseling at the UNM and joined the English Department in 1974, where he remained until his retirement in 1993.
Rudolfo Anaya's stepdaughters are named Arden Elynn Cowden and Melissa Anne Morris, who are children from Patricia's previous marriage. She died on January 5, 2010, ten years before her husband's demise.
ALSO READ: An Educator and Advocate, Diane Ravitch Biography
Contribution to the UNM, Writers, and Chicano Students
Throughout their marital relationship, Anaya and his wife, Lawless, spent over four decades transforming Chicano literature. They were dedicated educators who worked for the betterment of the UNM. The couple's relationship was a marvelous and admirable partnership.
Patricia and Rudolfo were long-time supporters of the UNM and its General Library. Investing in the University and its students, the Anayas founded Premia Atzlan in 1993. Premia Atzlan is a national literary prize that was established for the purpose of encouraging and rewarding new Chicano and Chicana writers.
The Anayas also established Critica Nueva: Lectures on Chicana/o Literary Criticism. Similarly, they were the trustees of the UNM's General Library with Rudolfo's entire manuscript collection.
How Anaya Helped Fuel the Chicano Civil Rights Movement?
During the 1960s, Chicano Civil Rights Movement was at its peak in the U.S., and the person responsible for it was Anaya, a pioneer of Chicano literature.
In the early 1960s, Rudolfo, who was in college, was significantly influenced by the movement. The Chicano movement arose as part of the greater civil rights movements led by men such as Martin Luther King Jr. Mexican-Americans such as Anaya began to speak out about racism and root societal evils relevant to their communities. They also focused on preserving and celebrating their own cultural heritage, like the Gullah Geechee community.
The time Anaya wrote throughout his career, and Anaya saw himself becoming a leader of the Chicano literature movement, as he wrote books specifically about the Latino experience in America. Anaya's educational career included degrees in literature and counseling, but soon after school, he set himself on the career path of a writer and taught in public schools.
How Anaya's Novel, "Bless Me, Ultima," Resonated With New Mexicans?
Anaya's work was first published in the 1970s, beginning with his most famous novel, Bless Me, Ultima, in 1972, a book celebrated by Chicanos. At the same time when El Movimiento thrived in America.
Bless Me, Ultima is a coming-of-age novel about a Chicano boy growing up just after World War II in eastern New Mexico. The story resonated with Chicano readers, who gave it a place of prominence in the Chicano literary standard.
The book was one of the first Chicano novels to receive broad critical recognition and acclaim. There is no doubt that it helped launch the 1970s Chicano Literature Movement, with Anaya being coined as the godfather of contemporary Chicano literature. Likewise, Bless Me, Ultima has been, to date, the most succesful Chicano novel of its generation.
Throughout his writing career, Rudolfo wrote over 44 books. His extraordinary and prolific work includes novels such as Heart of Atzlan, Tortuga, Jalamanta, Alburquqaue, Zia Summer, and Rio Grande Fall.
Similarly, you would want to read Theodora Mead Abel Biography
Know About Chicano Movement
The Chicano movement upholded the Mexican-American identity and fought for change. Until the 1960s, Mexican Americans had endured years of discrimination in the western and southwestern regions of the U.S.
In most cases, Mexicans who lived in America and who later immigrated and lived in the region found themselves living as second-class citizens. They adopted names such as Chicano or Xicano, which had long been a racial slur and wore them with pride.
Beginning with the 1960s, the Mexican-American movement, also called Chicano Movement, aka El Movimiento, began pushing for a new identification. The grassroots movement advocated social and political empowerment through Chicanismo/cultural nationalism.
Legacy, Awards, and Honors
A pioneer story writer of the American Southwest, Rudolfo's works of fiction and poetry commemorate the Chicano experience. As an educator, Rudolfo has spread a love of literature to new generations.
In 1972, Anaya received the prestigious Premia Quinto Sol National Chicano Award. Thirty years later, in 2002, President George W. Bush presented Rudolfo with the National Medal of Arts, the nation's most prominent honor bestowed upon a writer.
| | |
| --- | --- |
| Year | Award |
| 1978, 1980 | NM Governor's Public Service Award |
| 1980 | American Book Award |
| 1982 | Corporation for Public Broadcasting script development Award |
| 1992 | PEN-West Fiction Award |
| 2014 | Lifetime Achievement Award in Literature |
| 2015 | National Humanities Medal |
Table Source: neh.gov
Some of the other prestigious awards include the Before Columbus Foundation American Book Award, the New Mexico Governor's Award for Excellence and Achievement in Literature, a UNM Regents Professorship, the Regents Meritorious Service Medal, etc. Moreover, in 2002 Anaya was honored as a National Association of Chicana and Chicano Studies Scholar.
Anaya's legacy as a pioneering Chicano novelist is encouraged by his journey as a writer and an educator. His teaching and writing have impacted a generation of writers, literary scholars, students, and readers. Unfortunately, he passed away on June 28, 2020, at the age of 82.
Although left the world, Rudolfo Anaya biography encourages reflection on his legacy as a trailblazing Chicano in US Publishing. Stay tuned with BroadBiography to read more exciting biographies of your favorite celebrities.
References
Rudolfo Anaya. (n.d.). The National Endowment for the Humanities.
Rudolfo Anaya Biography. (n.d.).
Romero, S. (2020, July 5). Rudolfo Anaya, a father of Chicano literature, dies at 82. The New York Times.
Hoh, A. (2020, September 18). A tribute to community and Chicano writer Rudolfo Anaya | 4 Corners of the World. The Library of Congress.
Introduction to Chicano Literature | Rudolfo Anaya Digital Archive. (n.d.).
Rudolfo Anaya. (n.d.-b). The National Endowment for the Humanities.
Smith, H. (2020, July 4). Rudolfo Anaya, novelist who helped launch Chicano literary movement, dies at 82. Washington Post.
Did you notice an error ?
Please help us make corrections by submitting a suggestion. Your help is greatly appreciated!