Celebrities
Dylan Kingwell Biography: A Look Into The Journey of Hollywood's Rising Talent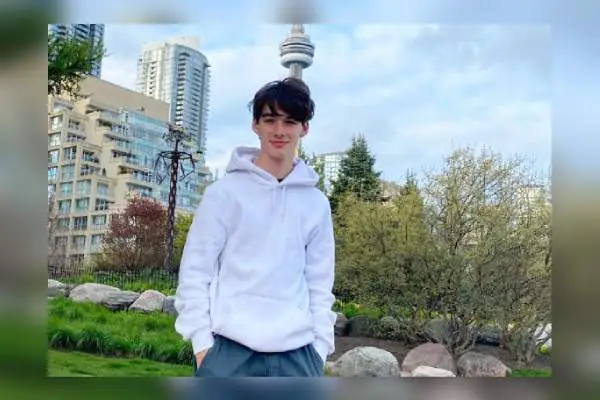 Dylan Kingwell Biography. Image Source: Social media
Full Name

Dylan Kingwell

Age

19 yrs

Birth Date

July 6, 2004

Country

Canada

Relationship Status

Not Confirmed

Nationality

Canadian

Ethnicity

White

Profession

Actor

Height

5 feet 7 inch
Among the list of rising stars who amaze audiences with their captivating performances, Dylan Kingwell is the one who seems to be a potential star in the entertainment industry. The Canadian actor is best known for appearing in the Netflix tv series, A Series of Unfortunate Events, ABC drama series, The Good Doctor, Campfire Kiss, etc, among others.
This article will dive deep into the actor's journey from his childhood to the adult acting profession, so we present you Dylan Kingwell biography. So dear reader, we suggest you stay till the end and become familiar with one of your favorite actors.
Dylan Kingwell gained recognition for his roles in various projects, particularly in the realm of television. Slowly and steadily, Dylan is honing his acting and is on the verge of establishing his name as a rising star in film and television.
Knowing Dylan Kingwell And His Background
Dylan Kingwell was born on July 6, 2004, in Vancouver, British Columbia, Canada, to parents Sean Kingwell (father) and Jennifer Kingwell (mother). Also, he has a younger sister named Adysson Kingwell. Throughout his childhood, Dylan played hockey, but he has also been acting since he was four years old.
Similarly, both of his parents are very supportive of their son's decision to pursue an acting career. Apart from acting, Dylan is passionate about foreign cultures and visiting exotic places. Besides, he is also a polyglot who is proficient in French, Spanish, and Italian. In Canada, a talent agency called Lloyd Talent represent Kingwell and has helped the actor get several roles at the beginning of his career.
Early Acting Career
At 7, Dylan got his first chance in entertainment in a comedy film, To The Mat, as 'Jordy Junior.' In 2013, he appeared on the science fiction tv series, The Tomorrow People and in the Franco-Canadian adventure film, The Young and Prodigious T.S. Spivet. Likewise, in 2014, Dylan played a young role in the short-length film, Soldiers of Earth and Tim Burton's biographical drama movie Big Eyes.
The year 2015 proved a turning point in Kingwell's career. He appeared in the main role of 'Victor' in the A&E supernatural series, The Returned, an American adaptation of the french tv series of the same name. Similarly, he also appeared in the Hallmark Christmas tv films Ice Sculpture Christmas as 'Young David' and The Christmas Note as 'Ethan.' He also appeared in an episode of the CW series, Supernatural as a young 'Sam Winchester.'
ALSO READ: Gulliver McGrath Biography: A Promising Actor On The Rise
Dylan Kingwell Notable Work Since 2015
In 2015, Dylan had a lot going on his plate, with main roles and a few recurring roles. Even after he starred in some critically hit shows. In 2016, Dylan appeared as 'Peyton Reddings' in the tv film, The Wilding and portrayed the character of 'Max Clark' in the tv thriller movie, A Stranger With My Kids. From 2017-2019, Kingwell appeared in the Netflix series, A Series of Unfortunate Series, and he was promoted to the main cast in its second season.
From 2017-2022, Dylan appeared on the ABC series, The Good Doctor, as 'Steve Murphy,' the younger brother of the titular character 'Shaun Murphy' portrayed by Freddie Highmore. In the series, Kingwell had a recurring role, and his performance was well-received by the audience.
From 2020 until 2021, Dylan had a recurring character of 'Sam Thomas' in the Netflix comedy-drama tv series, The Baby-Sitters Club. In 2021, he appeared in the recurring role of 'Young Clark Kent" in the CW superhero drama series Superman & Lois, where actors Tyler Hoechlin and Elizabeth Tulloch portrayed the role of 'Clark Kent' and 'Lois,' respectively. Since 2022, Kingwell has been appearing in the main role of 'Sam Price' in BYUtv's family fantasy show, Ruby and the Well.
Similarly, you might want to read about Gail Matthius' biography.
Has Dylan Kingwell Career Been Rewarding? The Actor's Net Worth
Over the years, the talented star kid has gained a great deal of experience working on a wide variety of projects. Now, the former child star is on a journey to mark his name as a rising young celebrity. No doubt he has a bright future ahead of him, but despite appearing in a few successful shows and movies, Dylan Kingwell's net worth is still a topic of mystery.
The average salary for tv actors ranges somewhere between $30,000-$65,000. Further, they might also earn additional compensation, and those who are successful can earn a significant amount of wealth. One thing is to take into account that actors' fortune varies widely as several factors such as fame, the show's popularity, or a specific role influence their earnings. Talking about Kingwell's net worth, it is difficult to estimate the numbers as he has appeared in only a handful of commercially succesful movies.
| | | |
| --- | --- | --- |
| Year | Movies | Box office Collections |
| 2013 | The Young and Prodigious T. S. Spivet | $9.5 million |
| 2014 | Big Eyes | $29.3 million |
Table Source: RottenTomatoes
In conclusion, Kingwell is a talented actor who has a bright future ahead of him. Without a second thought, Kingwell is sure to continue to entertain audiences for years to come. Dylan Kingwell biography is a journey of a young man's dream of becoming an actor and reaching his destination by putting in all the effort.
Did you notice an error ?
Please help us make corrections by submitting a suggestion. Your help is greatly appreciated!