Net Worth
Discover Jan Koum Net Worth: The WhatsApp Fortune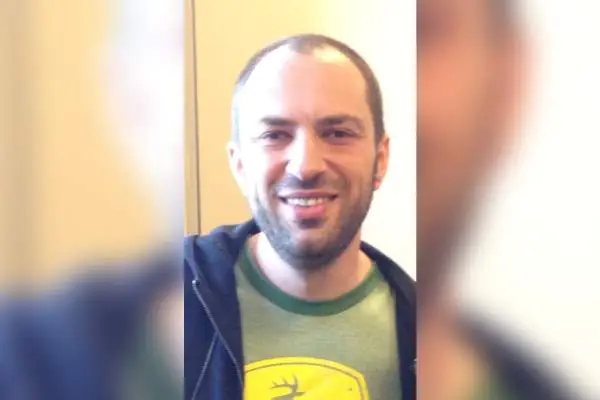 Jan Koum Net Worth. Image Source: Wikimedia Commons.
Jan Koum, an American entrepreneur of Ukrainian origin, is renowned as one of the co-founders behind the widely-used messaging app WhatsApp. His inspiring journey from modest beginnings to becoming a prominent figure in the tech industry serves as a testament to his unwavering determination and tireless efforts.
This article examines Jan Koum net worth, delving into the key elements that have propelled him toward success and highlighting his significant contributions within the technology sector.
Early Life and Background
Jan Koum, born on February 24, 1976, in Ukraine near Kyiv, grew up facing the difficulties of living in an unstable political and economic environment.
He developed a strong interest in technology early on and was motivated by his curiosity to improve his life as well as that of his family.
In 1992, when he was only sixteen years old, Koum moved to the United States with his mother and settled down in Mountain View, California.
Despite language barriers and limited funds, he pursued higher education at San Jose State University while juggling various jobs to support himself financially.
His unwavering determination and passion for technology played a crucial role in shaping his future accomplishments.
The Birth of WhatsApp
In 2009, Jan Koum and Brian Acton co-founded WhatsApp, a messaging app designed to redefine communication. Motivated by the prevailing invasion of privacy and intrusive advertisements on other platforms, Koum aimed to establish a safe and advertisement-free environment for users to connect and exchange messages.
The popularity of WhatsApp surged rapidly, attracting millions of users globally. Its user-friendly interface, robust encryption measures, and unwavering commitment to protecting privacy resonated with individuals seeking a trustworthy messaging platform.
In 2014, Facebook acquired WhatsApp for an astonishing $19 billion – one of the most substantial-tech acquisitions ever recorded. This acquisition propelled Koum's entrepreneurial journey to new heights while solidifying his prominence as a heavyweight within the technology industry.
ALSO READ: Discover Pinterest Founder Ben Silbermann Net Worth: How He Did It?
Life After WhatsApp and Jan Koum Net Worth – 14B
Jan Koum, the co-founder and former CEO of WhatsApp, has amassed a substantial fortune. As per the latest estimates in August 2023, his net worth is valued at approximately $14.2 billion. This was primarily achieved through the successful sale of his mobile messaging app to Facebook in 2014 for an impressive sum of $19 billion.
In exchange for this acquisition, Koum received over 76 million shares and close to $2 billion in cash from Facebook. While he has divested a portion of these shares, he still retains a significant ownership stake in the social media giant.
Jan Koum moved to the United States with his family at the age of 16. He pursued a career as a security guard and software engineer before co-founding WhatsApp in 2009. With its rapid rise in popularity, WhatsApp became one of the most widely used mobile messaging applications worldwide, boasting over 2 billion active users.
In 2018, Koum decided to step down as CEO of WhatsApp due to disagreements with Facebook's management; however, he continues to serve on the board of directors at Facebook and remains a billionaire. Since then, Koum has adopted a more low-key approach by focusing on personal ventures and investments while maintaining his privacy.
Similarly, you might want to read about the unknown founder of Facebook, Dustin Moskovitz.
Philanthropy and Giving Back
Jan Koum's achievements have not only rewarded him with personal wealth but have also instilled in him a deep sense of duty toward the betterment of society. He actively engages in charitable endeavors, concentrating on causes that resonate with his values.
Remarkably, Koum generously contributes to organizations dedicated to promoting education, combating poverty, and improving healthcare accessibility for marginalized communities.
Some of his most notable philanthropic contributions include:
A $1 million donation to the FreeBSD Foundation, a non-profit organization that develops and maintains the FreeBSD operating system.
A $556 million donation to the Silicon Valley Community Foundation, a non-profit organization that supports a variety of causes in the San Francisco Bay Area.
A $2 million donation to AIPAC, a pro-Israel lobbying organization.
Over $140 million in donations to Jewish causes from 2019 to 2020.
Donations to the Oshman Family Jewish Community Center in Silicon Valley, the Hadassah medical organization, and the Friends of Ir David, which works to preserve the Biblical City of David.
Koum's philanthropic endeavors are primarily concentrated on supporting individuals in need, with a particular focus on both the Jewish community and those involved in the field of technology. While he prefers to maintain privacy about his charitable contributions, his efforts have had a significant positive impact on numerous lives.
In addition to his financial donations, Koum has also been actively engaged in various other philanthropic initiatives. Notably, he co-established the Wildcard Giving Foundation – an organization dedicated to advancing causes such as education, healthcare, and social justice.
Furthermore, Koum has served as a board member for the Jewish Community Federation of San Francisco. Koum's commitment to giving back is evident through his acts of generosity and thoughtfulness as a philanthropist who strives towards making meaningful change within our world.
His Car Collection
Jan Koum, the co-founder of WhatsApp, is a car enthusiast who has a collection of rare and high-performance Porsches. Considering Jan Koum wealth, it's not surprising. His collection includes:
Model
1992 Porsche 964 Carrera RS 3.8
1993 Porsche 964 Carrera RS 3.8
1995 Porsche 993 Carrera 3.8
2008 Porsche 997 GT3 RS 3.6
2010 Porsche 997 GT3 RS 3.8
2011 Porsche 997 GT3 RS 4.0
2011 Porsche 997 GT2 RS
2015 Porsche 918 Spyder Weissach
2016 Porsche Cayman GT4
2016 Porsche 911 R
Table Source: Uncrate
The founder of WhatsApp has amassed a noteworthy collection of air-cooled Porsches valued at an extraordinary $10 million. With a preference for cars equipped with a "radio delete" option to savor the pure sound of their engines, Koum's automotive tastes have become renowned among car enthusiasts.
In 2019, Jan made headlines when he auctioned off ten exemplary models from his Porsche collection at the esteemed Amelia Island Auction. The remarkable event captured global attention as these iconic vehicles fetched an impressive total of $22.9 million—an unprecedented milestone that established a new record for the highest-selling Porsche collection in auction history.
Providing further evidence of his philanthropic endeavors and commitment to making positive contributions, Koum generously directed all proceeds from this momentous sale towards his charitable foundation: the Wildcard Giving Foundation. This benevolent organization fervently supports various causes, such as education reform, healthcare advancements, and advocacy efforts aimed at nurturing social justice.
Although Jan Koum prefers to lead a private life and refrains from publicizing either his substantial wealth or profound passion for Porsches excessively, admirers recognize him as much more than just another collector – instead, an ardent devotee who truly embodies adoration for every aspect surrounding these legendary automobiles.
Lessons From Jan Koum's Success
Jan Koum's journey provides valuable insights for those aspiring to be entrepreneurs and individuals striving for success. His story highlights the importance of perseverance, dedication, and a focus on developing a product that addresses real-life problems.
Additionally, Koum's emphasis on privacy and user experience underscores the significance of meeting consumers' needs in an ever-changing digital world.
Jan Koum's remarkable ascent from humble beginnings to creating WhatsApp and achieving subsequent success serves as an inspiration to many. His commitment to privacy, drive to revolutionize communication, and philanthropic endeavors have left an enduring impact on the technology industry.
When considering Jan Koum net worth, it becomes clear that his accomplishments go beyond financial gains; they reflect the profound influence he has had on society as a whole.
References
Did you notice an error ?
Please help us make corrections by submitting a suggestion. Your help is greatly appreciated!