Celebrities
Megalyn Echikunwoke Biography: An Inside Look Into Her Life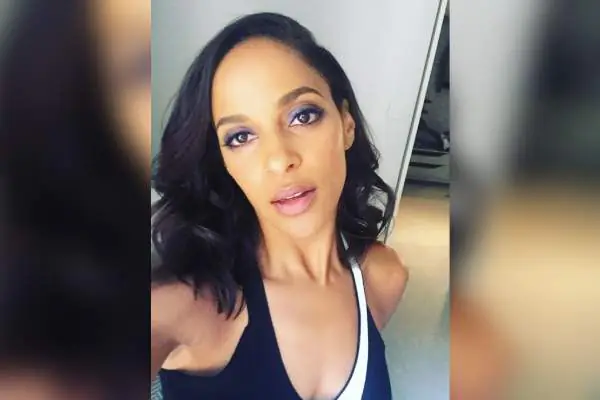 Megalyn Echikunwoke Biography. Image Source: Instagram
Full Name

Ebubennem Megalyn Ann Echikunwoke

Age

40 yrs

Birth Date

March 28, 1983

Country

America

Relationship Status

Not Confirmed

Nationality

American

Ethnicity

Mixed (Nigerian, German-Irish)

Profession

Actress

Education

Chinle High School

Height

5 feet 7 inch
In the world of action, most people's dream of becoming a top-tier actor is cut short by challenges and hurdles. For actress Megalyn Echikunwoke, the journey to becoming a household name in the American tv industry was no different. However, it was Megalyn's persistence and genuine passion for acting which helped her create a successful acting career.
Beginning her acting career with the Steve Harvey Show to appearing in critically acclaimed shows like Mind Games, Damien, CSI: Miami, etc, Echikunwoke has come a long way. So, you might want to stay with us till the end, as we will be exploring Megalyn Echikunwoke biography.
For people out there who love watching all those exciting dramas, action movies, and playful stage shows, today, we will be more familiar with Megalyn and her perspective as an actor.
Mixed-Raced Heritage, Moving to Designated Place And Being Discovered
Born as Ebubennem Megalyn Ann Echikunwoke on May 28, 1983, Megalyn grew up in Spokane, Washington, the U.S. She was born to parents Mark Onigwe Versato Echikunwoke (father) and Anita Laurie (mother). Further, she has two siblings, a brother named Miki and a sister named Misty Echikunwoke.
Megalyn comes from a mixed ethnic background as her father was a Nigerian, while her mother, Anita, is of German, Scottish, Irish, and English descent. Further, she often credits her diverse cultural background, which has played a significant role in shaping her unique identity.
Echikunwoke's father, Mark, an Igbo Nigerian, was a survivor of the Nigerian Civil War who suffered gunshot wounds that resulted in him contracting hepatitis B. After coming to the U.S. as an immigrant, he married Anita and settled in Spokane. Unfortunately, when Megalyn was four, her father died of liver cancer caused by his war-related medical issues.
After her father's death, Megalyn's mother moved the family to the Navajo Reservation, a census-designated place in Chinle, Arizona. Megalyn attended Chinle High School and played basketball. For the information, Netflix produced a show titled, Basketball or Nothing, a journey of the Chinle High basketball team's quest to win a state championship and bring pride to their isolated community.
Growing up, Megalyn was heavily involved in the theater department, describing herself as a theater geek. Likewise, Echikunwoke's extracurricular activities involved acting, dancing, and singing.
At age 14, she got discovered while performing in a theater production at an arts academy summer camp. Therefore, she had already started professional acting but as an amateur. After high school, Megalyn moved to Los Angeles to pursue her acting career more seriously.
ALSO READ: Naomi Ackie Biography: A Rising Star Illuminating The Silver Screen.
Professional Acting Career: Television Success And Movies
In 1998, Megalyn began her professional television career with a miniseries. The same year, she appeared in the feature role of 'Allison Hightower' in The Steve Harvey Show, where she appeared in an episode. Similarly, she guest appeared in shows, including The Parent Hood, where these early experiences gave her a taste of the industry and fueled her determination to make a mark.
In 1999, Megalyn made her foray into the big screen in her first film titled Funny Valentines. From 2001-2002, she had a recurring role in the action drama series 24. From 2003-2004, she appeared in comedy series like Like Family, Buffy the Vampire Slayer, and in Veronica Mars. Megalyn is best known for her role as 'Holly Strickler' in the teen drama tv series 90210.
Following her success with smaller guest appearances on the television landscape, Echikunwoke took on a variety of roles that demonstrated her versatility as an actress. Her appearances in popular shows like CSI: Miami, The Following, Arrow, and Damien further solidified her reputation as a talented and sought-after performer.
Meanwhile, some of Echikunwoke's notable movie appearances include Damsels in Distress, A Good Day to Die Hard, Electric Slide, Night School, Emily the Criminal, etc. These big-screen projects allowed her to explore different genres and collaborate with fellow industry professionals.
Similarly, you might want to read about Chris Lamica's Net Worth.
Is Megalyn Echikunwoke Married? Her Relationship With Chris Rock
At present, Megan Echikunwoke is not married, and she is involved in any romantic relationship. However, her relationship with a comedian garnered widespread attention.
In mid-2016, Megalyn Echikunwoke's boyfriend, Chris Rock, surprised everyone as his divorce from Malaak Compton Rock was just finalized. Chris, an acclaimed stand-up comedian, and actor, had already begun dating Megalyn in early 2016. As per sources, the couple was very serious about their relationship. Additionally, Chris Rock and Megan Echikunwoke appeared as a couple in the 2019 Met Gala Red Carpet event.
The news of Megalyn and Chris' affair took new heights as Megalyn was spotted wearing a diamond ring on her wedding finger just after a few months after the comedian's divorce. However, it was later reported that the ring's owner was the actress herself, and it wasn't a gift from her soon-to-be husband.
When the media and fans were hoping to get the invitation, Chris once again surprised his fans by announcing the news of his separation from his four-year-long girlfriend, Echikunwoke. The two parted ways quietly in early 2020, and as per sources, Rock wasn't ready to settle down again after his painful divorce from his wife of 18 years. Meanwhile, Megalyn hasn't been spotted with any possible partner since then.
Megalyn Echikunwoke Net Worth
The tv, film, and theater actress Megan Echikunwoke's net worth might be in the hundreds of thousands of dollars. However, actors' earnings depend on their level of experience and their show's popularity. For example, actors in Games of Thrones and The Big Bang Theory earned up to $1 million as their finale season aired on television.
From smaller guest appearances to the biggest feature film, all the performances have contributed to piling up Megalyn Echikunwoke's fortune. Since 1998, she has been honing her acting skill with a humble beginning in theatres. Starring in big-budgeted movies might have increased Megalyn Echikunwoke's earnings over the years. So, let's take a look at some of her movie's box office collections.
| | | |
| --- | --- | --- |
| Year | Movies | Box-Office Collections |
| 2013 | A Good Day to Die Hard | $304.7 million |
| 2015 | The Meddler | $5.4 million |
| 2018 | Night School | $103.1 million |
| 2019 | Late Night | $22.4 million |
Table Source: Rotten-Tomatoes
In the United States, the average salary for television actors is reported to be somewhere between $35,000-$250,000. Nevertheless, renowned actors who are successful in landing leading roles in major films or television shows can earn millions of dollars per year. Unfortunately, not all actors are able to earn such high salaries.
Activism and Advocacy
Beyond her acting career, Megalyn Echikunwoke has been an advocate for social causes. She has been vocal about issues such as women's rights, racial equality, and environmental sustainability. Her platform as an actress has provided her with opportunities to raise awareness and contribute to meaningful discussions on these topics.
Echikunwoke is a supporter of the Black Lives Matter movement and has spoken out against police brutality. She started protesting against racial injustice after her first day out on the street after George Floyd's death. She strongly advocates against racist policing practices because, over the years, many African American has lost their lives, including Trayvon Martin, Breonna Taylor, etc.
On the other hand, Megalyn also works for various charitable organizations that oversee the education and well-being of indigenous communities. Through her social media platform, the actress frequently raises awareness of racial injustice and LGBTQ issues.
In conclusion, every actress's journey is unique, and there is no guarantee of success in the entertainment industry. However, with her dedication and grit, the Into the Dark actress has made a successful acting career. This is what Megalyn Echikunwoke biography teaches us as one should never give up on their dreams and constantly work on being the best.
References
Did you notice an error ?
Please help us make corrections by submitting a suggestion. Your help is greatly appreciated!