Creators
Erin Novakowski Biography: The Wheel-y Funny Journey of Wheelierin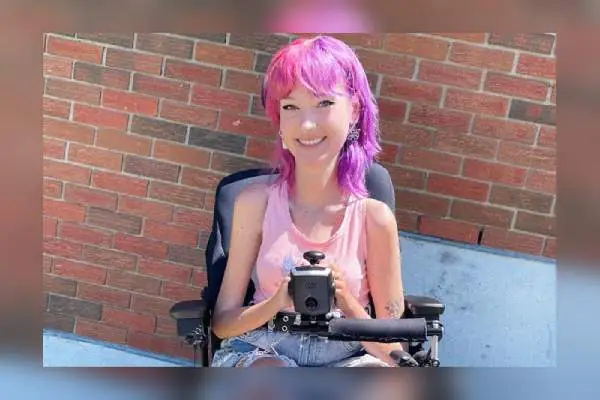 Erin Novakowski Biography. Image Source: Instagram.
Full Name

Erin Novakowski

Age

21 yrs

Birth Date

January 9, 2002

Country

Canada

Relationship Status

In a relationship

Spouse

Jared Vercammen

Nationality

Canadian

Profession

Digital Creator

Education

University of Calgary
In a world where limitations sit upon the stage of possibility, TikTok star Erin Novakowski escaped from life's dreadful enclosure. Those who don't know Erin might see her as a young girl bound to a wheelchair, but the digital creator has become a household name in the disability community, inspiring hundreds of thousands of people.
Mostly famous for her TikTok content, Novakowski has embarked on a mission to challenge societal perceptions of disability and promote the inclusivity of all people. The Wheelierin girl has defied the confines of fate and proved that one's greatest disability is one's own negative attitude.
Stay with us to know about Erin Novakowski biography, in which we discuss a young Canadian content creator who shares a message; Laughter has the power to uplift, heal, and unite us all.
Early Life, Diagnosis, and Education
Erin Novakowski was born on January 9, 2002, in Canada. When Erin was two years old, her parents noticed something unusual. She didn't move or walk well like her older brothers did at the same age.
When doctors performed a series of tests, Novakowski was diagnosed with Type 2 Spinal Muscular Atrophy, a neuromuscular condition that causes weak muscles. Therefore, from a young age, Erin had to rely on a power wheelchair for mobility. However, she became determined to raise awareness about the prejudice against the disabled community.
It is known that Erin's family, including her parents and older brothers, are very supportive of her profession. Together, they organized a team and raised over $70,000 for an organization, Muscular Dystrophy Canada, in September 2016. Previously in 2015, Erin started fundraising for people with muscular dystrophy.
Novakowski is a 2023 graduate student at the University of Calgary, Alberta, with a major in Political Science. After witnessing uncontrolled inaccessibility and ableism in everyday life, she chose social media and writing as her profession to speak up for disability justice.
Erin uses her passion for writing and her social media platforms to advocate for Muscular Dystrophy Canada Cure SMA and also writes and edits for Cripple Magazine, an online publication for disabled young adults.
ALSO READ: Famous Standup Comedian Beth Stelling Biography.
Finding Laughter and Love Amidst Challenges
The TikTok star, Novakowski, is currently dating a handsome man named Jared Vercammen, an Alberta native. It appears that the couple started dating in late 2022, as Erin was seen commenting on her future lover's Instagram post. She looked happy celebrating her lover's 24th birthday on June 24, 2023.
As a person fighting for an inclusive society, Novakowski chose a transgender man as her boyfriend. Jared transitioned from a female to a male in his early teenage years. On January 10, 2022, he shared a Facebook post showing before and after photos. Erin Novakowski's boyfriend showed people his transition in the two pictures.
Novakowski seems to be very much in love with her partner. The young couple spend quality time together, often visiting exotic places and enjoying dancing and parties. Erin also has a service dog named Gevin, whom she calls her lifesaver and best friend. The dog once went viral in a video where he was seen helping his wheelchair-bound mistress.
Erin Novakowski Net Worth from Writing and Digital Media
Even though Erin Novakowski net worth is not public knowledge, we can assume she has made herself a tidy amount. Her major source of income is digital platforms like TikTok, where she has been active since 2019. Erin might earn around $1000 for a video from the TikTok creators' fund. Her TikTok account "wheelierin" has over 673k followers with over 33 million likes. On her TikTok videos, Erin frequently uses the platform to educate non-disabled people about disabled experiences.
Apart from making content online, Novakowski works for an online magazine called Cripple Media. As a staff for Cripple Media, Erin Novakowski earns a decent salary. Also she works as a video editor and staff writer for the company. The average paycheck for media writers ranges somewhere between $51,562-$60,960 per year, meaning Erin Novakowski's income is a considerable amount.
On a similar note, you don't want to miss reading about a young TikTok star, Bennett Jeppsen's net worth.
Promoting Inclusivity and Inspiring Others
The Canadian social media star is passionate about disability representation and advocacy. In 2021, Erin released her autobiography, The Wheel-y Funny Journey of Wheelierin, where she candidly shares her life experiences, both the triumphs and the challenges. The book became a bestseller, further solidifying Erin's impact on people's lives.
Novakowski is also a social media editor, video editor, and staff writer for Cripple Media, a Generation-Z-run media company where young disabled creatives are working together to create a more inclusive society. Through her work, Erin has become a beacon of light, proving that a positive mindset and good humor can truly overcome any obstacle.
We are confident that Erin Novakowski biography still has a lot of chapters to be written. So check back with us, as we will be sure to update you guys on any new developments.
References
Did you notice an error ?
Please help us make corrections by submitting a suggestion. Your help is greatly appreciated!