Crime
Revealing The True Story of Christopher Scarver: The Man Who Killed Jeffery Dahmer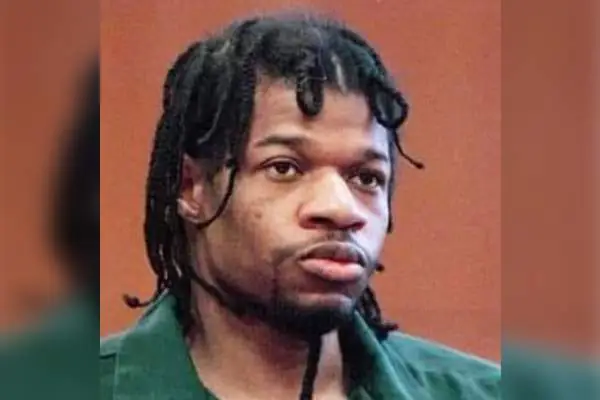 Christopher Scarver Sr Now. Image Source: Instagram
Full Name

Christopher J. Scarver Sr.

Age

54 yrs

Birth Date

July 6, 1969

Country

America

Relationship Status

Married

Spouse

Jackal Evans

Nationality

American

Ethnicity

African-American

Children

Christopher J. Scarver Jr.

Height

6 feet 3 inch
As Lord Buddha said, Our actions are our own destiny, and a man who loves life avoids poison. However, the notorious serial Killer Jeffrey Dahmer was destined to come to a horrific death as his result was just the circumstances of what he was doing. And, as life interconnects fate, a chosen one emerges; In this case, that man is Christopher Scarver, a self-described child of god. Let's know where Christopher Scarver is now.
Dear Readers, you might want to tighten your seat strap as we will take a flight into Christopher Scarver's biography. This article explores a disturbing real crime story that will make you shiver and will send chills down your spine.
As Jeffrey Dahmer died, Christopher Scarver emerged as one of the unlikely heroes the great nation had seen over the past few years. It is no secret that Scarver beat Dahmer to death in state prison. But what really happened that day? Where is Christopher now? Is he really the chosen one? You will get all the answers here.
Early Life of Christopher Scarver: The Carving of The Chosen One Begins
The 54-year-old convicted murderer Chris Scarver first received wide media attention after murdering his fellow inmates Jeffrey Dahmer and Jesse Anderson (a convicted murderer of his wife) at Columbia Correctional Institution in Portage, Wisconsin.
Scarver was born on July 6, 1969, in Milwaukee, Wisconsin, U.S. The second of five children, Scarver attended James Madison High School, eventually dropping out in the eleventh grade. Afterward, Scarver got mixed up with bad companies and started consuming alcohol and marijuana. Stressed by the situation, Scarver's mother kicked him out of her house.
After a few months, Chris got a job as a trainee carpenter at a Wisconsin Conservation Corps job program. His supervisor Edward Patts promised him a full-time job upon the completion of the program. However, Patts later resigned, leaving Scarver's full-time position incomplete. As a result, the bitter young man began abusing alcohol on a daily basis.
While most people lose their consciousness after drinking, Christopher began hearing voices from the divine subconscious calling him "The Chosen One." He was later diagnosed with schizophrenia, a mental disorder that includes the symptom of hearing voices, delusions, and disorganized thinking.
The Horrific Story of Vigilante Hero That Led Him To Lifetime Imprisonment
After killing the cannibalistic serial killer and sex offender Jeffrey Dahmer, Christopher Scarver was hailed as a hero who gave justice to the victim's families. But over the years, people have been questioning Scarver's act as if it falls into morality and righteousness. Let's know what Scarver did that made him a terrifying convicted murderer.
The day was the 1st of June in 1990 when Scarver went to the Wisconsin Conservation Corps Training Program Office solely with the purpose of stealing some money. There he found two men, site manager John Feyen and employee Steve Lohman. Scarver then demanded cash from Feyen, forcing Lohman down at gunpoint. Thinking Scarver was bluffing, the manager gave him only $15, which made him more enraged.
Scarver shot Lohman once in the head, instantly killing him on the spot. He then shouted at Feyen, saying that he was not in the mood for a joke and he needed more money. Chris again shot Lohman twice for no reason, and then Feyen wrote Scarver a $3,000 check. As the terrified John Feyen then fled to his car outside, Scarver fired at him but missed. Chris Scarver was just 21 years old when he did this horrendous act.
ALSO READ: Richard Evonitz Biography: One of the most heinous serial killers.
Despising Jeffrey Dahmer: The Man Who Had Uncontrollable Lust For Human Flesh
In 1992 Scarver was jailed at the Columbia Correctional Institution after being convicted of the murder and sentenced to life in prison. At his 1992 trial for shooting to death, Scarver claimed that he was the son of God and that he heard voices in his head.
Jeffrey Dahmer was a serial killer and sex offender who killed 17 men and boys, mostly African American and gays, between 1978 and 1991. Dahmer's demonic personality can be realized when we look at the fact that he drilled a hole in a 19-year-old boy Errol Lindsey's skull and dismembered parts of his victims, including their heads, limbs, and flesh.
Dahmer was eventually convicted of the murders, and his trial began on January 1992, the same year Scarver was also imprisoned at Wisconsin's Columbia Correctional Institution.
From the beginning, Scarver knew right away to keep a safe distance from the flesh-eating serial killer. In an interview, Chris said that he never interacted with Dahmer, although he would watch him from a distance.
Scarver felt that Jeffrey crossed the line with some people, including prisoners and prison staff. He would shape the prison food as severed limbs to taunt the other inmates and would drizzle on packets of ketchup as blood. With time, Scarver grew up to despise Dahmer, initially not knowing that he was a serial killer. But when Scarver came to find out about Wisconsin's serial killer, everything changed.
Similarly, you might want to read about the chilling tale of a Canadian serial killer, Karla Homolka.
The Killing of Jeffrey Dahmer: Left Gurgling on the Ground After Bashing His Skull
On November 28, 1994, the prison correction officers assigned Scarver, Dahmer, and Jesse Anderson to clean bathrooms, leaving them unattended. Scarver had a news article in his pocket detailing how Dahmer murdered, dismembered, and ate his victims, a total of 17 men and boys from 1978 to 1991.
Scarver was filling a bucket with his mop when someone poked him in the back. He revealed that when he turned around, Dahmer and Jesse were laughing under their breath. Scarver couldn't tell who had done it. After splitting up, Scarver followed Dahmer heading towards a staff locker room. He grabbed a metal bar and confronted Dahmer with the newspaper story he had been carrying in his pocket.
Scarver asked Dahmer if he did those things because he was fiercely disgusted. Dahmer wanted to leave, but Scarver blocked him and then beat him to death with the 20-inch, 5-pound metal bar. As per news sources, Scarver left Dahmer gurgling on the ground after his skull collapsed from the beating. Also, the post-mortem reports showed that Dahmer's head was beyond recognition, and he died of severe head injuries. Then Scarver entered a locker room where Anderson was working, and he beat the life out of him as well.
While people and the media reported it as an accident, Scarver believes that it was no accident that he ended up alone with Dahmer since prison officials knew he hated Dahmer and they wanted him dead. Either way, Jeffrey Dahmer ended up in the same horrific condition he had inflicted upon his victims.
Where is Christopher Scarver Now? Is He Still Alive?
Do you know what Chris Scarver said after the November 28 murders? Well, as per a prison guard, Scarver reportedly said that God told him to kill both Dahmer and Anderson. Scarver further revealed to a court-appointed psychiatrist that he heard voices of a family, including a woman, a man, a little girl, and a boy telling him that it was meant to happen and everything he did was right.
After the killings, Scarver was shifted from prison to prison until he landed at Centennial Correctional Facility in Canon City, Colorado. Following his triple murders, one in 1992 and two in 1994, Christopher has been serving his time in an out-of-state prison, as per the Wisconsin Department of Corrections database.
In April 2015, Scarver released a novel from prison titled God Seed: Poetry of Christopher J. Scarver.
Now talking about Dahmer's effect on pop culture, there have been several movies, documentaries, and shows about him. However, it was the 2022 Emmy-nominated Netflix series Monster: The Jeffrey Dahmer Story that people began to realize how horrific and devastating it was for the victim and their families.
Due to the series, many people sent letters to Scarver thanking him for providing true justice to the victim's families. In a way, the convicted murderer was hailed as a hero. For the information, actor Evans Peters portrayed Dahmer, while Furly Mac portrayed Scarver.
Tough Times Don't Last, Tough People Do: How Christopher Scarver Saved His Son's Life?
Let's go back to the time when Scarver first murdered a man, Steve Lohman. After hours of his first killing, the police found him sitting on the roof of his girlfriend's house. At the same time, Scarver's girlfriend was pregnant with his first child. Just after he was locked up, Christopher Scarver Jr. was born.
In an interview with CNN, Christopher Scarver's son revealed that he first learned about his father killing Jeffrey Dahmer and another inmate through television news.
Chris Jr. was actually starting to go down the wrong road and needed guidance. One day he wrote his father a full detail letter and told him everything that he was going through and how he felt about the relationship, the pain that he had all those years. Afterward, Scarver Sr. replied back with advice, "Tough times don't last, tough people do, and you are the toughest kid I know."
Determined never to walk on the wrong side, Chris Scarver Jr. attended Bethany Lutheran College after getting a scholarship from Creative Corrections Ed. Foundation. As of now, Chris Jr. credits his father with putting him back on the right road.
There are many people who see Scarver as a hero, and then there are those who see him as just another murderer. It's up to the audience to decide. But this is the story of a man who killed Jeffery Dahmer.
References
Did you notice an error ?
Please help us make corrections by submitting a suggestion. Your help is greatly appreciated!