People
Terence Henricks Biography: The Remarkable Life Of A Nasa Astronaut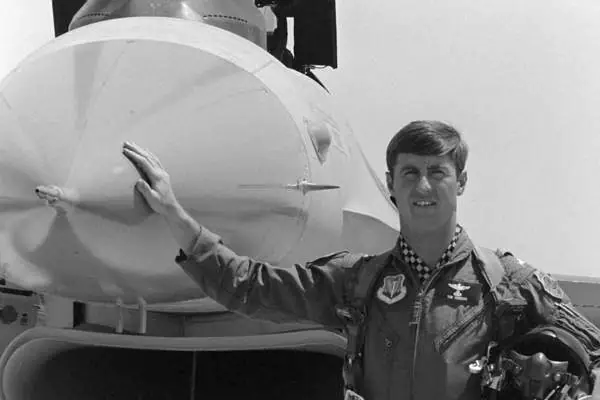 Terence Henricks Biography. Image Source: The U.S. National Archives.
Full Name

Terence Thomas "Tom" Henricks

Country

America

Relationship Status

Divorced

Spouse

Rebecca Henricks

Profession

Retired Astronaut

Children

Katherine Ann, Terence Thomas, Jr., Heather Kimberly

Education

Woodmore High School, U.S. Air Force Academy and Golden Gate University

Height

5 feet 10 inches
Prepare for lift-off as we take a deep dive into Terence Henricks biography – a man who defied gravity and captured hearts both on Earth and in outer space.
Hailing from Ohio, Henricks soared to new heights as an esteemed test pilot for the United States Air Force before NASA handpicked him to join their elite team of astronauts in 1985. With four awe-inspiring Space Shuttle missions under his belt, commanding two of them, Henricks has accumulated over 1,000 hours exploring uncharted territories beyond our blue planet.
A trailblazer in aviation history, this blog will unravel the extraordinary journey that took Terence Henricks from a fearless fighter pilot to a revered NASA astronaut.
Early Life and Military Career
Tom Henricks, born on July 5, 1952, in Bryan, Ohio, showed an early interest in aviation and aspired to become a pilot. He grew up in Woodville and completed his secondary education at Woodmore High School in 1970.
Henricks then pursued higher studies at the United States Air Force Academy, where he graduated with a degree in Civil Engineering in 1974. Following that, he served as a fighter pilot for the U.S. Air Force, where he operated both F-16c and F-4 aircraft accumulating over 6,000 flying hours across various aircraft models.
Astronaut Terence "Tom" Henricks was born in Bryan, Ohio #OTD in 1952. Henricks served in the United States Air Force and later as an astronaut for NASA, going on four Space Shuttle missions. Join us to celebrate Ohio's connections to space: https://t.co/JLlhCafdMT

Photo: @NASA pic.twitter.com/1MyC9Do7y8

— Ohio History Connection (@OhioHistory) July 5, 2019
Throughout his time in the military, Henricks had a number of notable positions of leadership that resulted in him receiving several prestigious awards, one being the Distinguished Flying Cross. In 1982, Henricks successfully completed his Master's degree in Public Administration at Golden Gate University located in San Francisco, California. Afterward, he took on the role of test pilot at Edwards Air Force Base situated in California. During this period, Henricks was responsible for conducting flight tests on different types of military aircraft.
In 1985, NASA chose Henricks to become an astronaut candidate, and he joined the Johnson Space Center in Houston, Texas, for rigorous training. The selection committee recognized his qualifications as a test pilot and his significant expertise in aviation, which greatly enhanced the capabilities of the astronaut corps.
NASA Astronaut Selection and Training
In 1985, Terence Henricks was appointed as a candidate for the astronaut program by NASA and commenced his training at the Johnson Space Center in Houston, Texas. His rigorous astronaut training encompassed an extensive curriculum that comprised classroom instruction, simulations, and practical exercises covering diverse facets of space exploration.
As part of his training, Henricks acquired the knowledge and skills necessary to operate various spacecraft, including the Space Shuttle. Furthermore, he received comprehensive instruction on spacewalk procedures and conducted scientific experiments in a microgravity environment. In addition to honing these technical abilities, Henricks underwent rigorous physical and psychological assessments to ascertain his suitability for spaceflight.
Henricks' qualifications as a test pilot and his extensive knowledge in aviation rendered him highly suitable for the rigorous requirements of astronaut training. He promptly showcased exceptional aptitude and commitment during his candidacy, successfully completing his training program in 1986. Following the completion of his training, Henricks was designated to assume several technical and supportive responsibilities within NASA.
These included serving as a member of the Astronaut Office Space Shuttle Operations Branch, as well as functioning as lead spacecraft communicator for numerous Space Shuttle missions. Eventually, he earned selection to participate in his inaugural Space Shuttle mission, which took place in 1991.
Spaceflight Career: Henricks' Missions and Achievements
Terence Henricks flew on four Space Shuttle missions during his career as a NASA astronaut. His first mission was as a mission specialist on STS-44, which was a Department of Defense mission that launched on November 24, 1991. The mission's primary objective was to deploy a satellite into orbit, and the crew also conducted various scientific experiments during the flight. Although Henricks did not command this mission, it was an important milestone in his spaceflight career.
Henricks' second mission was as the pilot of STS-55, which launched on April 26, 1993. This was a German D-2 Spacelab mission that focused on various scientific disciplines, including materials science, life sciences, and technology development. The crew conducted over 89 experiments during the 10-day flight, and Henricks played a critical role in the mission's success as the pilot of the Space Shuttle Columbia.
In 1995, Henricks commanded his third Space Shuttle mission, STS-70, which launched on July 13, 1995. The mission's primary objective was to deploy a NASA Tracking and Data Relay Satellite, which was successfully accomplished. The crew also conducted various scientific experiments during the mission's 8-day flight, furthering our understanding of microgravity and other aspects of spaceflight.
Henricks' fourth and final Space Shuttle mission was as the commander of STS-78, which launched on June 20, 1996. This was an international mission representing 10 nations that focused on microgravity and life sciences research. The crew conducted various experiments during the 16-day flight, and the mission was considered a great success.
Throughout his spaceflight career, Henricks distinguished himself as a skilled and dedicated astronaut who was committed to advancing our understanding of space and the universe. His contributions to the field of space exploration will be remembered for generations to come.
ALSO READ: Get to know about Téa Obreht biography.
Personal Life and Family
Henricks was married and had three children: Katherine Ann, Terence Thomas Jr., and Heather Kimberly. He currently resides in Blanco, Texas, with his wife, Rebecca Grantham.
In addition to his professional accomplishments, Henricks also has several personal interests. He enjoys running and windsurfing and has completed 749 parachute jumps, earning him a Master Parachutist rating.
Overall, Terence Henricks biography is a remarkable piece of inspiration that depicts his great success in both his personal and professional life. His dedication to his family, as well as his passion for aviation and space exploration, have made him an inspiration to many.
Life After NASA: Business and Consulting Career
Following his retirement from NASA in 1997, Terence Henricks shifted gears and ventured into the business world. From 2010 until he held the position of President at McGraw-Hill's Aviation Week.
During this time, he supervised the publication's reporting on both the aviation and aerospace sectors. Apart from his role with McGraw-Hill, Henricks has displayed his extensive knowledge as a consultant and advisor to various companies within these industries. His outstanding expertise has proven immensely valuable for many organizations, leading to his being recognized through numerous accolades and honors.
Similarly, you would love to learn about the biography of Jay Alvarrez.
Honors and Legacy: Henricks' Contributions to Aviation and Space Exploration
Terence Henricks biography is incomplete with his exceptional achievements in both aviation and space exploration.
Not only was he bestowed with prestigious military accolades, including the Distinguished Flying Cross, during his time as a fighter pilot, but he was also recognized for his remarkable contributions as an astronaut and business leader.
In acknowledgment of Henricks' impactful role in aviation and space exploration, Defiance College in Ohio awarded him an honorary Doctor of Science degree in 1993.
Furthermore, he gained entry into the esteemed Ohio Veterans Hall of Fame, which pays homage to outstanding veterans from Ohio who have made noteworthy contributions to their communities and beyond.
Aside from these accolades, Henricks has been recognized by NASA for his exceptional leadership and significant contributions to the agency's mission. He was honored with the prestigious NASA Outstanding Leadership Medal in 1995, followed by the Defense Superior Service Medal in 1997. Presently, Terence Henricks' enduring impact continues to inspire upcoming generations of astronauts and aviation enthusiasts alike.
The astronaut's unyielding passion for aviation and space exploration, combined with his unwavering commitment to excellence and effective guidance, stands as a remarkable example of human innovation and resilience. The profound influence he exerted on these fields will surely be remembered for numerous years ahead.
Did you notice an error ?
Please help us make corrections by submitting a suggestion. Your help is greatly appreciated!