Sports
Alyssa Naeher Biography-How She Became NWSL Star Goalkeeper?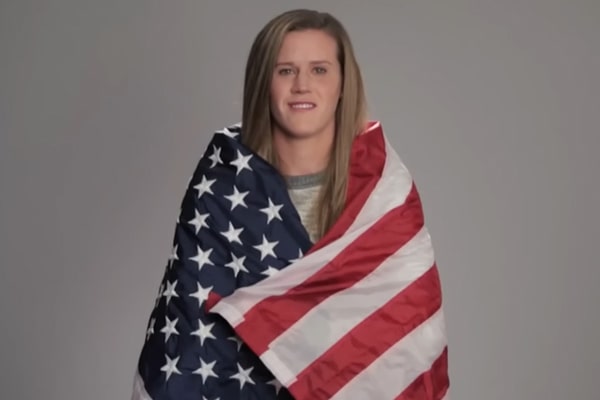 Source: Social Media
Full Name

Alyssa Naeher

Age

35 yrs

Birth Date

April 20, 1988

Country

America

Relationship Status

Single

Nationality

American

Ethnicity

German, English, and French Canadian

Profession

Chicago Red Stars goalkeeper

Education

Penn State University '09, Kinesiology

City

Bridgeport, Stratford Town

Net Worth

$5 Million

Height

5'9"
Alyssa Naehar, currently a Chicago Red Stars goalkeeper, has earned 520 career saves and made headlines with the victory of 1-0 over Orlando Pride in the May 27, 2023 game. Strong in the air and back with a bang, 2014 NWSL Goalkeeper of the year award winner Alyssa Naeher is all set to bag more such awards in her successful career ahead.
Her story is every athlete's story. Filled with ups, downs, struggles, injuries, and victories, she stays strong, stands tall, and looks ahead. So, here we present Alyssa Naeher biography, her life story, and the road to success; the star paved herself with her determination, strong will and perseverance.
Alyssa Naeher Biography: Her Early Life
John and Donna-Lynn Naeher couldn't be happier to have Alyssa Naeher and her twin sister, Amanda, in their lives on April 20, 1988.
Growing up with a twin and then a younger sister Abigail in Bridgeport hometown, Naeher knew what she wanted to be right from childhood. Studying at Christian Heritage School, she became a standout soccer player, a three-time all-state, and a three-time FAA All-Conference selection.
For Alyssa, it was just the beginning as she was in Parade All-American and two-time NSCAA Youth All-American too. Also good at basketball, scoring more than 2,000 points during high school, Naeher played for the U-16 and U-17 Women's National Teams.
Naeher attended Penn State University from 2006 to 2009. Alyssa left a mark there too in 2007, as she got named Big 10 Defensive Player of the Year. Alyssa helped Team USA to the 2008 U20 FIFA Women's World Cup title, where she earned the Golden Glove as the tournament's best goalkeeper.
Alyssa truly lived and demonstrated the seven C's of Success, was and is unstoppable.
The Real Start to Alyssa Naeher Career
Alyssa Naeher Biography may not capture every single moments of her life but highlights the important events that shaped her and everyone around her life.
Naeher was the first goalkeeper selected in the 2010 WPS draft after being selected by Boston Breakers and got her first shutout on August 4, 2010. Alyssa then played for Turbine Potsdam in 24 matches  in the 2011/2012 season and the team won the 2011–12 Frauen-Bundesliga.
Naeher signed in 2013 with the Boston Breakers in National Women's Soccer League and returned to United States.
Naeher bagged 'Goalkeeper of the year' award in 2014 National Women's Soccer League season and had a record of 106 saves in 24 games.
2015 was a great year for Alyssa as her team won the Women's World Cup with 5 goals and her family welcomed a new member in her family. Naeher's nephew, her sister Abigail's son arrived the same day she and her team won. Let's look at the cute emotional video where Alyssa shares about the moment.
Naeher  took the spirit of 2015 to 2016 NWSL season in Chicago and again got named Player of the Month for May as with three shutouts and allowing one goal in four games during the month.
On August 18, 2018, the star player earned her 100th NWSL cap in a 2–2 draw against the Portland Thorns.
The Chicago Red Stars Goal Keeper in 2019 has emerged as the USWNT's starting keeper and doing her best ever since.
Tokyo Olympic Injury
While reading Alyssa Naeher biography, it might seem like wow she is a born athlete and did everything so smoothly. But that's not the case. Alyssa needed to consistently work hard and at the same time face painful injuries.
U.S. goalkeeper Naeher while paying for Tokyo Olympic, leaped for a ball, collided with U.S defender Julie Ertz and landed suffering a hyperextension of her right knee and a bone contusion.
She couldn't play in Thursday's Olympic bronze medal women's soccer match and had to exit semifinal game against Canada because of the injury.
Alyssa Naeher's Net Worth
All the eligible players for the women's national team are guaranteed a $100,000 salary plus bonuses for wins, draws and appearances.
As per the earnings listed for U.S Women team players, Alyssa Naeher's salary was listed as $255,783 along with her fellow players as listed below:
| | |
| --- | --- |
| Team Players | Salary |
| Alyssa Naeher | $255,783 |
| Julie Ertz | $254,945 |
| Abby Dahlkemper | $253,283 |
| Becky Sauerbrunn | $254,533 |
| Crystal Dunn | $253,283 |
Source: USA TODAY
We can estimate that Alyssa Naeher's net worth could be estimated at $5 million.
Travelling and housing in different places as per the game's requirement, Alyssa loves to take rides in Audi car. And its pleasing to see sports lover riding luxurious cars.
View this post on Instagram
Alyssa's Love For Family
Alyssa Naeher biography cannot be complete until her whole family is in the picture. She loves her family. And every moment she likes to share how she spends time with her family, her parents, siblings, brother-in -law, niece, and nephew. She loves to share the details about how her family likes to do small projects together like building dollhouse in their family house's backyard. And also how her family is there with her in every game and the continuous support she received.
Trivia and Facts
Alyssa Naeher is Single at the moment and is not dating anyone.
She enjoys drinking coffee and doing the crossword puzzle every morning.
Her favorite professional sports team is the New England Patriots.
Did you notice an error ?
Please help us make corrections by submitting a suggestion. Your help is greatly appreciated!