Sports
Adrianna Franch Biography: A Story of Rags To Riches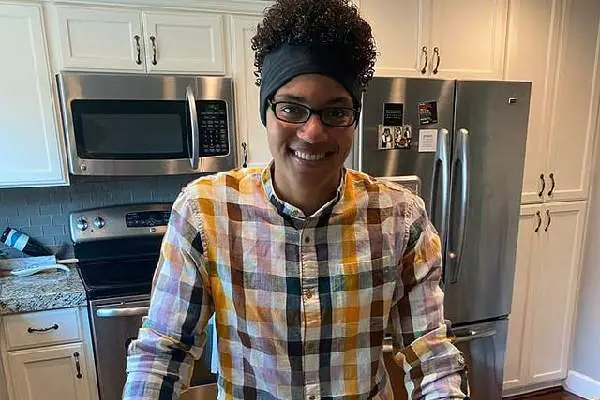 Adrianna Franch Biography. Image Source: Instagram.
Full Name

Adrianna Nichole Franch

Age

33 yrs

Birth Date

November 12, 1990

Country

America

Relationship Status

Married

Spouse

Emily Boscacci

Nationality

American

Ethnicity

African-American

Profession

American Soccer Goalkeeper

Children

1

Awards and honors

NWSL Goalkeeper of the Year: 2017, 2018

City

Salina

Height

1.75 m
Adrianna Franch has been a wall in front of the goal for the United States women's national soccer team. Along with playing for the national team, she also plays for Kansas City in the National Women's Soccer League (NWSL). One of the most decorated goalkeepers in NWSL history, Adrianna has over 10,000 regular season minutes played and over 100 regular season games played. She is also the NWSL record holder for playoff games played (10) and minutes (900).
The goalkeeper's tale emulates the experience of all sportsmen and sportswomen – marked with moments of triumph, despair, hardships, and physical setbacks. Yet, she persists through them all and remains optimistic about what's to come. Therefore, we proudly present Adrianna Franch biography, which recounts her life story and journey to prosperity as a sports star who carved out her way through sheer willpower, doggedness, and persistence.
Early Life of The Shot-Stopper
Adrianna Franch, affectionately known as "AD," spent her formative years in Salina, Kansas. During her time at Salina South High School, she garnered plenty of accolades by showcasing impressive skills with the gloves on the soccer field for three seasons until an injury from basketball curtailed her senior season aspirations.
Despite this setback, though, Franch was recognized and awarded All-State, All-Southwest Region, and All-League honors; furthermore, during that same period earned league MVP titles but also set herself apart on the court due to equal effervescence as a basketball player landing first-team All-County and All-League honorable mentions.
Franch exhibited promise even outside the high school soccer domain, where early signs would lead people to identify what would be apparent later in life – extraordinary talent regarding goalkeeping knew no bounds.
The athlete's inclination toward becoming elite drove Franch to be selected by the Kansas Olympic Development Program's team not once or twice -but thrice over three years, and helped earn Regional II ODP Team recognition coupled with National Pool designation in 2006.
Adrianna Was Athletic Since Her 
Childhood
During Franch's childhood, she caught everyone's attention due to her towering height. Adrianna Franch's mother thought it was best to enroll her in YMCA sports as a way for her to explore the various sporting activities available.
Volleyball was too tame for her competitive nature since staying confined did not conform with Franch's athletic demeanor. However, basketball and soccer captivated her heart more than any other sport.
Adrianna had already honed exceptional hand-eye coordination from playing various games at the YMCA that people started taking notice of when she displayed an innate talent while practicing as a goalkeeper. During one training session at age 13 – though according to Franch, all they were doing was kicking straight shots toward the nets, which made things seem much easier.
From then on, many have considered Franch phenomenal between the sticks because of how effortlessly she moved; no surprise given what others deemed remarkable athleticism and incredible reflexes that warrant comparison with legendary women's national team keeper Briana Scurry who happened to be Franch's favorite goalie growing up such some would refer Franch as "the next Bri Scurry."
Another goalkeeper making waves in NWSL is Alyssa Naehar. Learn all about her in our article.
Adrianna Franch Biography:
From Rags to Riches
Adrianna had a modest upbringing and owed her success to her mother, Raqual Franch. They were residing in Kansas at an abode built by Habitat for Humanity along with Adrianna's siblings when they previously relocated from one apartment to another in Salina, Kansas.
To give her kids prospects for a better future, especially Adrianna, who was inclined towards pursuing her passion, Raqual extended ample support that eventually led to the right choices being made. While studying at Salina South High School, Adriana displayed dazzling performance records, such as obtaining All-state honors together with earning both All-Southwest Region and All-League awards.
At Oklahoma State University, Franch served as a goalkeeper for 24 matches and excelled in her role. She was recognized twice as an All-American player and made it to the semifinals of the MAC Hermann Trophy.
Big thanks to @Visa for empowering my teammates and I as we chase our dreams in France. #VisaAmbassador #OneNationOneTeam @USWNT pic.twitter.com/sYKhCmOAoz

— Adrianna AD Franch (@ADizzle23) May 31, 2019
With remarkable talent, Franch became a highly valued athlete when she began her club career with Western New York Flash in 2013. This marked her first source of income from playing the sport that she loved, and it may have been seen as an initial step by Adrianna toward improving her family's financial situation through football.
On December 10th, 2015, Portland Thorns FC signed Adriana Franch to their team, which played within the National Women's Soccer League Club, where she continued until being traded off to Kansas City in exchange for Abby Smith (goalkeeper) along with $150k allocation money during 2021.
Over time then is no doubt that there has been significant growth in Adrianna Franch due to these accomplishments throughout her soccer journey so far.
She Married 
The Love of Her Life
: Emily Boscacci
Adrianna Franch became engaged to Emily Boscacci in 2017. The couple eventually tied the knot on December 21st of 2019, after being betrothed for two years. The duo publicly showcase their affection and share an authentic connection that is a lovely testimony to genuine fondness.
For several years, Franch has been transparent about her romance with Emily. According to her LinkedIn profile, Adrianna Franch's spouse works as a client success manager at Journi and holds Bachelor's degree in Social Science from Portland State University, along with a Master's degree in Public Health.
The shot-stopper's partner grew up alongside Beth Boscacci and Kim Boscacci-her close sisters-with whom she maintains an unwavering relationship to this day which can be observed through photos shared by her on social media platforms.
Although unconventional, Emily's parents, Mary Boscacci and Steve Boscacci, also gave their blessing to Adrianne and her association with Emily.
ALSO READ: Ari Melber Biography: An Inspiring Story of an Israeli Immigrant
The Couple 
Have a Child Together
Adrianna Franch joyously shared with her followers on Instagram in September 2021 that she and her partner, Emily, were expanding their family from two to three. Fans expressed their delight for the couple and sent warm wishes to them.
On January 1st of, 2022, they revealed the arrival of their little one by posting a snapshot of them as a new family together. Adrianna expressed gratitude towards Emily for being an exceptional mother and fantastic spouse while sharing how proud she is of her through writing.
View this post on Instagram
Their healthy baby girl, Kamari Boscacci-Franch, is taken care of by her loving mother, Emily. Her social media account features many adorable pictures featuring Kamari's life.
All things considered, the Franch household lives harmoniously under every circumstance making it comfortable and blissful living alongside each other. Our sincere well-wishes go out to them always.
What is Adrianna Franch's Net Worth?
Through hard work, Adrianna Franch achieved her dream of joining the United States Women's National Soccer team. Despite being drafted earlier and not playing, she participated in every match of USWNT's SheBelieves Cup in 2019.
With President Joe Biden's new bill on salary increments passed recently, Franch's net worth has likely increased. NWSL raised the minimum wage for players by 60% from $22k to $35k starting in 2023, along with other benefits like free lodging and better travel allowances. This enhances medical coverage and retirement savings plan (401K) contributions.
Adrianna Franch's salary is unknown, but it's expected to be high due to her exceptional performances on and off the field. She also earns money from other sources, such as compensation for branded jerseys sold under her name. Her popularity among supporters has contributed considerably to her earnings potential through increased jersey sales.
The athlete's "Kansas City Jersey" is sold for $160. The jerseys come with distinct labels representing diverse organizations and their endorsements, which helps to boost exposure. Marketing campaigns also contribute towards the increased value proposition resulting in additional financial gain opportunities.
It's evident that success is guaranteed when a player has excellent athletic skills, irrespective of their appearance; professional seriousness plays an indispensable role here. With this native citizen's remarkable talent between crossbar posts, they're on track to secure admirable career heights anticipated soon enough.
Trivia and Facts
The goalkeeper, who hails from Kansas and possesses impressive athleticism, established a new record of 36 shutouts at 

Oklahoma State

.

Currently playing for 

Portland Thorns

 since 2016, she has attained numerous more shutouts, including setting a league record with 11 during the 2017 season.

Franch was named 

NWSL Goalkeeper of The Year

 consecutively in both seasons – 2017 and 2018; an accomplishment no other athlete has achieved yet.
References
AD Franch – Kansas City Current. (n.d.). 
Adrianna Franch Profile – Oklahoma State Official Athletic Site. (n.d.). 
U.S. Soccer Federation. (2023, March 28). Adrianna Franch | USWNT | U.S. Soccer Official Site. 
Adrianna Franch – U.S. Soccer. (n.d.). © U.S. SOCCER 2013, All Rights Reserved.
Kassouf, J. (2021, August 17). Thorns trade Adrianna Franch to Kansas City for Abby Smith, $150K. 
Gentrup, A., & Gentrup, A. (2022). NWSL Minimum Salaries Jump 60% With First CBA. Front Office Sports. 
Did you notice an error ?
Please help us make corrections by submitting a suggestion. Your help is greatly appreciated!