Sports
Kyle Sinckler Biography: The Prop Powerhouse of Bristol Bears and England Rugby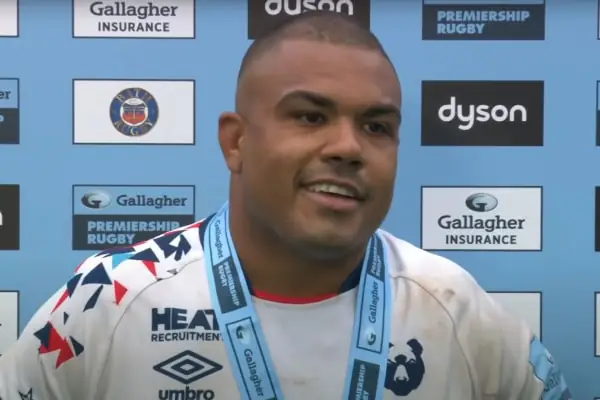 Kyle Sinckler Biography. Image Credit: Social Media.
Full Name

Kyle Norval Jonathan Sean Sinckler

Age

30 yrs

Birth Date

March 30, 1993

Country

England

Relationship Status

Single

Nationality

English

Profession

Rugby Union Player

Awards and honors

2× Six Nations Championship: 2017, 2020

Education

Graveney School and Epsom College

Height

5 feet 10 inches
Kyle Sinckler, an influential and highly skilled player, has established himself as a dominant force among props in rugby at a global level. Renowned for his immense strength, remarkable agility, and relentless playing style, Sinckler has proven to be an invaluable asset for both the Bristol Bears and the England national team.
Within Kyle Sinckler biography, we explore the remarkable life and professional trajectory of the professional rugby union player – from his modest origins to his current eminent status as a powerhouse prop in international rugby.
Early Life and Rugby Awakening
Born on March 30, 1993, in Wandsworth, London, England, Kyle Norval Jonathan Sean Sinckler's introduction to the world of rugby came at a young age. Growing up in a dynamic and culturally diverse community provided him with an environment that nurtured his passion for the sport. At just eight years old, Sinckler found himself drawn to rugby thanks to the encouragement and support of his mother, Donna.
Growing up in Tooting, southwest London, Sinckler experienced the unique challenges of being raised by a single mother. Donna, his fiercely dedicated mother, juggled her night shifts at a police call center where she faced the ugliest side of human nature.
Initially drawn towards football due to its popularity among his peers, Sinckler's physicality led him down a different path. It was his mother who recognized and cultivated his potential by taking him to Battersea Ironsides in Earlfield—a local hotbed for aspiring rugby players—to give it a try.
Attending Graveney School, followed by Epsom College, further solidified Sinckler's commitment as he developed both natural talent and an unyielding dedication on the field.
Sinckler's early involvement in rugby not only shaped who he is today but also set the stage for what would become a remarkable professional career ahead.
Harlequins and Breakthrough
Sinckler's rise in the world of rugby can be attributed to his natural talent and unwavering dedication. He tirelessly worked on improving his skills at his local club, putting in countless hours of practice. It was clear from an early age that Sinckler had a special gift for the sport, as he consistently excelled while representing both his school and county teams.
The breakthrough moment came when talent scouts took notice of Sinckler's exceptional performances at the grassroots level. This pivotal recognition presented him with a golden opportunity to join the prestigious Harlequins Academy, one of the elite English Premiership rugby clubs.
In 2011, a young 12-year-old Kyle Sinckler embarked on this new chapter in his sporting journey by making a leap to join The Harlequins. It was during one match against King's College School OB that coach Collin Osborne first saw him play full back and immediately recognized the immense potential within him. From that point onwards, there was no looking back for Sinckler.
His time at The Harlequins not only allowed him to refine his skills further but also provided invaluable exposure on arguably one of England's biggest stages -the Premiership itself. With every game played and every milestone achieved, it became increasingly evident that Sinckler was a rising star in English rugby.
ALSO READ: Maro Itoje Biography: The Rugby Phenom From North London to Global Stardom
The Power of the Lion
Sinckler's journey to the international stage was a testament to his exceptional performances at the club level. In 2016, he earned his well-deserved call-up to represent England on the national team. Prior to this milestone, Sinckler showcased his immense talent through notable appearances for both England U18 and U20 squads.
Under the guidance of then-new head coach Eddie Jones, Sinckler once again received recognition and was summoned into the senior England squad on May 8, 2016. This invitation granted him a valuable opportunity as part of a three-day training squad.
Finally, on November 12th, 2016, in an exhilarating moment against South Africa, Sinckler made his highly anticipated debut for the Senior team, during which he substituted Dan Cole in the final tense moments of play.
View this post on Instagram
Kyle's inclusion brought significant contributions as part of their victorious campaign during the remarkable run that led them to retain their title throughout the thrilling Six Nations Championship in 2017. Although they missed out on securing a grand slam with defeat suffered in their last game away to Ireland, a sense of pride remained evident within Simkcler's role as an essential member throughout this tournament venture.
Sinckler's exceptional blend of explosive power, remarkable agility, and formidable scrummaging mastery positioned him as an indispensable pillar in the England front row. This resounding recognition was further solidified when he secured a coveted spot in the prestigious British and Irish Lions squad for their triumphant 2017 tour of New Zealand.
With these accomplishments under his belt, Sinckler undeniably stands tall amongst the elite echelons of prop forwards worldwide.
Bristol Bears and New Horizons
In a significant career move, it was announced on 27 January 2020 that Sinckler would be joining the respected Premiership team Bristol Bears. The talented player signed a lucrative two-year deal with his new club. However, an agreement was made for Sinckler to first complete the ongoing 2019-20 season with Harlequins before officially making the switch during summer.
Sinckler's arrival at Bristol proved to be auspicious as he played a pivotal role in their notable triumph over Toulon in the EPCR Challenge Cup final on 16 October 2020. This victory marked not only the team's first-ever European trophy but also showcased Sinckler's immense contribution to their success.
Impressively demonstrating his commitment and dedication, Sinckler extended his contract with Bristol until the end of the 2023/24 season—a decision that speaks volumes about both his loyalty and trust in this ambitious squad.
However, there have been rumors stating that Kyle is leaving Bristol at the end of the 2023/24 season with French clubs interested in signing the player. Only time will tell if he will follow his fellow countryman, David Ribbans, to the French league.
Playing Style and Strengths
Kyle Sinckler's playing style embodies a captivating blend of raw power, tireless work ethic, and extraordinary scrummaging prowess. He approaches the game as a prop with unrivaled physicality, consistently overpowering adversaries in scrums while also leaving an indelible mark on loose play.
Sinckler's unparalleled agility and deft ball-handling skills make him an awe-inspiring presence on the field, capable of unleashing ferocious runs and executing skillful offloads even amidst formidable opposition.
The future trajectory of Kyle Sinckler in rugby is nothing short of promising, given his exceptional talent and unwavering commitment to his craft. As he continues to showcase his prowess for both the Bristol Bears at club level and the revered England national team, it is evident that his influence within the sport will only continue to burgeon.
Fueled by unyielding ambition and driven by dreams of capturing esteemed accolades such as Rugby World Cup triumphs or further Lions tour participation, he shows just how resolute he remains in constantly stretching boundaries en route to achieving greatness.
Life Away From The Cameras
In July 2017, Sinckler found himself in a precarious situation while celebrating the British & Irish Lions tour to New Zealand. Following their exhilarating 15–15 draw against the formidable opponents, Sinckler and his teammates embarked on a memorable night out in Central Auckland. However, amidst the revelry, an unfortunate incident occurred involving Sinckler.
Despite being arrested by authorities during that fateful night, no legal action was taken against him. Shortly after the incident transpired, sympathetic police officers accompanied Sinckler back to his hotel for refuge. Deeply remorseful for his actions, he openly expressed sincere apologies for any trouble caused as a result of this untoward event.
What a privilege to be awarded my 50th @EnglandRugby cap. I want to thank every single person who has influenced the making of such a career defining moment. Too many to mention but you know who you are. Eternally grateful 🙏🌹 pic.twitter.com/z4Z0jSPHoz

— Kyle Sinckler (@KyleSinckler) February 27, 2022
In a fascinating turn of events, Kyle Sinckler has recently inked a captivating one-year agreement to extend his stay in Bristol beyond the World Cup. Though there might have been some adjustments made from his original contract valued at approximately £475,000 ($587,812) per annum, it's clear that the tighthead prop is enjoying a successful stint with Bristol Rugby Club.
Kyle Sinckler's salary will grow even further if he decides to join the French league after this season. The prop player is also sponsored by multiple brands, including Adidas UK, Breitling, and Nocco UK. Also, the player has a YouTube channel called The R3cusants, where he shares his training and stories in an animated format. All these endeavors directly increase Kyle Sinckler's net worth, although we do not have the actual numbers.
Talking about the English national's love life, he currently does not have a girlfriend but does have a dog called Brody. The athlete does not mix his personal and professional life and is focused on bettering himself on and off the pitch.
Kyle Sinckler biography is not yet completed, and only Kyle knows what's in store next. One thing is certain: it will be exciting to see where his journey takes us next.
Did you notice an error ?
Please help us make corrections by submitting a suggestion. Your help is greatly appreciated!