Sports
Ollie Chessum Biography: England's Lock and Tigers Rugby Star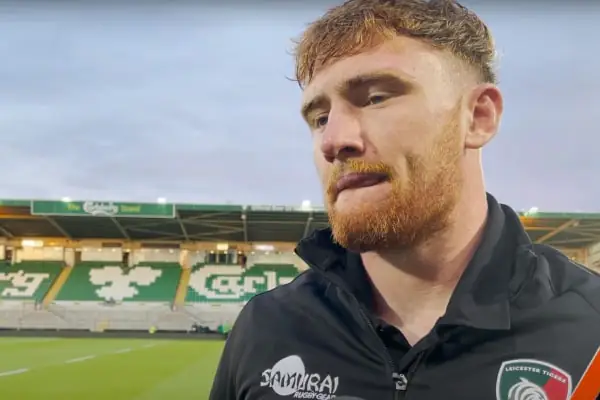 Ollie Chessum Biography. Image Credit: Social Media.
Full Name

Oliver Andrew Chessum

Age

23 yrs

Birth Date

September 6, 2000

Country

England

Relationship Status

Not Confirmed

Nationality

English

Profession

Rugby Union Player

Awards and honors

England squad – 2023 Rugby World Cup third place

Education

Carre's Grammar School

Height

6 feet 7 inches
Ollie Chessum, a prodigious talent in rugby, has carved out a prominent position for himself as an indomitable lock and an ascending figure in English rugby.
In Ollie Chessum biography, we will explore his life and journey thus far and unearth the origins of the English national's career path while highlighting his noteworthy milestones and profound influence within the world of rugby.
Renowned for his dynamic physicality, exceptional skill set, and unyielding resolve, Chessum epitomizes true strength on the field.
Early Life and Passion for Rugby
Oliver Andrew Chessum, born on September 6, 2000, in Boston, Lincolnshire, England, is the eldest of four children. His parents are Paddy Chessum and Michelle Bailey of Bailey Trailers. Notably, his younger brother Lewis also plays for Leicester Tigers and England's U20s rugby team.
Coming from a family that values sportsmanship and athleticism, Ollie was introduced to rugby at an early age. At 13 years old, he began playing rugby while attending Carre's Grammar School in Sleaford. He then went on to join various clubs, including Sleaford Rugby Club as well as Newark and Kesteven.
From the moment Ollie first held a rugby ball in his hands, it became clear that this sport would be his true passion. With natural talent combined with love for the game fueling him forward, Ollie quickly distinguished himself in youth leagues, catching not only the attention of scouts but coaches alike.
Rise Through the Ranks
Chessum's rise in the world of rugby was nothing short of extraordinary. From his early days as a teenager at a prestigious youth academy, he harnessed every opportunity to refine his skills and reach new heights. With unwavering commitment and an impressive blend of physical prowess and athleticism, Chessum quickly emerged as a standout among his peers, earning coveted spots on both school and county teams.
During his time as a teenager, Chessum initially found himself attached to Leicester's academy but faced setbacks when he wasn't selected for the main senior academy lineup at the age of 16. Undeterred by this setback, he embraced playing for his club alongside representing Notts, Lincs, and Derby Rugby Union's youth teams, where he showcased immense talent that caught England Counties' attention, leading to him representing them at U18 level competitions.
Joining the Leicester Tigers
After leaving school behind him in pursuit of greater opportunities in Nottingham, the talented rugby star made quite an impact with 11 appearances under his belt and impressed many within the club circles before eventually joining Leicester Tigers during the summer of 2020.
The pivotal moment came when Chessum finally got the chance to don the Leicester Tiger jersey donning it proudly during their match against Gloucester on August 30th, marking not only his debut appearance but also another milestone.
On 20 November 2021, Ollie showcased an impressive performance in a resounding 55-7 victory against Wasps in the Premiership Rugby Cup, earning him recognition as the man of the match by Leicester Mercury.
ALSO READ: Michele Lamaro Biography: Italian Professional Rugby Player
Making It To the National Team
Chessum's impressive performances in domestic rugby caught the attention of selectors at the international level. He was given a coveted spot on the England national rugby team, realizing his lifelong dream as a young lock.
During the start of the 2021-22 season, Chessum played an astounding 14 out of 17 games. His exceptional form led to his inclusion in England's squad for the highly anticipated 2022 Six Nations Championship.
On January 18th, 2022, then-England coach Eddie Jones drew comparisons between Chessum and Courtney Lawes, praising his skillful lineouts and dynamic ball-carrying abilities. The culmination of this recognition came on February 13th, when Chessum made his debut for England as a substitution during their resounding victory over Italy with a scoreline of 33-0.
A moment I'll cherish forever. pic.twitter.com/ZhQQLGR54g

— Ollie (@olliechessum) February 15, 2022
Continuing to impress on an international stage, Chessum started all four games for England in the fiercely contested 2023 Six Nations Championship until fate dealt him a cruel blow during training in March 2023 – he suffered from an ankle dislocation mishap that halted his progress temporarily.
However, undeterred by adversity earlier faced, he was consequently recognized for his immense potential once again when he was chosen for inclusion in its squad representing Britain at Rugby World Cup held in September 2023.
An important chapter in Ollie Chessum biography is his inclusion in the national team for the World Cup after returning from a serious injury.
Similarly, you might want to read about a player who started out with rugby but ended up playing in the NFL in Jordan Mailata's biography.
England World Cup Run
England's remarkable journey through the 2023 Rugby World Cup was nothing short of extraordinary, leaving a lasting impression on the tournament. Defying expectations and demonstrating their prowess on the field, England emerged triumphant in the group stage by securing victories against formidable opponents, including Argentina, Japan, Chile, and Samoa.
Their unwavering determination propelled them further as they triumphed over Fiji in an exhilarating quarter-final match with a scoreline of 30-24.
The semi-finals saw England face off against South Africa in a breathtaking showdown that kept spectators on edge throughout. The battle between these two powerhouses showcased exceptional skill and fierce competition.
Despite their valiant efforts, it was South Africa who clinched victory with only one point separating them from England when the final whistle blew – an agonizingly close defeat for Steve Borthwick's men.
Undeterred by this narrow loss in such crucial circumstances, England rallied to claim third place overall by defeating Argentina 26-23 in a tightly contested bronze final. This impressive finish solidified their standing as one of rugby's elite teams while instilling anticipation for future tournaments.
View this post on Instagram
The 2023 Rugby World Cup saw impressive performances from key players of the England team, like Owen Farrell, Maro Itoje, Jonny May, etc. Having left an indelible mark upon the global rugby community during this eventful campaign, all eyes are now turned towards the horizon as fans eagerly await what lies ahead for the 2027 World Cup.
What's Next For Ollie?
At a towering height of 6ft 7in, Ollie Chessum, the lock for England, is not often found looking up to others. However, when his younger brother Lewis stands at an impressive 6ft 9in beside him, it seems there is little choice but to do just that.
These two siblings have pursued similar paths in rugby, though they are separated in age by around two years and have yet to play together. The possibility of witnessing these brothers on the same field while wearing the England jersey adds another layer of astonishment to their story.
Ollie Chessum has already experienced triumph as a Premiership winner with Leicester Tigers and has even represented England in the World Cup. Meanwhile, Lewis captains the England Under-20 team as a promising second-row player who strives to follow in his older brother's footsteps.
The tantalizingly close prospect of seeing both Chessums lining up side-by-side within the same pack for the first time sparks excitement. As Lewis works tirelessly towards securing his spot on the national team roster, Ollie maintains a relentless dedication to retaining his place within it. Thus introducing an intriguing future scenario where we could witness "Chessum" and "Chessum" standing tall as partners in crime within England.
In addition to the latest developments, there is something remarkable happening within the family. Dylan, their youngest brother, has delved into rugby as well and has taken on the position of a fly-half. There's a possibility that in the future, we might witness all three brothers joining forces and representing their country on an international stage.
What is Ollie Chessum Net Worth and Earnings?
Rugby holds a prominent position among the most widely broadcasted sports worldwide, attracting participation from various countries and international events. While rugby players receive varying incomes depending on their league, their level of fame and success plays a significant role in determining their earnings. So, what is the typical pay scale for rugby players?
Both the Rugby Union and the League have established crucial agreements regarding player salaries. However, it's worth noting that compared to other professional athletes in sports such as soccer, rugby player salaries tend to be relatively lower.
On average, a professional athlete takes home approximately $61,944 annually, or around $5,162 per month and $1,191 per week. Interestingly enough, top regional athletes secure contracts valued at $743k-$867k with support from domestic clubs.
In terms of the UK specifically, the majority of professional rugby athletes are aligned with Super League organizations operating within a salary cap framework estimated at around $2.6 million.
Within this league setup, an average athlete typically earns about $49,603 yearly. However, the salary cap for NRL athletes is approximately $6.7 million, resulting in an average annual wage of around $67,210.
Considering all these numbers, we can say that Ollie Chessum's net worth is quite high, although the actual number is still a mystery. The rugby player also bagged a decent prize money after finishing 3rd in the World Cup. So, how much did he make from the tournament?
The exact amount earned from the tournament has not been officially announced by World Rugby, but reports suggest that the prize money for the Rugby World Cup 2023 was USD 6 million, making it one of the highest payouts in global sports.
The runners-up received USD 3 million, while each losing semi-finalist obtained USD 1.5 million. Teams eliminated in the quarter-finals earned USD 750k each, and those failing to advance past the Group Stage were awarded USD 300k each.
As Ollie Chessum continues to make his mark, rugby enthusiasts eagerly await his future achievements and the impact he will undoubtedly have on the sport.
Did you notice an error ?
Please help us make corrections by submitting a suggestion. Your help is greatly appreciated!