Sports
Pato O'Ward Biography: The Journey of a Motorsport Phenomenon Towards Checkered Flags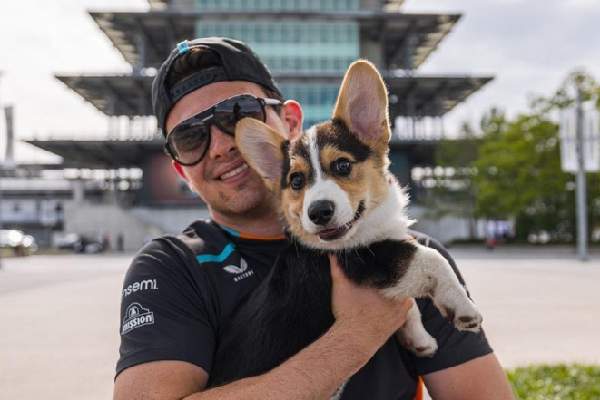 Pato O'Ward Biography. Image Source: Instagram.
Full Name

Patricio O'Ward Junco

Age

26 yrs

Birth Date

May 6, 1997

Country

Mexico

Relationship Status

Not Confirmed

Nationality

Mexican

Ethnicity

Mexican

Profession

Racing Driver

Awards and honors

Indy Lights championship

Height

5 feet 8 inches
Patricio O'Ward Junco, mainly known as Pato, is one of the competitive auto racing drivers who has captured spectators' attention and irrevocably changed the sport with each race.
The Mexican professional Pato O'Ward has continuously demonstrated a combination of unbridled talent, tenacity, and a will to beat his rivals, from his courageous performances on the karting circuit to his podium finishes and inaugural victory in the IndyCar Series.
Beyond his on-track performance, however, O'Ward's journey denotes more than just individual triumph. His ascent to the top of motorsport has made him a source of motivation and hope for aspiring racers, particularly those from his native Mexico. So we present you the comprehensive story- Pato O'Ward biography, a man propelling to the summit of racing.
Karting: The Early Years of Speed and Skill Development
The story of a passionate racer began when a child was born on 6 May 1999 in Nuevo León state of Mexico. That child was captivated by the motorsport when he saw his first Formula 1 race growing up in Monterrey, Mexico.
Even though many things changed as he moved between Mexico and Texas, one thing remains consistent in his life, i.e., his love for motorsport. The child, fascinated with motorsport through a race, decided to enter the racing world at 6 through karting.
Pato continued karting for seven years, where he accomplished major achievements, including several championships in Mexico and North America. After deciding to pursue his dream on a professional level, he moved to France in 2013 and took his first step towards formula racing by competing in the French F4 Championship. 
The exceptional raw talent of Pato was never unnoticed. At 17, he won the PC class of the 24 Hours of Daytona, setting the record as Pato being the youngest driver to achieve this title.
One of the best decisions of his professional life was to return to the US and begin the road to the Indy ladder, which put him on the path to where he is now, competing in the IndyCar Series as the driver of the No. 5 Arrow McLaren Chevrolet.
Indy Lights Success: Pato O'Ward's Path to Prominence in the Indy Series
With the foundation of karting and support from parents and fans, the Mexican racer signed with Andretti Autosport to compete in the Indy Lights Championship. The child who dreamt of being a racer won the Indy Lights title in 2018, confirming his credentials as a promising driver.
Following the victory, O'Ward made his debut in IndyCar Series at Sonoma Raceway in a second Harding Racing entry, where he secured his Rookie Of the Year title. The new path of his career would have unfolded if he had become a full-time IndyCar Series driver as he was supposed to. But he couldn't make up for that position due to a lack of sponsors. 
With the close of one door of opportunities, the other five doors of opportunities will be created; the same case was for the racer. He joined Carlin as a part-time driver and drove 13 races in first entry and 12 in second. 
In May 2019, Pato O'Ward joined the Red Bull Junior Team and began his adventure with them. The following month, a fantastic opportunity awaited him when he took Mahaveer Raghunathan's place in the Formula 2 championship at the renowned Red Bull Ring.
Despite his outstanding accomplishments in the Indy Lights championship, he experienced a setback since the FIA decided to deduct fewer super License points from his victory. Red Bull decided not to renew his contract into 2019 as a result of his failed attempt to compete in Formula 1 in 2020.
ALSO READ: Peter Bonnington Biography: Meet The Formula One Race Engineer
Unleashing the Phenom: Triumph and Achievement
Even with many setbacks and disappointments, he was never the type of person who just dwelled in the past. The racer believes that not every season will be perfect and one must pass the challenges thrown in the way. 
The professional racer signed a deal with Arrow McLaren SP for the 2020 season. He started his 2020 season with a bang by clinching pole position and achieving his first podium finish in the second round of the Road America doubleheader.
Since the first season was good, the objective of Pato was to win races and give a shot for the title in 2021. The season started with Pato being a title contender, where he earned his first podium of the season in the first race with a third place and secured his maiden IndyCar victory in the second race.
With this victory, he became the first Chevrolet driver not affiliated with Team Penske to win a race since 2016 and the first Mexican driver to win an IndyCar race since Adrian Fernandez at Fontana in 2004.
From then, he never dropped from his rank, but his expectation to exceed the third rank was like a fire fueling inside him. He was competing against Lex Palou for the majority of the season while squaring off against series champions Josef Newgarden and Scott Dixon.
The racer made a deal with McLaren CEO Zak Brown to test the McLaren MCL35M if he could win at least one Indycar race. Keeping the promise, he won the XPEL 375 and got his first opportunity to drive an F1 car, McLaren MP4/13, at Laguna Seca. Moreover, Two time Formula One World Champion Mika Häkkinen was there to assist him during the test. What could be a better test than this?
Due to his amazing performance during the testing of MCL35 in Abu Dhabi, he was assumed to have a lead on F1, but the rumors were shut down as he was confirmed to be with McLaren for the 2022 season.
Continuation Of Pato O'Ward Career History With McLaren
The start of the 2022 season was not great for Pato, but he took his pace after securing his first win of the season in the fourth round at Barber. Moreover, the three-year extension contract with Arrow McLaren SP was like adding to the legacy of something already so special. He feels at home with the team and people of McLaren.
In 2022, O'Ward kept moving for the checkered flags. He battled against seasoned veterans and reigning champions, emerging as a legitimate title challenger after a streak of strong performances. He finished second in the Indianapolis 500 in 2022, finished on the podium four times, won two races, and earned one pole position.
O'Ward concluded the season with the ultimate seventh position in the championship standings, cementing his position as one of the sport's most promising players despite not winning the championship. 
O'Ward believes that he is in a position where anything less than he previously achieved is not something he wants. He has achieved fourth and third in the championship and sixth and fourth in the Indy 500. He definitely wants to win more poles and podiums, but his ultimate goal is to win two big cookies, i.e., the Indy 500 and the championship.
Pato's 2023 season start was very strong as he secured three second-place finishes in the first five races. However, his performance at Long Beach was full of criticism due to his attempt to take a risky overtake that caused Scott Dixon to crash out of the race. Furthermore, he had his best starting position in the race by starting fifth at the 2023 Indianapolis 500. Still, he crashed as he was fighting against Marcus Ericsson and Josef Newgarden for the lead. 
Despite all the obstacles on the road, the Mexican racer is still moving forward to achieve his two cookies by striving with many podiums and poles in the journey.
Similarly, you may be interested in learning about Taron Egerton's net worth.
What His Future Journey Holds
The future is tremendously bright as Pato O'Ward continues his quest for checkered flags. He acquires priceless experience with every season that goes by, honing his abilities and instincts for racing even more. The day when O'Ward wins his goals, an achievement that appears well within his grasp, is keenly anticipated by the motorsports community.
Beyond his own personal accomplishments, O'Ward's ascension has important ramifications for aspiring Mexican racers. As one of the few Mexican drivers competing in the IndyCar series, O'Ward inspires upcoming talent by demonstrating that goals can be achieved with perseverance, hard effort, and steadfast faith in one's own ability. His accomplishment opens the door for a new generation of Mexican racing drivers to pursue their own ambitions in the industry.
Pato O'Ward biography is far from over, and we are ever more excited to learn what's in store next.
References
Did you notice an error ?
Please help us make corrections by submitting a suggestion. Your help is greatly appreciated!