Sports
Richard Verschoor Biography: Making A Name in Formula Race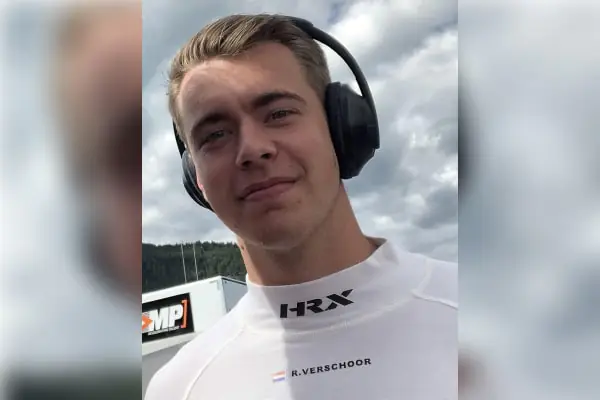 Richard Verschoor biography. Image Source: Wikimedia Commons.
Full Name

Richard Bastiaan Verschoor

Age

22 yrs

Birth Date

December 16, 2000

Country

Netherlands

Relationship Status

Single

Nationality

Dutch

Profession

Racing Driver

Height

6 feet 1 inches
Richard Verschoor has emerged as a prominent figure in the realm of motorsports, garnering attention for his remarkable talent and impressive performances in Formula racing.
Within Richard Verschoor biography, we delve into various facets of the racer's journey- tracing his humble beginnings in karting all the way to his present endeavors on Formula race circuits- while emphasizing both personal milestones and a steadfast determination to leave an enduring impact upon global motorsport culture.
Bearing an unwavering dedication to success and fueled by an indomitable passion for the sport, Verschoor's ascent up the competitive ladder has been steady, effectively showcasing his prowess and establishing himself as one of the most promising young drivers within this industry.
Early Beginnings and Karting Success
Richard Bastiaan Verschoor, born on December 16, 2000, in Benschop, Netherlands, embarked on his motorsports journey at an early age. Discovering a passion for karting when he was just eight years old, he quickly showcased innate talent and a fierce competitive drive.
Through unwavering dedication to skill refinement and a tireless pursuit of excellence, Verschoor emerged as a dominant force in the realm of kart racing. His impressive string of victories and championships solidified his status as an outstanding contender.
Beginning his career in karting back in 2011, Verschoor actively participated in numerous national kart series held in the Netherlands from 2011 to 2013. In pursuit of greater challenges and opportunities for growth, however, Verschoor made the strategic decision to transition into European-level competitions starting from 2014 onwards. This move proved fruitful, as highlighted by his triumphant win at the CIK-FIA Karting Academy Trophy that same year.
Continuing with this upward trajectory throughout 2015, Verschoor secured victory once again by becoming the reigning champion during Germany's esteemed Kart Racing Championship event while also securing commendable sixth place worldwide alongside third place ranking throughout Europe's prestigious CIK-FIA KF Championship later that season.
Why He Started Racing?
Richard Verschoor's journey into the world of racing took an unconventional path fueled by a desire to bridge the gap between him and his hardworking father. Determined to spend meaningful time together, Richard's father gifted him a go-kart, setting in motion a rapid progression through various karting tracks.
Surpassing expectations at every turn, Richard emerged as the Dutch karting Champion, followed by international acclaim as the World Karting Champion. Not resting on his laurels, Richard continued his triumphant trajectory with back-to-back Formula 4 Championships and ultimately triumphed at the prestigious F3 Macau World Cup.
Against all odds and defying traditional narratives among aspiring racers who follow their fathers' footsteps to Formula 1 stardom, Richard embraced ambition that knows no bounds. Now fixated on scaling new heights within motorsport, his sole focus is attaining supremacy in this demanding arena.
Currently engrossed in fierce competition within the FIA Formula 2 Championship circuit, Richard remains unwaveringly dedicated to realizing his ultimate aspiration.
ALSO READ: Isack Hadjar Biography: French-Algerian Racing Driver
Transition to Single-Seater Racing
After achieving notable success in karting, Richard Verschoor embarked on the next stage of his motorsports journey by transitioning to single-seater racing when he was 15. In 2016, he entered the highly competitive ADAC Formula 4 Championship, where he effectively demonstrated his skills and abilities.
Despite being a rookie in this demanding series, Verschoor showcased remarkable talent and adaptability that led to several podium finishes, as well as winning the opening race of the season at Sochi.
View this post on Instagram
Expanding upon his achievements in Formula 4, Richard Verschoor advanced to compete in the prestigious FIA Formula 3 Championship during the year 2019.
Entering a field comprising exceptionally skilled drivers from across the globe presented new hurdles and intensified competition for the young racer. Nevertheless, with unwavering determination and an insatiable desire for triumph, Verschoor consistently delivered strong performances while displaying impressive racecraft capabilities within the esteemed community of Formula 3 drivers.
Breakthrough Victory
In 2019, Richard Verschoor achieved a significant win in the Macau Grand Prix, further establishing his reputation as an emerging talent in the competitive world of Formula racing.
Verschoor's victory at the Macau Grand Prix marked a historic moment for Dutch drivers, as he became the first to achieve this feat. Additionally, his win as a rookie echoes Keisuke Kunimoto's triumph in 2008. Interestingly, Verschoor disclosed that he faced an additional challenge during the race due to having bent steering after hitting the wall while leading.
No further action, P2! Amazing job by the team what a race. Apologies to Jack of course but there wasn't much I could do.. pic.twitter.com/vUQGQ6Unfn

— Richard Verschoor (@R_Verschoor1) September 4, 2022
Representing MP Motorsport, Verschoor demonstrated exceptional skill and composure under pressure, highlighting a pivotal moment in his career. The remarkable performances and noteworthy triumphs have drawn the attention of prominent teams and industry experts towards Richard Verschoor.
Speculations about his potential future endeavors in Formula 1 have been sparked due to his undeniable talent and boundless possibilities. However, Verschoor remains steadfastly focused on pursuing opportunities that will enable him to display his capabilities on the esteemed stage of Formula 1 motorsport.
Similarly, you might want to read about British Racer Olli Caldwell's Net Worth.
Formula 2 Debut
Richard Verschoor is currently competing in the Formula 2 Championship for Van Amersfoort Racing. He graduated to Formula 2 in 2021 with MP Motorsport before switching to Charouz Racing System and moving to Trident in 2022.
Verschoor made his Formula 2 debut at the 2021 Bahrain Grand Prix, but he had to retire from the first race due to mechanical problems. He finished 11th in the standings in his rookie season, with a podium finish at the Silverstone Sprint Race 2.
In 2022, Verschoor finished 12th in the standings, with a podium finish at the Jeddah Sprint Race 1. He also had a number of strong performances in qualifying, including two pole positions.
Verschoor is a talented driver with a lot of potential. He is still young, but he has already shown that he has the speed and skill to compete at the highest level. He is one of the drivers to watch in the Formula 2 Championship in 2023.
Off-Track Character and Future Aspirations
In addition to his achievements on the racetrack, Richard Verschoor is renowned for his diligent work ethic, discipline, and unwavering commitment to continual growth. He adheres rigorously to a physical training regimen in order to optimize his performance and is consistently seeking avenues through which he can enhance his racing capabilities.
Verschoor's diligence and professionalism off the track are equally remarkable as they complement his skill behind the wheel, positioning him as a versatile and promising emerging driver.
Richard Verschoor's journey within motorsports remains an ongoing pursuit with lofty aspirations. His ultimate objective revolves around securing a position in Formula 1, where he will have the opportunity to compete against some of the world's greatest drivers.
With unyielding ambition, natural talent, and relentless determination propelling him forward, Verschoor exhibits qualities that render him one to watch closely in future years. Continuously impressing audiences with each subsequent race appearance further solidifies his reputation within the fiercely competitive realm of Formula racing.
Personal Life and Net Worth
The racing sensation has been successful on the track, but outside, what's he up to? Well, Richard is currently single and is not actively looking for a partner. Maybe one day, when he reaches his goal of reaching Formula 1, he will start planning the next part of his life.
As of now, Richard Verschoor's net worth is not public knowledge, but he does have his own merchandise. Furthermore, he is sponsored by a host of companies, such as JEX, Jan Van Dam Group, and Doopie Cash, among others. More information can be accessed on his website.
| | |
| --- | --- |
| Product | Price |
| T-shirt "For Sure" | $42.44 |
| Bucket Hat Reversible "For Sure" | $31.81 |
| Hoodie "For Sure" | $63.68 |
| Baseball Cap "For Sure" | $31.81 |
Table Source: forsure.shop
Merchandise sales and sponsorship deals on top of his salary must be contributing a lot to his wealth. Check back with us, as we will update his net worth as soon as new information is revealed.
For now, with his sights set on Formula 1, Verschoor remains committed to refining his skills, seizing opportunities, and leaving a lasting impact in the motorsports world.
As his career progresses, Richard Verschoor biography serves as an inspiration to aspiring drivers, highlighting the importance of dedication, perseverance, and a never-ending pursuit of excellence in achieving success in the highly competitive world of motorsports.
Did you notice an error ?
Please help us make corrections by submitting a suggestion. Your help is greatly appreciated!