Sports
Taylor Pendrith Biography: Canadian Golfer Making Waves On The Fairways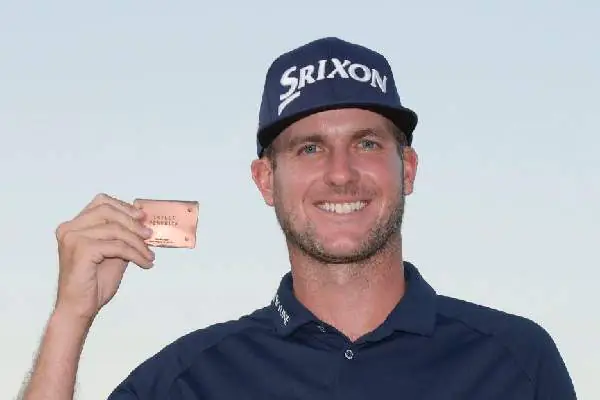 Taylor Pendrith Biography. Image Credit: Social media
Full Name

Taylor Pendrith

Age

32 yrs

Birth Date

May 30, 1991

Country

Canada

Relationship Status

Married

Spouse

Megan Pendrith

Nationality

Canadian

Ethnicity

White

Profession

Golfer

Children

Hayes Austin Pendrith

Awards and honors

2014 Eisenhower Trophy

Education

Sports Administration, Kent State University

Height

6 feet
The golfer's swing paints a masterpiece across the canvas of the fairway, each stroke a harmonious blend of skill and passion. On a similar note, Taylor Pendrith, a Canadian professional golfer, shows his exceptional mastery of the craft and plays on the PGA Tour.
The two-time winner of the 2019 PGA Tour Canada is a promising Canadian golfer. Sit back, relax, and join us as we will dive deep through Taylor Pendrith biography, which aims to explore his journey from amateur success to the professional ranks.
Known as a good putter, Pendrith serves as an inspiration to young golfers in Canada and beyond. He has the ability to hit a variety of shots around the greens and is loved by many for his outgoing personality and his love of the game.
Early Life and Background
Taylor Pendrith was born on May 30, 1991, in Richmond Hill, Ontario, Canada, to parents Darrell Pendrith (father) and Jill Pendrith (mother). He grew up with a passion for sports, and his interest in golf began at an early age. Throughout his youth, Pendrith honed his skills on the golf course, showing exceptional talent that would eventually lead him to a professional career.
Talking about his education, Taylor attended Bayview Secondary High School. While at high school, Taylor won the Canadian Long Drive Championship and represented Team Canada at the Triangular Cup in Bela Bela, South Africa.
Afterward, Taylor graduated with a degree in Sports Administration from Kent State University. By the time he was in his last year, Pendrith was one of only two players in Kent State men's gold history to play in the NCAA Championships in all four college seasons.
At Kent State, he ranked No. 47 in the World Amateur Men's Golf Rankings and ranked No. 27 in the Scratch Players World Amateur Rankings by May 2014. Not only Taylor but his older sister, Jennifer Pendrith, has also been in the golf industry for several years. She has been serving as the golf course superintendent for Kawartha Golf Club since 2002.
ALSO READ: Jeff Maggert Biography: A Professional Golfer's Legacy
Climbing Through Ranks: Professional Career
Several notable achievements marked Pendrith's amateur golf career. During his time at Kent State, he distinguished himself as one of the top amateur golfers in the United States. In the 2012-2013 season, Pendrith won the prestigious Porter Cup, a highly regarded amateur golf tournament held annually in New York. This victory further solidified his reputation as a rising star in the golfing world. He continued to compete in various amateur tournaments, gaining valuable experience and recognition along the way.
After graduating in 2014, Pendrith turned professional after the Eisenhower Trophy, and he saw his fair share of ups and downs, as is the case with many young golfers striving to establish themselves on the international stage. He faced challenges such as adapting to different courses, handling the pressure of professional competition, and fine-tuning his skills to perform at a high level consistently.
Throughout his career, Pendrith displayed remarkable potential with his powerful driving ability and solid overall game. He earned a reputation for his long drives, often outdriving his competitors by significant margins. This strength made him a standout player to watch during tournaments.
Pendrith's journey in professional golf involved competing on various tours, gradually working his way up through the ranks. He aimed to secure a spot on the PGA Tour, the highest level of professional golf. Pendrith finished second at the Canada Life Championship and has previously won two tournaments in 2019, becoming the first Canadian to win on the Mackenzie Tour since Adam Cornelson in 2016. For the second time in four years, Taylor Pendrith earned Canada Life Canadian Player of the Year honors on the Mackenzie Tour and PGA Tour Canada in 2019.
After the 2020-2021 season, Taylor earned a promotion to the PGA Tour. Further, in July 2022, he had his best finish to date on the PGA Tour at the 2022 Rocket Mortgage Classic. Further, in September 2022, the former Kent State graduate was selected for the International team in the 2022 Presidents Cup.
Similarly, you might want to read about Vince Papale's biography.
Taylor Pendrith Net Worth
The Canadian golfer, Taylor Pendrith, received a total of $271,959 as an official payout in 2019. However, after receiving a promotion on the PGA, Pendrith's salary jumped from six figures to seven figures as he earned over $2 million for the 2022 season. Now talking about Taylor Pendrith's net worth, his career earnings since 2021 are $4,483,670, the PGA Tour's official website states, but his actual net worth is still a mystery.
Taylor Pendrith decided to turn professional in 2014, making the transition from amateur to pro golfer. Apart from official winnings, the golfer hasn't received any additional bonus apart from sponsorships payments from brands like Turf Prophit, which sure elevated Taylor Pendrith's wealth. Here, take a look at his earnings from 2021 until 2023.
| | |
| --- | --- |
| Year | Official Payout |
| 2021 | $271,959 |
| 2022 | $2,330,841 |
| 2023 | $1,171,927 |
Table Source: Spotrac
Having so many fellow Canadians completing alongside motivates Pendrith, and the professional golfer has proven he can not only compete but also win. Recently in the Rocket Mortage Classic, which was held in June, Taylor Pendrith earned $160,600 as he made the cut under 15 golfers.
Who is Taylor Pendrith's Wife?
If you have been following the Canadian golfer Taylor Pendrith's social media platforms, you might know about his personal life. Taylor Pendrith's wife is Megan Pendrith, who is a registered nurse working at Hamilton Hospital in Downton, Ontario, in the stem cell transplant division.
Taylor Pendrith married his wife, Megan Beirnes, on October 16, 2021, in Cambridge Hill. The couple got lucky with Covid-19 restrictions and had a normal wedding. With over nearly two years of marriage, the couple are also proud parents of a son named Hayes Austin Pendrith. Taylor announced the news of the birth of their new baby boy on November 1, 2022. Further, the golfer wished his wife on the occasion of Mother's Day on May 15, 2023.
In his pursuit of a PGA Tour card, Pendrith likely continued to refine his game, working on his short game, putting, and mental approach to consistently contend in professional tournaments. Taylor Pendrith biography marks the name of a prominent golfer who strives to progress toward the highest levels of the professional game.
References
Did you notice an error ?
Please help us make corrections by submitting a suggestion. Your help is greatly appreciated!