Net Worth
Discover Manchester United Captain Katie Zelem's Net Worth: How Rich is She?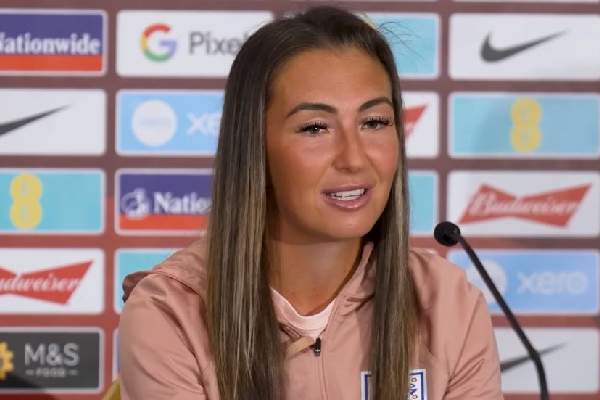 Katie Zelem's Net Worth. Image Credit: Social Media.
Nestled in the heart of Manchester, amid the resonant echoes of footballing legends, a new era takes its first steps. In the realm of women's football, where leadership serves as the catalyst for a team's growth and triumph, Katie Zelem emerges as a shining example of unwavering dedication. As the esteemed captain of the Manchester United Women's Football Club, Zelem has etched her presence not only within her team's ranks but across the entire footballing landscape.
The midfielder's exceptional talents, magnetic leadership, and steadfast commitment have propelled her into an iconic figure in the women's game. Her journey, akin to a powerful narrative of grassroots passion ascending to the zenith of leadership, embodies the very essence of inspiration. This journey of unparalleled grace and tenacity has shaped her legacy and given a meteoric rise to Katie Zelem's net worth.
Captain Zelem has had an impressive career so far. So, let's uncover more about her journey, accolades, and lessons from her recent performance in the Women's world cup 2023. So are you all ready to dive into this information?
 Katie Zelem: Captain of Manchester United
The midfielder was born on 20 January 1996 in Oldham, England, to her parents, 

Alan Zelem 

and

 Gillian Zelem

. She was born to an athletic family where her father is a former Macclesfield goalkeeper, and her uncle is former professional footballer 

Peter Zelem.

The professional football player had shown a great attitude and appetite for learning and understanding the game since her childhood.

Growing up, she admired Fara Willaims, who later became her role model in developing the game and skills of the midfielder.
The player started her football journey from Liverpool in 2013. Since then, she has been part of Juventus and now Manchester United as a captain.

Her role is more of a defensive midfielder with a great pick, a pass out, and a finish. 
World Cup: Dream Do Come True
The professional player had never started a match before for England, but this FIFA Women's World Cup has been quite different for the midfielder. The professional player started the game against China.
When Katie wasn't picked for the April camp, she thought that her dream of playing at the World Cup was over, but when she received the long-awaited call, she thought that her dream was still on.
From waiting for the call to being on England's squad for the 2023 FIFA Women's World Cup in Australia and New Zealand was a long journey. The versatile midfielder has shown exceptional performance in the world cup, significantly participating in leading England towards the finals. 
From boosting the incentives for World Cup, the midfielder is entitled to receive £10,000 as aid for the families to attend the games in Australia and New Zealand. Moreover, the team England has earned £24,000 for reaching the group stages and £47,000 for the round of 16, then to £70,000 for the last eight.
After reaching the finals of the World Cup, each member will be entitled to $195,000 as prize money. 
Hence, Katie Zelem's net worth has significantly boosted from her appearance in the 2023 World Cup.
ALSO READ: Ellie Roebuck Biography: Excelling Between The Sticks in Football's Spotlight
Endorsements and Sponsorships:

Katie Zelem's Net Worth

Thanks to her lucrative sponsorship and endorsement arrangements with Adidas and other various brands, Katie Zelem's financial success goes beyond her accomplishments on the football field.

Zelem's affiliation with one of the most well-known football clubs in the world as the team captain of Manchester United Women's Football Club opens doors for sponsorships. As a result of her success, she has drawn the attention of firms looking to associate themselves with hers.

The midfielder has formed relationships with sportswear and equipment manufacturers to highlight her position as a brand ambassador. Zelem is able to increase her net worth, increase her influence, and create chances for both personal and professional advancement by effectively utilizing these sponsorships and endorsements.

Zelem's accomplishment in obtaining sponsorships and endorsements as a captain and role model is evidence of her skill, marketability, and influence.
Contract With Manchester United
After staying with Liverpool for four years, the football player shifted toward Juventus, where she spent one year developing the Italian style of play to fit more in the central role. 
However, in 2018, the midfielder got involved with Manchester United after the re-establishment of the women's team and played a crucial role in propelling the team towards many victories.
The football player was in the original squad when the team was reformed, so Katie decided to renew her contract in 2022 by staying with United for the 2023/2024 season. She showed excitement through her Twitter post, captioning how she is over the moon to stay with United.
Being captain of the team and leading the team to different triumphs has shown her skills, and Manchester definitely has hit the jackpot by keeping her. Additionally, it is certain that the contract terms must be lucrative to keep the player with Red Chilies for another exciting season. 
Though the contract terms have not been disclosed, it is pretty safe to say that the amount of one other season will define lately reflect Katie Zelem's wealth.
 Hence, we all are excited to know what she will present next season as a caption of Manchester United.
Did you notice an error ?
Please help us make corrections by submitting a suggestion. Your help is greatly appreciated!