Top Lists
5 Things You Must Know About Claressa Shields Boyfriend: Marriage On The Cards?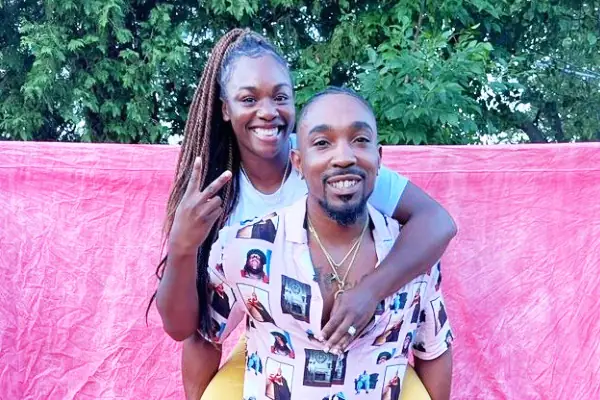 Claressa Shields Boyfriend. Image Credit: Twitter (Now X).
The GWOAT Claressa Shields, an American professional boxer, is engaged to be married. She often makes headlines for setting records in her professional life. The first American female boxer to win an Olympic gold medal made her MMA debut in June 2021. Further, she has held multiple world championships in three weight classes.
But what about the fighter's personal life? Who is Claressa Shields boyfriend? Is he also involved in a professional fighting sport? Without any ado, let's jump right into the intimate details of the major word title-holder champion.
5. Who is Claressa Shields Boyfriend?
Before knowing Claressa Shields' relationship status, let's know how she managed to make her time for love. Being an accomplished athlete, Shields has difficulty managing her personal and professional life. So, love found her when she least expected it.
Shields' personal life took an impressive turnaround during the 2020  COVID pandemic. Amidst the punches and kicks, staying active became a major challenge. During the lockdown, she gained weight, reaching up to 100 kg. Although Claressa found ways to train, she was worried about her fitness.
After hearing about a local gym, Claressa decided to utilize the lockdown in a productive way. As a matter of fact, she chose a specific gym because its owner was an African-American gentleman. So, it was at AT Fitness Gym that Shields first met Tony Richardson, her boyfriend turned fiance.
4. Claressa Shields Fiance And Husband-To-Be
Claressa Shields and her gym partner, Tony Richardson, started training together. Tony is an International Sports Science Association (ISSA) certified fitness trainer. He is the founder of AT Fitness Gym, located in Mt. Morris, Michigan.
After a month of training and working out, Claressa decided to give Richardson a chance. Furthermore, during a pool game session with the gym's crew, Tony and Sheilds realized their romantic connection. Thus, the friendship went a level up, and the two became an official couple on July 24, 2020, announcing their relationship publicly.
The two celebrated their two-year dating anniversary in July 2022. But did you know? Tony proposed to Shields five months before their dating anniversary. On the occasion of Claressa's 27th birthday, Tony got down on one knee and proposed to her in the presence of their friends. The two got engaged at 7 Spices Mediterranean restaurant and cafe in Miami, Florida.
ALSO READ: Cat Zingano Biography: From Wrestling Mat to MMA Stardom.
3. A Sweet But Short Past Relationship
The story of teenage love will relate to most of the people. On a similar note, Shields dated her school sweetheart during her teenage years. In the 2015 documentary T-Rex: Her Fight for Gold, Shields was seen with her high school boyfriend, Rell.
In an episode called Love and Dating, Shields appeared with her lover. The two were seen dressing up for their big date at a school dance. At the time, Claressa's age was 20. Meanwhile, she had kept her relationship secret from her coach.
2. Entrepreneur, Fitness Instructor and Motivator
Claressa Shields and her future husband, Tony Richardson, are key individuals to expand their gym, AT Fitness. For information, Tony founded the gym in 2019 with the aim of promoting and building a strong fitness community.
Through his venture, Tony and Claressa are committed to educating and building the community on fitness and health while providing the knowledge and skills to promote healthy living for the mind, body, and soul.
Since late 2021, Claressa has been serving as the brand ambassador for her boyfriend's Michigan-based gym. Furthermore, Tony is a graduate of Bauder College, having received an Associate degree in Arts in Fashion Merchandising. Similarly, he sells his own fitness clothing line collection via AT Fitness' website.
Similarly, you might want to read Irina Alekseeva's Biography.
1. Is Claressa Shields Married?
Claressa Shields is engaged to be married. There hasn't been any official news, but Shields and Richardson are waiting for their wedding soon. Claressa said that she is expecting to get married at the beginning of 2024.
Richardson and Shields train together from time to time. However, the world's best active female middleweight fighter wants to keep her professional and romantic lives separate. One such occasion was during Claressa Shields vs. Savannah Marshall.
Shields was so busy preparing for her fight with Savannah that she didn't realize her failing relationship with Tony. Yes, the two had a short break in mid-2023. In a YouTube interview posted in June 2023, Claressa mentioned she was single. However, she and Tony reconciled soon, and the two are happy as of now.
Whether it's her personal or professional life, Claressa Shields knows how to be in charge. The world record holder in boxing is taking her MMA career seriously, while Claressa Shields boyfriend, Tony Richardson, is a well-to-do man who is about to put a ring on his fiancee.
Did you notice an error ?
Please help us make corrections by submitting a suggestion. Your help is greatly appreciated!