Net Worth
Discover The Astounding Numbers of Valentina Shevchenko Net Worth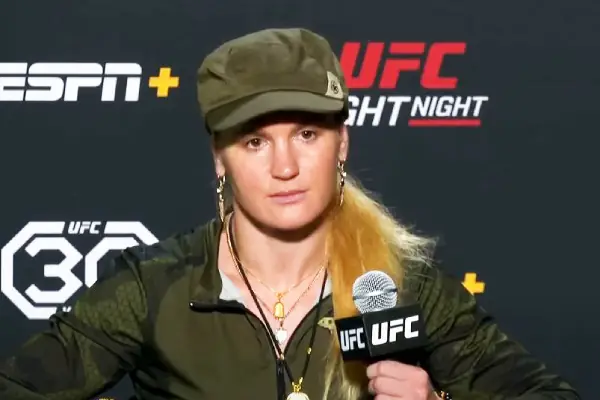 Valentina Shevchenko Net Worth. Image Credit: Social Media.
Valentina Shevchenko, known as "Bullet" in UFC, is one of the most dominant women's fighters. She has a record of 23 wins in her total MMA fights of 28 matches. Valentina's fans are always waiting to watch her next fight. Shevchenko currently competes in the women's Flyweight division for the UFC. Additionally, she is a former Muay Thai fighter.
Let's take a closer look at Valentina Shevchenko net worth. In this article, we will dive into the various aspects that contribute to her net financial riches. The Kyrgyzstani-Peruvian professional mixed martial artist is said to be one of the world's best female Muay Thai fighters.
Valentina and Alexa Grasso's UFC fight in September 2023 was somewhat controversial. The former UFC Women's Flyweight Champion lost the match. However, many believed she would have won if the judge had been fair.
A Brief Overview
Valentina Anatolievna Shevchenko was born in a sports family on March 7, 1988. Her mother, Elena Shevchenko, is a former Muay Thai champion who has won multiple tournaments. Also, she is the president of Kyrgyzstan's National Muay Thai Association.
Shevchenko's father, Anatoly Shevchenko, played for the Kyrgyzstan national football team. Moreover, he assisted in the Soviet Navy's Pacific Fleet for three years during the Cold War.
Valentina grew up in Bishkek, Kyrgyzstan (previously Frunze, Kirghiz SSR, Soviet Union). Her older sister, Antonina Shevchenko, is also a Muay Thai and MMA fighter.
Heavily influenced by their mother, the Shevchenko sisters practiced Taekwondo from a young age. Further, Valentina began her kickboxing career at age 12. From 2003 to 2015, she won over 90 amateur/pro matches in Muay Thai and Kickboxing.
Valentina's trainer, Pavel Fedotov, gave her a nickname, Bullet, because of her speed in the ring. In 2007, Pavel relocated his team, including the Shevchenko sisters, to Peru. In 2008, Valentina received her Peruvian citizenship. Meanwhile, she can speak fluent Russian, English, and Spanish language
A Rewarding Muay Thai and Boxing Career
Every sport has a complex picture when it comes to the issue of women's equal pay. While their male counterparts earn way higher, athletes like Valentina have been searching for better alternatives to earn more money. However, those who are skilled in their craft have more opportunities.
At the IFMA World Championships, Valentina won 8 gold medals during her kickboxing career. Also, she defeated future Strawweight champion Joanna Jedrzejczyk three times and future UFC fighter Lina Lansberg once.
| | | |
| --- | --- | --- |
| Professional Male Boxer (Salary Per Fight) | Professional Female Boxer (Salary Per Fight) | Amateur Female Boxers (Salary Per Fight) |
| $3 million | $800,000-$1 million | $1,000-$10,000 |
Table Source: cbsnews
Reports suggest female gold medalists earn somewhere between $4,000-$8,000 per match. Therefore, Valentina Shevchenko's earnings from her professional boxing career stand between $35,000-$50,000. A celebrated kickboxer, Shevchenko is recognized for her speed, agility, and precision. She is also a highly skilled grappler and has a black belt in Judo.
ALSO READ: Discover Cat Zingano Net Worth From Her MMA Career: Is She A Millionaire?
Valentina Shevchenko Net Worth and Earnings From UFC Fights
One of the primary sources of Valentina Shevchenko net worth is her earnings from UFC fights. Shevchenko's status as one of the most marketable female fighters in the UFC has undoubtedly contributed significantly to her earnings.
Shevchenko debuted professionally in mixed martial arts at the age of 15 on April 21, 2003. From 2003-2006, she won every tournament, mostly with submissions and TKO. However, Valentina suffered her first loss against Liz Carmouche on September 30, 2010. Meanwhile, she made her UFC debut against Sarah Kaufman on December 20, 2015.
UFC fighters make money mainly through fights and the paychecks they receive. The lowest payout in UFC is $10,000-$30,000, while the top-tier fighter could earn up to $3 million per night. When Valentina signed with the UFC, she earned $10,000 for her first fight.
| | | |
| --- | --- | --- |
| Year | Opponents (Wins) | Purses (Including Bonuses) |
| 2015 | Sarah Kaufman | $26,500 |
| 2016 | Amanda Nunes | $16,500 |
| 2017 | Julianna Pena | $84,5000 |
| 2018 | Joanna Jedrzejczyk | $130,000 |
| 2019 | Jessica Eye | $300,000 |
| 2020 | Jennifer Maia | $390,000 |
| 2021 | Lauren Murphy | $3,92,000 |
| 2022 | Taila Santos | $452,000 |
| 2023 | Alexa Grasso (L) | $532,000 |
Table Source: thesportsdaily
After several wins and a reputation, Valentina Shevchenko net worth is over $5 million. She managed to sign a better contract and now earns over $500,000 per fight. Previously, she used to make somewhere between $80,000 to $250,000 per fight. For the March 2023 fight with Alexa Grasso, Valentina's UFC salary was $532,000. Meanwhile, Alexa, despite winning the fight, received $392,000 as her base pay.
Similarly, don't miss out on reading UFC sensation Mariya Agapova Biography and Net Worth.
Bonuses, Sponsorships, and Ventures
On June 12, 2022, Shevchenko faced Taila Santos at UFC 275 and won the fight via split decision. The victory earned her the Crypto.com Fan Bonus of the Night award. Likewise, she received $30,000 in bitcoins. Previously, on UFC Fight Night 125, Shevchenko received an extra $50,000 for Performance of the Night in her win over Priscila Cachoeira.
Outside the octagon ring, Valentina has secured various endorsements. During most of her fights, she has bagged sponsorships from Reebok worth $2,500 per fight. Similarly, the MMA fighter gets an additional incentive pay after winning the fights.
Besides MMA, Shevchenko has ventured into other business areas. Together with her sister, Antonina, they have opened a few martial arts and Muay Thai gyms. Shevchenko has been regularly competing in the IPSC, IDPA, and 3-Gun pistol shooting competitions. She appeared in the Netflix sports film Bruised, starring Halle Berry.
Valentina Shevchenko net worth is a testament to her hard work, dedication, and undeniable talent as a mixed martial artist. Her earnings from UFC fights, endorsements, sponsorships, and other business ventures have contributed to her financial success. As she continues to defend her UFC flyweight championship, her net worth will likely continue to grow, cementing her legacy as one of the greatest female fighters ever.
FAQs
Q: What is Valentina Shevchenko's nationality?
Valentina Shevchenko has a dual nationality of Kyrgyzstani and Peruvian. Also, she has described herself as being a Russian.
Q: Who is Valentina Shevchenko's husband?
Valentina is not married yet.
Q: What is Valentina Shevchenko's net worth?
As per reports, Valentina's net worth is over $5 million.
Q: When was Valentina Shevchenko's last fight?
Shevchenko's recent fight with Alexa Grasso ended in a split draw on September 16, 2023.
Q: What is Valentina Shevchenko doing now?
She currently competes in the Women's UFC flyweight division.
Did you notice an error ?
Please help us make corrections by submitting a suggestion. Your help is greatly appreciated!