Top Lists
5 Hidden Gems About Internet Dad Rob Kenney: Creator of YouTube Channel "Dad, How Do I?"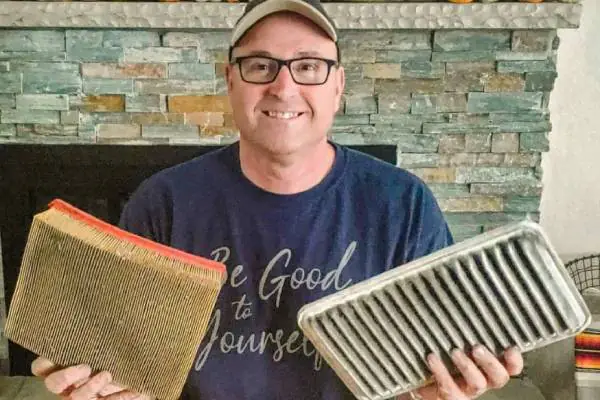 Internet Dad Rob Kenney. Image Credit: Instagram.
The internet doesn't have an algorithm for kindness. From growing up without a father to sharing his story with millions of children, Rob Kenney has come a long way. The Washington state native is best known for his channel through which he teaches kids key lessons about being an adult.
That's why Internet dad Rob Kenney, on his YouTube channel, 'Dad, how do I?' has been able to rack up millions of subscribers. When he first began making fix-it videos, the last thing Kenney expected was to become an internet sensation. Find out about his journey to becoming an Internet dad.
5. Fatherless Dad Wants to Be There For All
It is said that a father is a son's first hero and a daughter's first love. But what about those who don't have that privilege? Rob was devastated as his father left him both emotionally and physically. Thankfully, he found a father-like figure in his older brother, Rick Kenney.
Robert Kenney (b: May 30, 1964) was just 12 years old when his parents got divorced. One of seven siblings, Rob's father got custody of him and his siblings. But fatherhood didn't interest him, and two years later, he disowned his kids.
Kenney and his siblings found it difficult to learn the basics of adulthood. Furthermore, Rob vowed to himself that he would never cause distress to his own kids. From that time forward, he was determined to work through his marriage and parenthood.
ALSO READ: Preston Arsement Biography: Played His Way To Being A Highest-Paid YouTuber.
4. Internet Dad Rob Kenney Says Nobody Is Perfect
Growing up without a father, Rob Kenney realized that one should never try to act perfect in front of their kids. After he welcomed his children, Rob found that you should be vulnerable to your children by not trying to act like you got it all figured out. The pressure of being a perfect human being is too tiresome.
Kenney has a piece of advice and wants all fathers to remember one thing: Nobody is Perfect. For those who are scared to embark on a parenthood journey, Kenney suggests that marriage and raising kids is surely tough. However, you have to work through it, motivating and supporting the family.
3. Getting Started in YouTube: Role of His Daughter
Kenney first started making videos to share with his kids after he was inspired by all the adulting questions he received from his daughter, Kristine Ponten. Robert said that he and his daughter talked about adulting all the time. Rob Kenney's wife is Annelli Kenney. The two have been married for 32 years. Building a supportive family has always been his goal after his own dad left him when he was a young teen.
In an interview with HuffPost, Kenney revealed that the conversations he had with his daughter inspired him to create a YouTube channel. His adult daughter found it tiresome to fix daily household items such as the bathroom drain and kitchen sink.
Furthermore, Kristine encouraged her father to share his insights using the power of social media. Back in his mind, Kenney, too, wanted to do something if given the opportunity. Therefore, he first recorded videos with rites of passage that his adult kids used to ask him.
Similarly, you might want to read about the meaning behind the YouTuber Salice Rose Tattoos.
2. Teaching Insights to Kids All Around the World
Love is a decision and not a feeling that can be imposed on others. When Rob's father disowned him, he was devastated. He didn't speak to him for years. However, the two eventually reconciled toward the end of the senior Kenney's life.
All those adult years, the YouTuber wanted to hear a few encouraging words. So, when he created his YouTube channel, 'Dad, How do I Do?' on April 1, 2020, Kenney talked as if he was having a conversation with his own children. He first made videos about how to replace a car battery, fix a running toilet, unclog a sink, and clean the bathroom drain.
1. Winning the YouTube Algorithm Lottery with Heartfelt Contents
Internet dad Rob Kenney began his YouTube career making fatherly how-to videos just for his own children. While the internet is filled with how-to videos and DIY tutorials, Kenney says his videos earned millions of views because of one specific thing: his heart.
Kenney earned over 2 million subscribers within a month after someone posted his story on Reddit. At the moment, his channel is 30K followers shy of hitting 5 million subscribers.
So if you have any problem that needs fixing, now you know where to go first. People like him make the world a better place.
Did you notice an error ?
Please help us make corrections by submitting a suggestion. Your help is greatly appreciated!