Celebrities
Ilia Isorelys Paulino Biography: A Promising Talent in Hollywood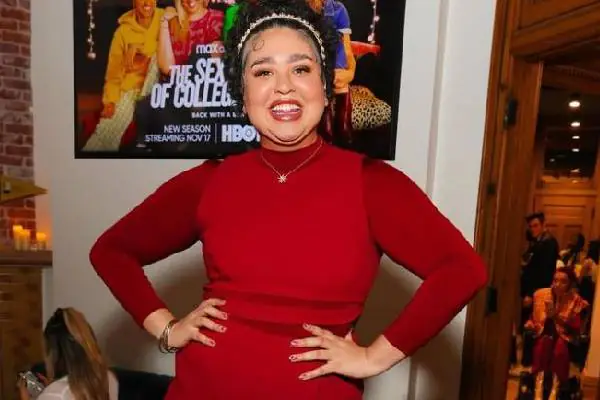 Ilia Isorelys Paulino Biography. Image Credit: Instagram.
Full Name

Ilia Isorelys Paulino

Age

28 yrs

Birth Date

March 26, 1995

Country

America

Relationship Status

Single

Nationality

American

Ethnicity

Hispanic

Profession

Actor

Education

Yale School of Drama (MFA)

Height

6 feet 2 inch
Ilia Isorelys Paulino is an American actress who experiments with her characters and brings a lot to the table. She is best known as Lila Flores in the HBO television series The Sex Lives of College Girls. Similarly, Paulino appeared in the movies Queenpins (2021) and Me Time (2022). In 2023, she portrayed Captain Alvida in Netflix's One Piece.
Stay with us to know about Ilia Isorelys Paulino biography, height, wiki, and her interesting details. Paulino is definitely a scene-stealer when it comes to acting with the pros. Whether it's a short or long appearance, Ilia manages to leave an impact on her audiences.
Dominican Latino Roots
Ilia Isorelys Paulino was born to Dominican parents on March 26, 1995, in Massachusetts, United States. Her family comes from Dominic Republic, who later settled in Lawrence, Massachusetts. Ilia's younger sister, Noemi Paulino, is also an aspiring actress.
Paulino hasn't disclosed the details of her family background. In some of her interviews, she has spoken about her mother's support being an external boost to her acting career. Other than that, the details about her father and relatives are hidden.
From Musical Degree to Theater
The Massachusetts native studied at Central Catholic High School in Lawrence. From an early age, she was interested in singing. In 2012, Paulino won the Merrimack Valley Idol competition. After school, she attended DeSales University, a liberal arts college in Pennsylvania, where she earned a B.A. in Musical degree.
In 2017, Ilia attended Yale School of Drama, where she sharpened her acting skills and grew immensely as an artist. Some of her theater credits include Seven Spots On The Sun, The Seagull, The Girl Is Chained, and The Last Days of Judas Iscariot. Ilia and her sister have performed together at Yale Cabaret Theater. Furthermore, Ilia presented her first directorial play, Thicc, at the Satellite Festival (2020) in collaboration with Yale Cabaret.
Paulino graduated from Yale School of Drama in 2020 during the pandemic. Afterward, she returned to Lawrence and started working on her auditions. Luckily, Ilia got her big break and was about to make her mark in Hollywood.
ALSO READ: Sven Ruygrok Biography: Unveiling The Journey of a Talented Rising Star.
Big Break With the Pros
Ilia Paulino is a relatively new face in Hollywood, but she is confident about her career in the industry. After getting her MFA from Yale, Ilia worked on her auditions and ended up booking a small role in the 2021 movie Queenpins. She appeared as Rosa, sharing screens with Kristen Bell and Vince Vaughn.
From 2021-2022, Ilia appeared as Lila Flores in 15 episodes of the Sex Lives of College Girls, the HBO Max comedy drama. There, she starred alongside Pauline Chalamet and Alyah Chanelle Scott, among others. In 2022, Paulino got the chance to star alongside Mark Wahlberg and Kevin Hart in the movie Me Time.
In the film, Ilia appeared as Thelma, an Uber driver and bodyguard. But did you know? During her sophomore year of college, within six months, Ilia got into five car accidents. What an irony that she got the role of an Uber driver.
In March 2022, Paulino joined the cast of the Netflix TV series One Piece alongside Jeff Ward, McKinley Belcher III, Peter Gadiot, etc. Ilia Paulino's performance as Alvida, the leader of the Alvida Pirates, steals the scene where she first meets Luffy, portrayed by Inaki Godoy.
Ilia Paulino Net Worth
There are few lucky actors who manage to make the most of their professional careers. Ilia Paulino's net worth is in the initial phase of stacking up. With just over five credits in her name, the Queenpins actress has shown her acting ability. Moreover, Ilia's co-stars have nothing but praise for her. Therefore, she might get bigger roles in the future.
| | | |
| --- | --- | --- |
| Year | Movies | Ilia Paulino's Role |
| 2021 | Queenpins | Rosa |
| 2022 | Me Time | Thelma |
Table Source: IMDb
Paulino has completed filming for a comedy film, Family Switch, with its lead actors, Jennifer Garner and Ed Helms. The movie is expected to release in late 2023. The majority of actors' income comes from their movie contracts and profits. Similarly, the TV actors' salary per episode ranges somewhere between $45,000-$65,000. Paulino might not have made a huge fortune, but her wealth is definitely over a hundred thousand dollars.
| | | |
| --- | --- | --- |
| Year | Tv Shows | Ilia Paulino's Role |
| 2021-2022 | The Sex Lives of College Girls | Lila Flores |
| 2023 | One Piece | Alvida |
Table Source: IMDb
Besides acting, Paulino is interested in singing and dancing. She often shares her high-octave singing skills on Instagram and Tiktok with her thousands of followers. Moreover, Ilia announced on social media that her upcoming projects are going to be big-budgeted animation movies. It's a guess, but Paulino's net worth will definitely see a rise soon.
Ilia Paulino Boyfriend and Relationship Status
A majority of audiences believe the Me Time actress' sexual orientation as a queer woman. However, she prefers not to say anything about her sexuality or relationship status. Ilia Paulino doesn't have a partner at the moment and is a supporter of gender rights and equal pay in Hollywood.
Paulino appeared on Nicole Byer's podcast, 'Why Won't You Date Me?' and shared intimate details about her personal life. In the podcast, she revealed that currently, she is not looking for a serious relationship but has had a fair share of intimate romances. Other than that, the details about Ilia Paulino's partner have not yet been disclosed.
Many are even mesmerized by her tall height. Ilia Paulino is quite a tall woman, standing at a height of 6 feet 2 inches. With a unique and colorful appearance, the actress woes the audience with her acting and comedic talent as well.
Dear readers, we hope the minor details regarding Ilia Isorelys Paulino biography have been helpful. Make sure to check our other articles to know more about your favorite celebrities.
Did you notice an error ?
Please help us make corrections by submitting a suggestion. Your help is greatly appreciated!