Top Lists
Top 5 Fascinating Facts About McKinley Belcher Husband: A Beautiful Gay Romance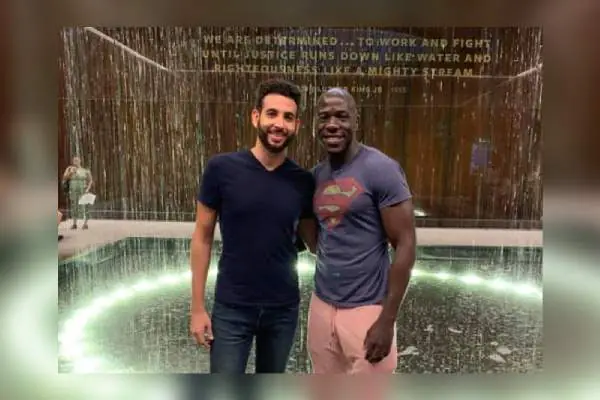 McKinley Belcher Husband. Image Credit: Facebook.
Amidst the radiant celebration of love, actor McKinley Belcher is bound by the pure essence of affection for his longtime partner. Those who are familiar with his top-notch act as Samuel Diggs in the PBS TV series Mercy Street are no strangers to the actor's sexual orientation.
The openly proud gay artist made headlines when the news about Mckinley Belcher husband surfaced in the media. While you might know who the partner is today, we will present you the top interesting facts about Belcher's longtime boyfriend.
Words can't describe the talent of the Georgian native actor who starred as Arlong in Netflix's live adaptation, One Piece. Throughout our piece of words, we will learn about Belcher and his married life to his lover. So, let's jump right in with an affirmation of the equal right to love regardless of gender.
5. A Secret Lover and an Openly Gay Artist
They say god establishes marriage between a man and a woman. But what about marriage between the same sex? While same-sex union is legally performed and recognized in 34 countries, there is still a long way for the LGBT community to regain their human rights.
Meanwhile, artists like McKinley and his boyfriend-turned-husband are among the few people who work tirelessly for gay rights. After dating for many years, broadway actor McKinley Belcher married longtime boyfriend Blake Fox in an intimate black-tie ceremony. Blake is a visual artist and photography expert from Long Island.
Even though Belcher is an openly proud gay, he always keeps a safe distance from unwanted media attention. The same was true with Blake, who has been working in the visual arts industry for nearly a decade.
ALSO READ: Top 5 Interesting Facts About Lesbian Couple, Ali Krieger And Ashlyn Harris.
4. Said 'I Do' In an Intimate Wedding Ceremony
The Passage actor, Mckinley Belcher, and his partner, Blake, kissed passionately after saying I Do at the Antique Loft in Hoboken, New Jersey. The gay couple first began dating in 2014 while maintaining a low profile at an early stage of their romance.
After nine years of dating, Mckinley and Blake registered their wedding, which took place in January 2023. The gay lovers looked dashing in a black bowtie, matching shoes, and a white button-down shirt; the only difference being Belcher's chocolate lazio tuxedo and Blake's black lazio tuxedo.
Further, their marriage ceremony was officiated by Belcher's co-star Andre De Shields from Death of a Salesman, a 2022-2023 broadway production. Moreover, his nephew, Jeremy Belcher, served as a ring bearer. For information, the couple went to Budapest to celebrate their honeymoon.
3. McKinley Belcher Husband is a Digital Artist and Visual Arts Director
It might be their shared interest in arts that brought them together. Actor McKinley Belcher and artist Blake Fox often spent quality time together visiting museums and art exhibitions. Talking about Fox's profession, he is primarily an artist and educator. His photography projects have been featured in a few independent publications, and he has exhibited works on paper at Popopstudios ICVA, the Project Space at the National Art Gallery of The Bahamas, and the TERN Gallery.
From 2015 until 2018, Blake studied Art Education at the University of the Bahamas. After graduating, he started working at the National Art Gallery of the Bahamas (NAGB). From April 2019 until March 2021, Fox worked as an education and administrative assistant.
From April 2021 until March 2023, Fox was an education officer with skills in curriculum development, lesson planning, and research. Since April 2023, Belcher's partner, Blake Fox, has been the communication officer at the NAGB.
2. Actor Gaining Prominence After One Piece
McKinley Belcher is best known for his roles in Mercy Street, The Passage, and Ozark. He won a Drama Desk Award for his performance in The Royale. He also joined Netflix's live-action adaptation of One Piece alongside actors Inaki Godoy, Emily Rudd, Mackenyu, and Jeff Ward, among others.
Belcher has a diverse filmography, having starred in various TV shows and films such as Go for Sisters, Mapplethorpe, Trial By Fire, The Art of Racing in the Rain, Marriage Story, and Eraser: Reborn.
The actor has also appeared in the television series Law & Order: Los Angeles, Rizzoli & Isles, and Louie. Belcher has also appeared in the television series One Piece as Arlong, one of the most cherished characters in the series.
1. Changing Society Through Art
The majority of people criticize the LGBTQ community, but as they say, it's the straight people who keep having gay babies. There is nothing wrong with having different sexual orientations, as people like Blake are one of the artists who look forward to helping people realize and share their ideas through design, visual storytelling, and, eventually, branding.
For three months, Fox studied Museum education practicum at the Studio Museum in Harlem. Similarly, he was an assistant for two months at Create Space, which organized therapy sessions through art in various shelters housing those who were displaced from their homes in Abaco and Grand Bahama after Hurricane Dorian.
During college, Fox received the Bachelor of Education Art Award in December 2018 and the Museums Association of the Caribbean Fellowship in September 2022.
Looking at all the things Mckinley Belcher husband is doing to uplift the gay movement, we couldn't be prouder of the pair.
References
Did you notice an error ?
Please help us make corrections by submitting a suggestion. Your help is greatly appreciated!