Top Lists
7 Surprising Facts About Former MotoGP Racer Sete Gibernau: Retired For The Third Time?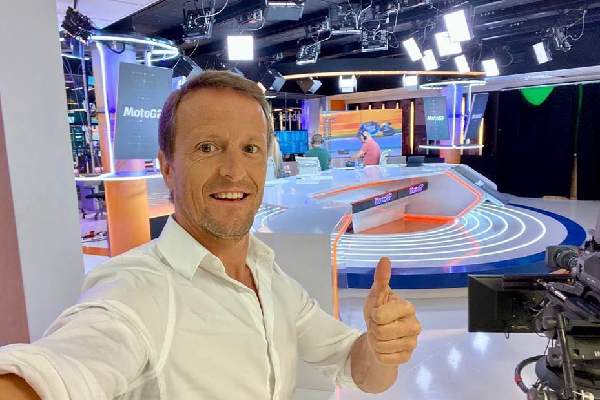 MotoGP Racer Sete Gibernau. Image Source: Instagram.
Sete Gibernau is widely recognized in the world of MotoGP. The retired motorcycle racer enjoyed a successful career spanning over ten years in the sport.
Although many fans are well-versed in his track achievements, numerous intriguing details about Gibernau still need to be discovered.
This piece aims to explore 7 remarkable pieces of information concerning the former MotoGP Racer Sete Gibernau, encompassing his latest retirement, which marked the third occasion he stepped away from racing professionally.
7. Gibernau Won His First Championship at the age of 19
Manuel "Sete" Gibernau Bultó, a native of Barcelona, Spain, was born on 15 December 1972. His passion for motorcycle racing can be attributed to his grandfather, Francisco Xavier "Paco" Bultó, who founded the Bultaco motorcycle company in Spain.
From an early age, Sete demonstrated remarkable talent and promise in the sport. In fact, he achieved significant achievements, such as clinching his inaugural victory at the Catalan Regional Championship race held back in 1991.
This remarkable win marked the beginning of what would become an extraordinary career. As Sete's skills grew, so did his ambitions and determination. He pushed himself harder than ever before and dedicated countless hours to improving every aspect of his riding technique.
These efforts paid off when he became a 9-time 500cc/MotoGP winner and a two-time overall runner-up in 2003 and 2004. These victories only served as stepping stones towards even greater accomplishments on both national and international platforms for Sete Gibernau.
6. Gibernau Developed A Rivalry With Valentino Rossi
Gibernau ventured into the high-profile realm of MotoGP competition in 1997, marking his highly-anticipated induction into the premier class of motorcycle racing.
Throughout his illustrious career, Gibernau proudly represented a diverse range of esteemed teams such as Suzuki, Honda, and Ducati. Notably, Gibernau attained peak performance during an extraordinary season in 2003, wherein he secured second place in the championship standings as he chased after Valentino Rossi's dominant lead.
A last lap that went down in history which also became the first of many between two rivals that defined the 990cc era! ✨@ValeYellow46 and Sete Gibernau kept everyone on the edge of their seat as the 2003 #FrenchGP was decided at the very last corner! ⚔️ pic.twitter.com/UmSRW9LsO6

— MotoGP™🏁 (@MotoGP) May 12, 2022
Unfazed by this close-call victory at the start, Gibernau remained determined to redefine his achievements in 2004. Unfortunately, he valiantly finished just short of taking first place right behind Rossi himself.
This exceptional second-place finish showcased his unwavering dedication and fierce rivalry amidst the intense world of motorcycle racing battles yet again.
5. Gibernau Nearly Died When He Crashed With Rossi During a Race
A notable aspect of Gibernau's career revolved around his association with Valentino Rossi. The two competitors engaged in an intense competition for the championship, leading to a formidable rivalry on the racetrack.
Nevertheless, their connection was not without controversy. During the Spanish Grand Prix of 2005, Rossi collided with Gibernau, resulting in his unfortunate crash and subsequent injury.
This event triggered an impassioned discourse among fans and media outlets, as numerous individuals leveled accusations against Rossi regarding the intentional causation of the accident.
ALSO READ: 5 Facts About Acoustic Guitarist Ethan Hibbs. 
4. Gibernau's Retirements and Comebacks
Gibernau made a heartwarming decision to conclude his remarkable MotoGP career in 2006 due to an unfortunate series of injuries and a less-than-ideal performance on the circuit.
Nevertheless, he proved his indomitable spirit by making a triumphant return three years later when he joined forces with the recently established Grupo Francisco Hernando team.
Despite taking some time away from competition, Gibernau astounded fans and critics alike with his awe-inspiring skill as he consistently achieved outstanding finishes in numerous races throughout that exhilarating season.
View this post on Instagram
Gibernau decided to retire from MotoGP for the second time in 2009. Following his retirement, he redirected his focus towards various other pursuits, such as cycling and running.
Nevertheless, Gibernau's strong bond with the sport sparked a renewed passion that ultimately led him back into its exhilarating embrace.
3. Gibernau's Short-Lived Return to Racing
Gibernau made an exciting comeback to the world of racing in 2019 when he decided to compete in the MotoE World Cup, which focuses on electric motorcycles.
Joining forces with the Pons Racing team, Gibernau's return was met with great success as he consistently secured top positions throughout his debut season.
Unfortunately, just as things were looking promising for Gibernau, fate had other plans. After not being retained for the 2020 season, the rider announced his retirement from professional racing for the third time.
However, this time it seems more likely that his decision will stand permanently, citing age and the toll that intense competition has taken on his body over time as key factors behind this choice.
In addition to announcing his departure from professional racing, Gibernau took a heartfelt moment to express sincere appreciation towards loyal fans and supportive teammates who have stood by him throughout all these years of thrilling races and hard-fought victories.
2. His Marriage Only Lasted a Year
Gibernau's former spouse is the stunning Spanish supermodel Esther Cañadas. Throughout their relationship, she consistently showed her unwavering support for Gibernau by frequently attending races and passionately cheering him on from the pit garage.
Initially, he possessed a good-luck charm with the number 15 when competing in motorcycle races; nevertheless, when they began dating, Cañadas gifted him with a personalized charm that became an emblem of their love.
Cañadas had already adopted a precious baby girl when she met Sete. The child was named Maxine Cañadas. Regrettably, though, after being married for one year, they made the unfortunate announcement of their separation in mid-2008 without giving the fans an explanation for the split.
1. MotoGP Racer Sete Gibernau's Family Are All Riders
Every member of the Gibernau family enjoys riding motorcycles frequently. Sete's father, Manuel Gibernau, navigates through heavy traffic in Barcelona on his Honda Foresight 250, while his mom Cristina Gibernau prefers a Scoopy 125 for her daily tasks.
Sete's younger sister and press officer, whose name is also Cristina, has recently acquired a CBR600RR Honda and explores new rides regularly with enthusiasm.
Although they used to ride together often as a family, Sete's demanding racing and testing schedule, along with the increasing promotional obligations that come with it, have limited their chances to enjoy fun rides together.
As Sete announced his latest retirement, the racer hopes to spend more time with his family and go for bike rides together as they did before.
Sete Gibernau is widely admired and respected in the MotoGP community. Throughout his career, he experienced triumphs and disputes while consistently making impressive comebacks.
Although he has retired for the third time, Gibernau's enduring impact will serve as a source of motivation for aspiring racers in generations to come.
Did you notice an error ?
Please help us make corrections by submitting a suggestion. Your help is greatly appreciated!