Authors
Gary Shteyngart Biography: Get Familiar With The Unspoken Life of Satirical Genius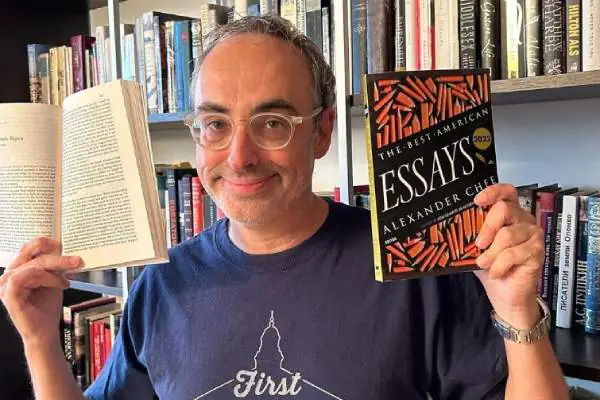 Gary Shteyngart Biography. Image Credit: Instagram.
Full Name

Igor Semyonovich Shteyngart

Age

51 yrs

Birth Date

July 5, 1972

Country

America

Relationship Status

Married

Spouse

Esther Won

Nationality

American

Ethnicity

Jewish

Profession

Novelist

Children

2

Awards and honors

2014 National Book Critics Circle Award, Stephen Crane Award for First Fiction

Education

MFA, Hunter College

Height

5 feet 7 inch
The creative adeptness of writers knows no bounds; they conjure kingdoms and inject souls into imaginative landscapes. One such novelist is Gary Shteyngart, who surpasses the ordinary and ignites emotions in the hearts of readers through his words.
Known for equal parts satirical and dystopian, Shteyngart's writings light fires of curiosity and empathy in the hearts of anyone who dares to open the pages. But today, we will dare to unravel the folds of his personal and professional achievements and manoeuvre through Gary Shteyngart biography.
In the sanctuary of their stories, we find solace, inspiration, and the timeless magic that only the fusion of imagination and eloquence can bestow. We find solace, inspiration, and the everlasting charm that only the fusion of imagination and eloquence can offer in the sanctuary of their stories.
Immigration Odyssey: Leaving The Leningrad
Gary was born Igor Semyonovich Shteyngart on July 5, 1972, in Leningrad, Soviet Union (now St. Petersburg, Russia). He belongs to Jewish heritage and spent his first seven years of childhood in Leningrad. Gary's father worked as an engineer at a local camera manufacturer company called LOMO, while his mother was a pianist.
At 7, Gary, along with his family, emigrated from the Soviet Union to the U.S. in 1979 and settled in Queens, New York. It was shortly after the United States struck a trade agreement with the Soviets that included permitting Jews to travel to Israel, Canada, or the United States. Shteyngart was an asthmatic child who couldn't speak English effectively.
Back in the Soviet Union, Gary's parents had been prevented from practicing Judaism. Later, they sent him to a Hebrew school in Queens. Settling in the United States of America, Shteyngart found himself navigating the complex landscape of language, culture, and identity. This formative experience became a wellspring of inspiration for his future literary endeavors. However, he had been writing from an early age. At 5, Gary wrote a comic novel that was 100 pages long.
Gary graduated from Stuyvesant High School in New York City. Further, in 1995, he received a degree in politics from Oberlin College in Ohio with a senior thesis on the former Soviet republics of Georgia, Moldova, and Tajikistan. During his undergraduate education, Gary immersed himself in literature and cultural studies.
After living in Ohio, Shteyngart worked a series of jobs as a writer for a number of non-profit organizations in New York. Later, he earned an MFA in creative writing at Hunter College of the City University of New York, a decision that would set him on the path to becoming a renowned author.
ALSO READ: Andre Dubus III Biography: Exploring The Life of Literary Maestro
Gary Shteyngart, Wife, Married Life And Kids
The New York Times' best-acclaimed novelist, Gary Shteyngart's wife, is Esther Won, a lawyer who is of Korean descent. She is a member of the Association of Southern California Defense Counsel and the Korean American Bar Association. Similarly, she is associated with the State Bar of California. Further, Esther graduated magna-cum-laude with a major in Communications and Spanish from Pacific Union College.
It has been over a decade since Gary Shteyngart's spouse has been married to the writer. The couple welcomed their first son, Johnny Shteyngart, in October 2013 and has another child. They own a 1930s-styled bungalow on seven acres in Dutchess County.
At present, Gary is one of the writers of the TV series in HBO's upcoming miniseries, The Regime, starring Kate Winslet and Hugh Grant. Previously, he also worked in the HBO TV show Succession as a literary consultant. Meanwhile, in 2012, he was on the three-member jury panel alongside Roddy Doyle and Anna Porter for the Scotiabank Giller Prize. In addition to being an acclaimed writer, Gary is a watch enthusiast and collector who has written about watches for several publications.
Gary Shteyngart Novels: Themes Of Sardonic And Despotic Tenet
The multi-award-winning novelist Gary Shteyngart's writing is characterized by its humor, social commentary, and examination of cultural clashes. Although he had been writing from an early age, a trip to Prague in the early 1990s helped spawn his first novel, The Russian Debutante's Handbook. His debut novel, published in 2002, follows the story of a young man navigating the eccentricities of American culture while seeking success and love.
In 2006, Gary published another novel titled Absurdistan, which stirred geopolitics and international relations as it follows the misadventures of a wealthy Russian's son stranded in a fictional country. Likewise, the 2010 novel Super Sad True Love Story is a dystopian book that explores the impact of technology, consumerism, and media on relationships and society.
In 2014, the novelist published an acclaimed memoir, Little Failure, that delved into his experiences growing up as a Russian immigrant in America. Shteyngart's last novel, Lake Success, was published in 2018, and it revolved around a hedge fund manager's cross-country journey, offering a commentary on the American Dream and societal inequalities. Through his publications, Gary brilliantly combines absurdity with poignant observations about the human condition, particularly in the context of modern life and globalization.
Similarly, you might want to read about Gail Honeyman's Biography.
Literary Triumphs And Notable Works
Gary Shteyngart's transformation from a teenage immigrant to a sarcastic genius exemplifies the transformational power of writing. His novels have both entertained and encouraged readers to examine the complexities of identity, technology, and societal standards. Also, his work has garnered countless awards, firmly establishing him as a literary star.
In June 2010, Shteyngart was named as one of The New Yorker magazine's 20 under 40 Luminary Fiction Writers. Moreover, his unique voice emerged on the literary scene with his debut novel, The Russian Debutante's Handbook. The book won the Stephen Crane Award for First Fiction, the Book-of-the-Month Club First Fiction Award, and the National Jewish Book Award for Fiction. Likewise, The Guardian named it as one of the Best Debuts of the Year.
Gary's novel Super Sad True Love Story won the 2011 Bollinger Everyman Wodehouse Prize for comic literature and was nominated for a Pulitzer Prize in Fiction. Moreover, Absurdistan was chosen as one of the ten best books of the year by The New York Times Book Review and Time magazine. In 2002, Shetyngart was named one of the five best new writers by Shout NY Magazine, and his memoir Little Failure was a finalist for the 2014 National Book Critics Circle Award.
According to the New York Times, Gary Shetyngart is one of his generation's most unique and exciting writers. His work has also been translated into 26 languages. Shteyngart's writing ability to blend humor and insight has solidified his reputation as a satirical genius in contemporary writing.
Check back with us regularly, as we will update Gary Shteyngart biography with any new news regarding the author.
References
Did you notice an error ?
Please help us make corrections by submitting a suggestion. Your help is greatly appreciated!