Celebrities
Mackenyu Arata Biography: From Tokyo to the Grand Line Embodying Roronoa Zoro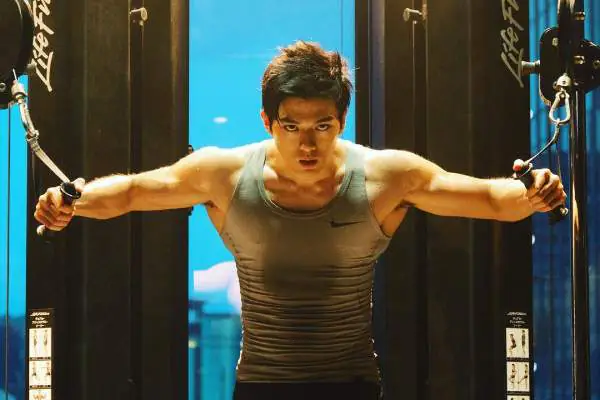 Mackenyu Arata biography. Image Credit: Over Drive.
Full Name

Mackenyu Maeda

Age

27 yrs

Birth Date

November 16, 1996

Country

Japan

Relationship Status

Married

Nationality

Japanese

Profession

Actor

Education

Beverly Hills High School

Height

5 feet 10 inches
Mackenyu Arata, born on November 16, 1996, in Los Angeles, California, is an acclaimed actor who has quickly become a prominent figure in Japanese cinema. With his magnetic presence, impressive range of skills, and unwavering commitment to his craft, he has garnered widespread recognition and an ever-growing fan base.
Eiichiro Oda's bestselling manga series of all time, One Piece, is heading to Netflix on Aug. 31 for its first-ever live-action adaptation, and Arata is leading the project with his role as the pirate hunter 'Roronoa Zoro.'
Mackenyu Arata biography delves into the captivating journey of the actor's life – showcasing remarkable achievements alongside formidable obstacles faced along the way – all contributing to his indomitable pursuit of excellence within the film industry.
Early Life and Introduction to Acting
Mackenyu Maeda, commonly known as Mackenyu, hails from a family with strong ties to the entertainment world. He was born in Los Angeles, California, to Sonny Chiba and Tamami Chiba. His father is a multifaceted Japanese actor, producer, director, and martial artist, while his mother's occupation has not been disclosed. Mackenyu decided to use Arata as his last name after a character he played in Chihayafuru. According to the actor, the character taught him deeply about acting, so he decided to use Arata instead of Maeda.
Additionally, Arata has an older half-sister named Juri Manase, who is pursuing a career as an actress. Nurtured in a dynamic atmosphere filled with creativity, he cultivated a profound love for storytelling and an ambition to follow his father's illustrious path.
The Japanese actor was raised in Los Angeles and attended Beverly Hills High School. He embarked on his acting journey at a young age, making appearances in the Japanese television series "Team Astro" and the film "Oyaji."
In 2013, Arata relocated to Japan with the aim of fully dedicating himself to his acting career. Since then, he has showcased his talent in various Japanese films and television series such as "Rurouni Kenshin: The Final," "Pacific Rim: Uprising," and even had a role in "The Last Samurai."
Breakthrough Role in "Chihayafuru"
Mackenyu experienced a significant turning point in 2016 when he secured the role of 'Arata Wataya' in the highly anticipated film adaptation of the beloved "Chihayafuru" manga and anime series.
The actor's portrayal as this multi-dimensional and skilled karuta (a card game) player received praise from critics, catapulting him into prominence among a larger audience, and also earned him the 40th Annual Japan Academy Newcomer of the Year Award in 2017.
Arata's outstanding performance illuminated his talent for adding layers of complexity to his characters, solidifying his status as an emerging luminary within Japanese cinema.
ALSO READ: Josha Stradowski Biography: A Journey From Theatre To Success
International Recognition in "Pacific Rim: Uprising"
Mackenyu's incredible talent expanded beyond the confines of his home country when he was cast in the highly acclaimed Hollywood film "Pacific Rim: Uprising" in 2018. Sharing the screen with esteemed actors like John Boyega, Arata gained a significant following worldwide and received widespread acclaim for his performance. Through his portrayal of 'Ryoichi,' an accomplished Jaeger pilot, he exhibited both versatility and adeptness at working alongside diverse ensembles onscreen.
2018 proved to be a fruitful year for Mackenyu Arata, with his involvement in both the television series "Kiss That Kills" and films such as "Chihayafuru Part III," "Impossibility Defense," and the thrilling action-drama called "Over Drive."
Some of his other projects are listed below:
| | | |
| --- | --- | --- |
| Title | Credit | Year |
| Knights of the Zodiac | Seiya (Character) | 2023 |
| Rurouni Kenshin: Final Chapter Part 1 – The Final | Enishi (Character) | 2021 |
| NiNoKuni | Haru (Voice) | 2019 |
| Take a Chance | Masa (Character) | 2018 |
| JoJo's Bizarre Adventure: Diamond Is Unbreakable – Chapter 1 | Okuyasu Nijimura (Character) | 2017 |
Table Source: Rotten Tomatoes
The diverse range of roles Arata took on during this time showcases his impressive versatility as an actor. Whether stepping into historical narratives or embodying modern-day characters, he consistently delivers performances that are compelling and authentic. His unwavering commitment to his craft and willingness to tackle difficult projects have garnered him well-deserved recognition as an up-and-coming talent in the industry.
Similarly, you might want to know about another popular actor, Harry Lawtey.
Personal Life and Inspirations
In addition to his successful acting career, Arata's personal experiences and influences play a significant role in shaping his artistic journey. Drawing inspiration from the legacy of his father, Sonny Chiba, and the deep roots of his family in entertainment, Mackenyu embodies dedication to his craft, exhibits humility, and consistently seeks personal growth – all characteristics that define not only his approach to acting but also how he navigates life as a whole.
Additionally, the talented actor has demonstrated his proficiency in martial arts as a practitioner of Kyokushin Karate since childhood. In 2021, Mackenyu's father, Sonny Chiba, tragically passed away due to complications from COVID-19. In response to this profound loss, he expressed how it serves as motivation for him to carry on with his acting career and honor his father's memory.
Arata also showcases his musical abilities through the release of various singles and albums. One notable achievement in Mackenyu's music journey is the release of his debut album titled "Shine" in 2022. Comprised of ten captivating tracks such as "Closer" and "Ambition," this album reflects the culmination of Mackeunyu's artistic expression.
An important milestone within Mackenyu's musical endeavors includes the launch of his first single called "Ambition" in 2021. This impactful song was chosen as the theme for the notable Japanese film adaptation titled "Rurouni Kenshin: The Final."
Talking about Mackenyu Arata's partner, the well-known actor exchanged vows with his spouse, whose identity has been kept private. The announcement of their marriage coincided with the news of Mackenyu's younger brother also tying the knot in January 2023.
Scandals and Controversies
Mackenyu Arata has been involved in a number of scandals throughout his life. Some of them are:
In 2017, it was revealed that Mackenyu had a child with a woman who was 16 years older than him. The woman, who was a friend of his mother, had an affair with him when he was 14 years old. The actor has not publicly commented on this scandal.
In 2020, the actor was accused of tax evasion. The Japanese government alleged that Arata had failed to declare income from his acting career. He denied the allegations and said that he had paid all of his taxes.
In 2022, he was linked to a drug scandal. It was alleged that Mackenyu had been using drugs and that he had been involved in a drug deal. Arata denied the allegations and said that he had never used drugs.
These scandals have had a negative impact on the emerging actor's professional standing. However, he asserts his innocence by refuting all allegations made against him. The truth regarding these scandals remains uncertain, yet they undeniably cast a shadow over Mackenyu's career.
Redemption Arc With One Piece
In 2021, Mackenyu Arata was cast to portray the character of 'Roronoa Zoro' in the upcoming Netflix live-action adaptation of the popular Japanese manga series "One Piece." Zoro, an integral figure within the series known for his exceptional swordsmanship skills, also holds significance as 'Monkey D. Luffy's' inaugural crewmate.
Considering Arata's proficiency as an actor and martial artist, he is indeed a suitable choice for the role of Zoro. His physical presence aligns with that expected from a skilled swordsman. Furthermore, his fluency in both Japanese and English will prove advantageous during production.
On his journey across the Grand Line, Arata is joined by his captain, Iñaki Godoy, who plays the main character, Luffy. Futhermore, Emily Rudd (Nami), Jacob Romero (Usoop), and Taz Skylar (Sanji) complete Luffy's crew as they venture across the world to find the greatest treasure of the seas: One Piece.
Similarities to Zoro
Arata and Roronoa Zoro are both skilled swordsmen. Mackenyu has been training in Kyokushin Karate since he was eight years old, and he has also starred in several martial arts films. Zoro is a master swordsman who uses three swords in battle. He is also known for his incredible strength and endurance.
Additionally, Mackenyu Arata as Roronoa Zoro is considered to be an immaculate cast, as both characters are stoic and serious, and they often keep their emotions hidden.
Considering how One Piece is one of the most popular literacy pieces all over the world, Arata's portrayal of Zoro is highly anticipated by millions of One Piece fans. No pressure! This article, Mackenyu Arata biography, aims to introduce readers unfamiliar with the actor and his career path so far.
Did you notice an error ?
Please help us make corrections by submitting a suggestion. Your help is greatly appreciated!