Celebrities
Cailey Fleming Biography: Rising Star From The Galaxy Far, Far Away to The Walking Dead and Beyond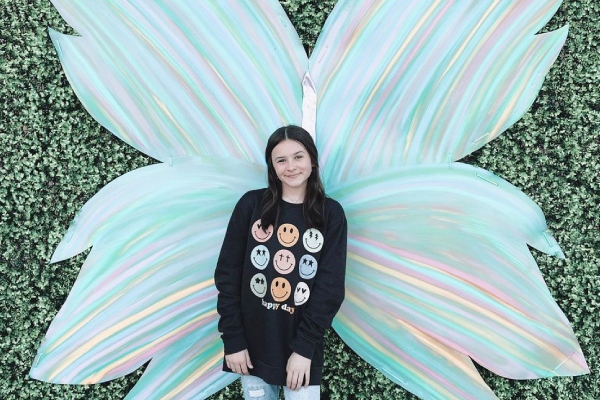 Cailey Fleming Biography. Image Credit: Instagram.
Full Name

Cailey Fleming

Age

16 yrs

Birth Date

March 2, 2007

Country

America

Relationship Status

Single

Nationality

American

Ethnicity

White

Profession

Actress

Height

5 feet 2 inch
We get to discover new methods of doing things because young talent isn't limited by a how-to structure for establishing a line. Actress Cailey Fleming made her mark in the Star Wars franchise. The young and immensely talented actress has captured the hearts of audiences worldwide.
Today, we will learn more through Cailey Fleming biography, and this article dives into the details of this young actress who impressed everyone with her performance as Judith Grimes in AMC's The Walking Dead.
Despite being in her mid-teens, Fleming has already proved that she has a talent for breathing life into complex characters. Cailey's rise to fame is a testament to her dedication and unwavering passion for her craft.
Early Life and Introduction to Acting
Cailey Fleming was born on March 2007 in Mississippi, United States, to parents Matthew Fleming (father) and Misty Fleming (mother). Cailey is a name that has rapidly risen to prominence in the world of television and film.
Despite her young age, Cailey has managed to captivate audiences worldwide with her exceptional acting talent and remarkable performances. While her career is still in its early stages, her journey thus far is nothing short of impressive.
From a young age, Fleming displayed a natural inclination towards the world of entertainment. Her parents, supportive of her interests, recognized her potential and decided to nurture her budding talent. They enrolled her in acting classes, setting the stage for what would become a flourishing career.
ALSO READ: May Calamawy Biography: The Story Behind Her Rise to the Stardom
The Walking Dead: A Breakthrough Role
Cailey's big break came when she landed the role of Judith Grimes on the hit television series The Walking Dead. Her portrayal of Judith, the resilient daughter of the show's protagonist, Rick Grimes and Lori Grimes, catapulted her into the spotlight.
The Walking Dead is renowned for its compelling characters and gripping narrative set in a post-apocalyptic world overrun by zombies. Cailey's character, Judith, was a pivotal figure, showcasing her ability to deliver emotionally charged performances even at a young age.
The audience quickly embraced Cailey Fleming, and she became a fan favorite. Her character's growth and development mirrored her own journey in the world of acting, as both she and Judith faced challenges and thrived in the face of adversity. Cailey's chemistry with the other cast members and her ability to hold her own alongside seasoned actors earned her widespread acclaim.
Fleming's portrayal of Judith Grimes showcased her acting abilities and added depth to the show's ensemble cast, including Andrew Lincoln, Jon Bernthal, Sarah Wayne Callies, Laurie Holden, Jeffrey DeMunn, Norman Reedus, etc. Her time on the series has undoubtedly been a significant chapter in her burgeoning career as an actress.
Expanding Her Horizons
While The Walking Dead played a significant role in Cailey's career, she didn't limit herself to just one project. She continued to work on other television shows and movies, further showcasing her versatility as an actress. Her commitment to her craft and her ability to seamlessly transition between different roles hinted at a promising future in the entertainment industry.
In the Star Wars franchise, she portrayed the character Young Rey, appearing in a flashback sequence that provided crucial backstory and insights into the character of Rey, played by Daisy Ridley. This installment marked the conclusion of the Skywalker Saga and was a pivotal moment in the Star Wars cinematic universe.
Cailey Fleming's involvement in Star Wars further solidified her presence in the world of big-budget, blockbuster movies and expanded her growing reputation as a talented young actress. Her performance in this iconic franchise was well-received by both fans and critics, contributing to her status as a rising star in the entertainment industry.
Similarly, don't miss reading about Belissa Escobedo Biography.
Personal Life and Inspiration
Beyond her acting career, Cailey maintains a private personal life, and little is known about her life outside of her work. However, her dedication to her craft and her ability to balance her education and acting commitments serve as an inspiration to aspiring young actors worldwide.
View this post on Instagram
In a world where talent knows no age, Cailey Fleming has demonstrated that youth is not a barrier to success in the entertainment industry. Her remarkable journey from a young, aspiring actress to a celebrated star showcases her determination, passion, and undeniable talent.
As Cailey continues to grow as an actress and take on new challenges, audiences eagerly await her future projects, eager to witness her continued evolution as an artist. In conclusion, Cailey Fleming biography is a testament to the fact that the young actress has a bright future ahead, and she is unquestionably a name to remember in the world of entertainment.
Did you notice an error ?
Please help us make corrections by submitting a suggestion. Your help is greatly appreciated!