Celebrities
Hedy Nasser Biography: A Model-Turned Actress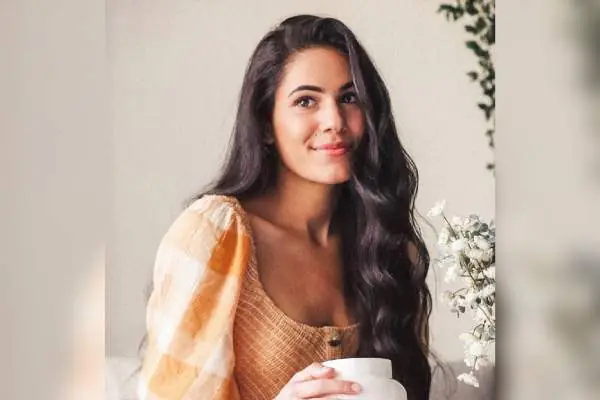 Hedy Nasser Biography. Image Credit: Instagram.
Full Name

Hedy Nasser

Age

26 yrs

Birth Date

May 2, 1997

Country

America

Relationship Status

Married

Spouse

Caleb Jakes

Nationality

American

Ethnicity

Mixed (Latino, Hispanic and Middle Eastern)

Profession

Actress

Education

Stella Adler Conservatory of Acting

Height

5 feet 6 inch
Once, the legendary actor Al Pacino said: It's easy to fool the eye, but it's hard to fool the heart. Playing a character on screen is an illusion, but winning the audience's hearts is extremely tiresome. Meanwhile, actress Hedy Nasser perfectly manages to balance out both beauty and profession.
When the narrative of Hedy Nasser biography is completed, you will realize how she stepped from the theater to the feature film stage. Despite the reward being tempting, Nasser hardly thought of anything other than perfecting her craft. She is best known for movies like Finding Love in Big Sky (2021) and Death Cast (2022).
Behind the glamorous façade of red carpets and applause lie untold stories of resilience and unwavering determination. Their journey is a testament to the art of transformation as they immerse themselves in characters, shedding their own skin to breathe life into another.
Early Years: Born Into a Mixed Heritage
Born on May 2, 1997, in Tampa, Florida, the U.S., Hedy Nasser was always interested in acting and dancing from an early age. Nasser is a Persian-American actress. Further, she belongs to the mixed ethnicity of Latino, Hispanic, and Middle Eastern.
Hedy completed her schooling at Lake Mary High School, a public school in Lake Mary, Florida. As the youngest of four children, she grew up doing a lot of mischief with her siblings. At an early age, her interest leaned towards the field of entertainment.
To further fulfill her wish to become an actress, Nasser moved to Los Angeles in 2019. She joined Stella Adler Conservatory to study both theatre and improv. Prior to that, Hedy worked in commercials and short movies. During her modeling career, Hedy was represented by Florida-based model agency Benz Model and Talent.
Movies and TV Shows
The journey of a successful movie career either begins with luck or with undeniable talented skills. While Hedy Nasser incorporates to improve her craft, there are a few projects in which she outshined her co-actors.
After a few modeling stints, Hedy Nasser's journey into acting began with the 2017 short movie Crystal Ball, in which she appeared in the titular role. The independent film went on to receive a staggering 9.3 IMDb ratings.
| | | |
| --- | --- | --- |
| Year | Movies And TV Shows | Role |
| 2017 | Crystal Ball (short) | Crystal |
| 2018 | Happy Hollow | Rowan |
| 2018 | Lunch Date | Anna |
Table Source: IMDb
In 2017, Nasser worked in a few short movies, including Pandemonium: Behind the Scenes, Forgotten: A Day of the Dead Story, Pointless Behavior, and Birthday Boy. In 2020, Nasser appeared in a short role in the Netflix TV series Teenage Bounty Hunters. But it was enough for Hedy to try her luck in big productions, movies, and TV shows.
The role of Paisley Sheridan in the 2021 movie Finding Love In Big Sky brought Hedy Nasser her first widespread acclaim. Not only was she a pretty face, but she was starting to get recognition for her performances in movies and television. Meanwhile, Nasser's appearances as Julie in the series Dynasty and Tatiana in the 2022 TV series Good Trouble were well received.
ALSO READ: May Calamawy Biography: The Story Behind Her Rise to the Stardom.
Hedy Nasser Net Worth
Actors are emotional athletes who constantly need to look out for creative opportunities. Hedy Nasser net worth might not be a spicy topic, but the actress is on her way to building a fortune out of her acting career. Nevertheless, she received a desirable amount for her TV appearances.
Before working in films, Hedy started her career in 2014 with lifestyle modeling and commercial work. As a model, she has worked on various projects, including McDonald's, Coca-Cola, Disney, Volkswagen, and Halloween Horror Nights.
| | | |
| --- | --- | --- |
| Year | Movies | Roles |
| 2021 | Finding Love in Big Sky, Montana | Paisley Sheridan |
| 2022 | Death Cast | Mallory |
| 2022 | My Escort Best Friend | Bridget |
| 2022 | Squeaky Clean Mysteries: Hazardous Duty | Candace Mills |
| 2023 | Strays | Carly |
Table Source: IMDb
While we are unable to retrieve actual information regarding Hedy Nasser's wealth, we can estimate that the actress earns somewhere between $45,000-$55,000 per year. From 2017 until 2023, the Florida native has appeared in a few movies.
Unfortunately, none of them have collected decent box-office collections. One of Hedy's recent movies, Strays, starring Will Ferrell, Jamie Foxx, and Isla Fisher, earned just $33.2 million.
Similarly, you might want to look at Belissa Escobedo's Biography.
Hedy Nasser Husband: Blissful Married Life
Along the crazy ride of Hedy Nasser's acting career, she shared this privilege with her loving partner. Yes, the actress is taken, and that too for a long time.
Hedy Nasser married her boyfriend, Caleb Jakes, on December 5, 2021, in a beautiful wedding ceremony. Their nuptials took place at Mission Inn Resort and Club, Florida, in the presence of families and close friends. The couple has been married for almost two years, and their relationship brews a fresh romance. However, they are yet to become parents.
Nasser and Caleb have been in a relationship for a long time. Despite having a hectic schedule, the couple manages to spend quality time together. Meanwhile, Hedy Nasser's boyfriend-turned-husband is an MBA graduate of the Crummer School of Business at Rollins College.
Talking about Hedy Nasser's husband, Caleb Jakes, is a handsome man with professional success. He works as a senior financial consultant for OneDigital Health and Benefits, a company that provides a host of insurance and financial services to businesses and people.
Guess some people just hit the right spot when it comes to their personal and professional lives. And Hedy Nasser leaves no stones unturned so that her love for acting progresses with each year. Just like stars bound the skies with unique constellations, actors captivate their audiences with breathtaking performances.
With this article on Hedy Nasser biography, we certainly believe our readers have seen the spotlight where the actress' final act reminds us the struggle only enhances the brilliance of the actor's success, making their journeys all the more enchanting.
References
Did you notice an error ?
Please help us make corrections by submitting a suggestion. Your help is greatly appreciated!