Celebrities
Naila Schuberth Biography: Rising Young Talent in Acting Realm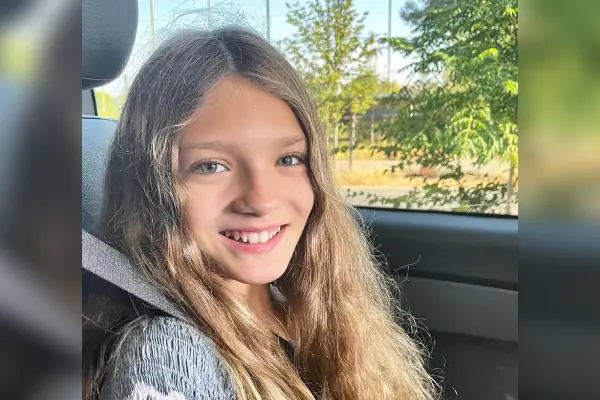 Naila Schuberth Biography. Image Credit: Instagram.
Full Name

Naila Schuberth

Age

11 yrs

Birth Date

December 19, 2011

Country

Germany

Relationship Status

Single

Nationality

German

Ethnicity

White

Profession

Actress

Height

4 feet 10 inch
When you see child actors performing on screen, it feels like the purest expression of human experience. Naila Schuberth is among those talented performers who, despite her young age, has hooked everyone with her mesmerizing performances.
Schuberth is best known for her role as Hannah in the German thriller series Dear Child on Netflix. Through Naila Schuberth biography, today we will be looking mostly at her professional career. The young actress already garnered favorable praise for her performance as Sofia in Bird Box: Barcelona, a 2023 Spanish horror thriller film and a spin-off sequel to the 2018 film Bird Box.
Naila Schuberth Age, Parents, and More
Naila Schuberth was born on December 19, 2011, in Dusseldorf, Germany. She comes from a well-to-do German-Spanish family. Naila's father is German, while her mother is Spanish. Therefore, being a German native, she also has Spanish nationality.
There is not enough information about Naila's family background. However, in her family, one more member is involved in the acting profession. Naila's older brother, Lukas, is an actor, but only a little is known about him.
Naila's hobbies are playing guitar and dancing (particularly hip-hop). Similarly, she can speak fluent Arabic and English, besides German and Spanish languages. She is represented by a German talent agency called Kokon (cocoon), which works for aspiring children and young actors.
ALSO READ: Gulliver McGrath Biography: A Promising Actor On The Rise
Movies and TV Shows
At age 9, Naila Schuberth made her acting debut with the German television series Bettys Diagnose and Heldt, both produced by a production company called ZDF. Thus began her professional acting career in 2020. Initially, she starred in minor roles, but despite her young age, Naila had a strong screen presence.
In 2021, Naila appeared in a popular television series, Gefährliche Nähe, along with established actors such as Emilia Weisse, Lana Cooper, Barnaby Metschurat, etc. The same year, she bagged a major role in the television movie Römer Reihe-Das Lied der toten Mädchen alongside actors Torben Liebrecht and Lara Mandoki.
Breakout and International Fame
In 2021, Naila Schuberth starred as Marie Michelsen in the award-winning German television series Blackout. The show won three awards at the German Television Academy Awards: Best Cinematography, Best Stunt, and Best VFX. With her acting, Naila proved that age is not a barrier for talented individuals.
After a year of not working in films and TV, Schuberth appeared as Sofia in the 2023 Spanish hit movie Bird Box Barcelona. Despite getting mixed reviews, the television movie managed to take the top spot on Netflix's Top 10 list for non-English films, with over 19 million views since its debut. Likewise, the show's ensemble cast included Georgina Campbell, Diego Calva, and Patrick Criado.
After Bird Box Barcelona, Naila bagged another major role in the 2023 mini-series Dear Child. The mesmerizing six-part miniseries is originally based on Romy Hausman's international best-selling novel of the same name (Liebes Kind in its original German). Since it began streaming on Netflix on September 7, 2023, Dear Child took the No.1 spot as the most popular Foreign language Netflix show globally.
Similarly, don't miss talented child actor Winta McGrath's Biography.
Naila Schuberth Net Worth
Most of the child actors in the U.S are represented by labor unions such as SAG-AFTRA. While newcomers or less experienced child actors may start with lower rates, experienced ones might take more with television shows and movies.
Meanwhile, Naila Schuberth has just been making waves in the German as well as international acting scene. Therefore, she might have received a decent amount from her acting career.
There is not enough information about Naila Schuberth net worth. However, we do know the average salary for child actors can vary widely depending on several factors, including the child's age, experience, the type of production, and the production budget.
Child actors are typically paid on an hourly or daily basis, but some are even paid on the basis of their contracts, which are mostly undisclosed. Take Angus T. Jones, for example; he was the highest-paid child actor during the filming of the popular sitcom Two and a Half Men. As per reports, Angus, who played Jake Harper, received $300,000 per episode.
In conclusion, child actors are like budding stars who illuminate the cinematic world with their youthful radiance. By looking at Naila Schuberth biography, we can say that this young girl has an ocean of talents. Through her ability to portray a wide spectrum of emotions, Naila will leave a lasting imprint on her audiences' memories.
Did you notice an error ?
Please help us make corrections by submitting a suggestion. Your help is greatly appreciated!