Celebrities
Gulliver McGrath Biography: A Promising Actor On The Rise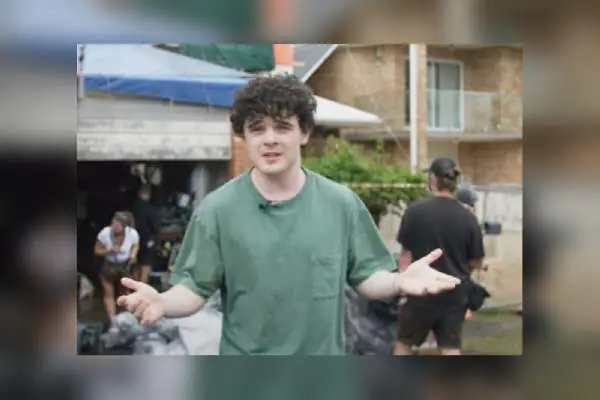 Gulliver McGrath Biography. Image Source: Social Media
Full Name

Gulliver William McGrath

Age

25 yrs

Birth Date

August 15, 1998

Country

Australia

Relationship Status

Not Confirmed

Nationality

Australian

Ethnicity

White

Profession

Actor

Education

WAAPA

Height

5 feet 6 inch
Call it luck or an accident, actor Gulliver McGrath's journey into the reel life has been a roller coaster ride. From television appearances to working with big Hollywood stars, McGrath established himself as a young rising star on the screen.
Some actors pursue their careers for fame or riches; however, Gulliver McGrath biography is a testimony to the fact that the impact of love and passion for a profession is always higher. Although he never boasts, the actor has certainly managed to impress everyone with his talent.
Dear readers, stay alert as we will learn more about the Dark Shadows actor's interesting pieces of stuff. So without any delay, let's jump right into it.
Early Life And Family Background
Gulliver William McGrath was born on August 15, 1998, in Melbourne, Australia, to parents Craig McGrath and Heidi Chapman, both of whom hold a respectable professional positions. As the oldest son, Gulliver, nicknamed 'Gully,' has two younger brothers named Zen McGrath and Winta McGrath, who are also actors.
The McGrath siblings were born into an educated family where their parents had no experience or a connection in the entertainment industry. Gulliver's mother, Heidi, is a neuroscientist who received her Ph.D. from the University of Melbourne in Cognitive Neuroscience in 2005. She completed her postdoctoral fellow program at the University of Birmingham in 2011. Likewise, Heidi is also an author who has published several research papers on neuroscience technology.
On the other hand, Gulliver's father, Craig, works as a private anesthetist consultant in his Melbourne office. He completed his medicinal degree (MBBS) from UNSW in 1994 and has worked as an anesthetist for St Vincent's Hospital. Similarly, he worked for NHS England as a consultant anesthetist. Other notable works include being the consultant cardiac anesthetist for St Georges Healthcare and University Hospitals Birmingham NHS Trust.
ALSO READ: Tinatin Dalakishvili Biography: Everything You Need to Know About the Georgian Actress
Breaking The Traditional Barrier: Steps Into Acting
As we mentioned, it's not necessary for an individual to follow in their parent's footsteps. If a person has a strong desire for their goal, sooner or later, their destiny will be filled with success. Now Gulliver never thought he would become an actor. In his early life, the young kid wanted to become a politician. However, a simple phone call would change everything.
Growing up in Brunswick, an inner city suburb of Melbourne, Gully would focus on his studies as his family was a hardcore medical. But at the early age of 6, the kid showed his natural talent for acting. A British-based company was looking for some child actors to star in their ad, and hence Gulliver's school was searching for the actors.
One day, McGrath's mom, Heidi, got a call from the school asking if her son would want to give an audition for an ad. During the shooting day, Fiona Dann, a casting director, spotted Gulliver's acting ability and brought him in front of the camera. Gulliver perfectly auditioned and got the part in the ad for Cravendale Milk, which marked the actor's first big break.
Gully immediately fell in love with acting but had to pause for a few years as his parents had just finished their medical studies. Likewise, his parents had to look after their son Zen and a newly born child Winta (b: 2005). Beginning of 2008, Gulliver persuaded his mother repeatedly to find an agent to help him get back into acting.
Seeing the boy's persuasiveness, Gully's parents sent him to a Brunswick acting school, which led to more auditions for shows and commercials. After a while, an agent named Emma Raciti landed him a role in Melbourne Theatre Company's production of the 2008 Poor Boy. Similarly, he appeared in an episode of the Australian tv police drama Rush.
Rise In Cinema: Working with Hollywood's Biggest Individuals
McGrath's performance in Poor Boy brought him newfound fame and opportunities. He acted alongside actors Guy Pearce, Carice van Houten, Francs O'Connor, etc., and the next year, word spread about this new talented youngster. Further, in 2009, Gulliver got a chance to act in movies such as The Wake and The Loved Ones.
In the mid-2009s, the McGrath family moved from Melbourne to Birmingham, U.K., primarily for Heidi's neuroscience research work. However, she returned back to Australia in April 2011 with her three kids while Craig stayed in Birmingham practicing anesthesia.
After returning back to their hometown, Gulliver got a chance to appear in one of the most significant roles in his career. His first major role as David Collins in the 2012 feature movie Dark Shadows brought him wide critical appraisal and love from fans. The movie, directed by Tim Burton, became a box-office hit and featured popular actors like Johhny Depp, Michelle Pfeiffer, Helena Bonham Carter, and Eva Green, among others. Previously in 2011, McGrath appeared in Oscar-winning director Martin Scorsese's adventure drama film Hugo as Young Tabard.
Besides Dark Shadows, McGrath appeared in the 2012 biographical historical drama film Lincoln directed by another famous legend, Steven Spielberg. The movie, based on US President Abraham Lincoln, featured the legendary actor Daniel Day-Lewis in the titular lead role. Meanwhile, Gulliver played the role of Lincoln's youngest son, Tad Lincoln. By the time McGrath was 14 years old, he had already worked with Hollywood's biggest personalities.
The Australian Mates Winning Hearts Globally
Now talking about two other McGrath siblings, Zen (Augustus Zen McGrath) and Winta (Hudson Winta McGrath) followed in their big brother's footsteps. The real-life brothers worked on their first project together and appeared as reel-life siblings in the 2014 movie Aloft. Zen has also appeared in a recurring part in the USA network's Jerusalem-set miniseries Dig and family Comedy Red Dog: True Blood.
The most notable mention of Zen's acting ability is the 2020 critically acclaimed movie, The Father, and the 2022 movie, The Son, both directed by Florian Zeller. The youngest McGrath, Winta, is also making a wave as a young actor. His breakthrough performance came with the role of Campion in the 2020 HBO Max sci-fi series, Raised By Wolves.
Regarding their education, Gulliver attended the Western Australian Academy of Performing Arts (WAAPA), Zen is a science student at Melbourne University, and Winta attends a local Australian school. Nevertheless, the three brothers working in the entertainment industry help create a self-sustaining ecosystem.
Gulliver McGrath Net Worth: Has The Actor's Career Been Rewarding Enough?
Having starred in critically successful movies, one might wonder if Gulliver McGrath might have earned a desirable amount from his acting career. Additionally, the Australian actor, most notably famous for his roles in blockbuster movies, has significantly reduced his appearance on the big screen.
Although we are unable to locate the exact numbers and points of Gulliver McGrath's wealth, we can show you some of his highest-earning movies at the Box-Office. These films collected not only huge earnings but also received positive responses.
| | | |
| --- | --- | --- |
| Year | Movies | Box-office Collections |
| 2011 | Hugo | $185.8 million |
| 2012 | Dark Shadows | $245.5 million |
| 2012 | Lincoln | $275.3 million |
Table Source: Rotten Tomatoes
Despite appearing in a few successful shows and movies, Gulliver McGrath's net worth is still a topic of mystery. As a child actor, the average salary in the U.S is reported to be around $30,000 per year. Likewise, child actors may also earn additional compensation for things like overtime, residuals, and merchandising. Moreover, those who are successful can earn a significant amount of money. As per reports, child actors such as Millie Bobby Brown, Angus T. Jones, and Tyler James Williams reportedly earned around $350,000 per episode.
Since the completion of his acting course at WAAPA, Gulliver has been acting in the theater industry. In 2023, he appeared as Constable 'Dale Quinn' in the Australian crime drama Black Snow alongside actors Travis Fimmel. In the coming days, the former child actor might bag popular projects, which we will add to Gulliver McGrath biography. So check back with us.
References
Did you notice an error ?
Please help us make corrections by submitting a suggestion. Your help is greatly appreciated!