Creators
Elsa Majimbo Biography: Unraveling The Life of A Kenyan Comedienne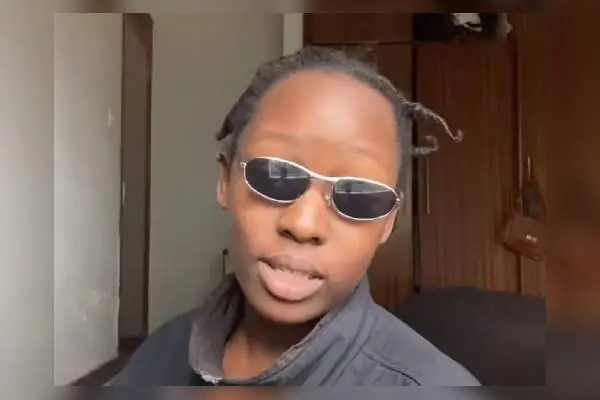 Elsa Majimbo Biography. Image Credit: Social Media.
Full Name

Elsa Majimbo

Age

22 yrs

Birth Date

June 29, 2001

Country

Kenya

Relationship Status

In a relationship

Nationality

Kenyan

Ethnicity

African

Profession

Comedienne

Awards and honors

People's Choice Award, Creator Honor Award

Education

Strathmore University, Nairobi

Height

5 feet 6 inch
Before reaching a destination and making a knock, always ask yourself whether you want to be there or not. The U.S.-based comedienne Elsa Majimbo always believed she was made for something great and one day she would become famous. Luckily, the universe brought her both fame and fortune very early in her career.
Just like Elsa's home country, Kenya's dramatic lakelands, and giant mountain highlands, the comedienne gained popularity and wealth in a dramatic manner. However, as you look through Elsa Majimbo biography, you will realize the multiple award-winning star is so deserving of her recognition.
Besides being a comedian, Majimbo is an author, model, Instagram and TikTok star. Similarly, the Kenyan comedy queen finds humor in everyday life and shares it with others through social media, where she has millions of followers. Dear readers, stay with us to learn about Elsa Majimbo's parents, background, net worth, and what made her famous.
Born in an East African Country: Grew Up in the Savanna Surroundings
The number of comedians from the South and East African countries is limited, and most of them are males. But with young artists like Elsa Majimbo, the face of African comedy culture will transform in no time.
The third of four children, Elsa Majimbo was born on June 21, 2001, to her parents in Nairobi, the capital city of Kenya. She has an older brother, an older sister, and a younger brother. In school, Majimbo was below average and was more interested in watching comedies, reading fashion magazines, and bunking the school class. But you might not believe Elsa Majimbo's chess skills are insane as she is a 15-time chess champion and is quite intelligent for her age.
After school, Majimbo studied journalism at Strathmore University, Nairobi, but once her video went viral, she dropped out of college to focus on her comedy. Further, she was the first of her family members to go to college. From her childhood to being an adult, Elsa lived a normal, fun-loving teenager's life. But soon, the world of social media was about to turn her life upside down.
The Rise During Covid-19: This is What Made Elsa Majimbo Famous
When the whole world was disrupted by the pandemic of corona-virus, people were searching for a medium to forget their pain for a moment. During the isolation, people intensively used social media to connect. Likewise, content creators utilize their spare time to help people entertain. Among them was Elsa Majimbo, a young teenage girl in Kenya.
Most people don't know, but Majimbo started making videos in 2016 for her friends. She stopped in 2019, but as COVID-19 hit the world, she was also forced to sit inside like all people. Afterward, Elsa began posting videos on TikTok and Instagram. A month after March 2020, Majimbo's videos began going viral in South Africa.
Elsa's humorous take on quarantine life struck a chord. Her short, relatable skits featuring her signature oversized sunglasses and infectious laughter quickly gained traction. She coped by posting a video about how she absolutely did not miss human contact and quickly started gaining social media fame.
Majimbo is known for her distinctive style, which features her eating potato chips, leaning back on a pillow, and using a pair of tiny 1990s sunglasses as a prop. Her comedy is often self-deprecating and relatable. She jokes about her experiences as a young woman in Kenya, as well as more universal topics such as relationships, social media, and pop culture. Her humor is sharp and witty, but it is also kind and inclusive. Moreover, it was that mocking humor that earned Majimbo praise from media outlets and famous celebrities.
Desiring a Wish, Believing in Oneself, and Living the Dream
The story of any successful person starts with the simple idea of desiring something worth having. In Elsa Majimbo's case, she just knew from the beginning that she was destined to become a star. The Instagram star has said in multiple interviews that she always believed she was special and something great was definitely waiting for her. Only Majimbo didn't know it would be through comedy.
When Elsa Majimo got over 100,000 views on her first viral video, she immediately dropped out of college. Moreover, she wasn't looking for a career in the entertainment or media industry. But she loved making videos and making people laugh. Slowly and steadily, Majimbo built confidence and got love and support from viewers, except from her homecountry and parents initially. Keep scrolling down to know more.
Despite getting initial hate for her clothing sense, skin color, and appearance, Majimbo never quit and never complained. She continued sharing her humor and always maintained a healthy relationship with both the media and the public.
At present, Majimbo has already rubbed shoulders with famous personalities, including Naomi Campbell, Rihanna, and Anderson Cooper, among others. Did you know Grammy-winning singer Beyonce personally invited Majimbo to her 42nd birthday party?
Well, the comedienne has proved that passion and dedication not only change your life but impacts others' life as well. From recording a video in her room to earning millions, Elsa Majimbo has captured the hearts of fans and popular celebrities.
ALSO READ: Kheris Rogers Biography: A Multi-Talented Artist And Fashion Icon
Relationship With Birth-Country, Nickname Mpho From South Africa
In a YouTube interview with Naomi Campbell, Elsa revealed that although Kenya is her home country and she has an attachment to the place, it is mostly Kenyans who have always tried to bring her down. So, what was the reason for such criticism and backlash to an 18-year-old aspiring comedian?
As with any public figure, Elsa Majimbo has faced her fair share of criticism and controversy. On social media, she found fame as a comedian during the pandemic, building large audiences on TikTok and Instagram by posting parodies of quarantine and an indulgent, lazy life. Majimbo's signature style is her infectious laughter and a pair of vintage glasses, which she calls her lucky charm. She eats potato chips in bed and encourages her followers to party to the point of reporting fraudulent activity to their banks and laughing maniacally.
Although people outside of Kenya appreciated Majimbo's comedy, her own people, including her parents, accused her of promoting laziness and indifference through her humorous take on life. Likewise, her father told her to stop making content, and even her mother told her not to continue using social media. However, as her video went viral, the window of new opportunities was bestowed upon her. At present. Elsa's parents are happy with their daughter, along with the Kenyans.
Being a comedian is not just making funny faces and telling jokes; it's about connecting with people on a deeper level and helping them forget their troubles for a while. Similarly, it's about being brave enough to put yourself out there and be vulnerable. The South African people have given her the nickname Mpho, and the common Tswana and SeSotho name means "gift."
Similarly, you might also want to look at some interesting facts about Ilhan Omar's Biography.
Elsa Majimbo Net Worth, Awards, and Recognition
Making money is an art, and they say to get rich, you have to be making money while you are asleep. While recording her first video, Majimbo didn't have a single penny, but she mocked her own financial status. Who knew that within years, her fortune would change? As per Forbes, Elsa Majimbo net worth is in the millions, but the comedienne only calls herself a millionaire for comedic purposes. Additionally, Majimbo earns around $150,000 per year.
The Kenyan social media star's influence extends beyond comedy that helps boost Elsa Majimba's fortune. She has appeared on the cover of Teen Vogue, a Maison Valentino campaign, and has collaborated with celebrities, including the likes of Rihanna, Lupita Nyong'o, Beyonce, etc., who became fans of her work. For information, Elsa moved to Los Angeles in September 2021 and owns a beautiful home.
A series of entrepreneurship and brand collaborations contribute to Elsa Majimba earnings. In 2021, she signed endorsement deals with major fashion brands such as Fenty, an iconic label created by Rihanna, and Valentino, a luxury fashion house.
| | |
| --- | --- |
| Year | Accolades And Awards |
| 2020 | E! People's Choice Award |
| 2020 | YouTube Streamy Awards |
| 2022 | Forbes Top Creators List |
| 2023 | 30 Under 30-Social Media |
Table Source: Forbes
After all this fame and money, Majimba believes she doesn't need money to live a comfortable life; as a result, she frequently donates hundreds of thousands to the needy. For her contributions, Elsa has received awards, including a Forbes Entertainer Award and the GQ Entertainer of the Year Award.
In June 2022, Majimba signed with IMG Modeling agency, and she appeared on Steve Harvey's Show and was interviewed by Anderson Cooper as well. Moreover, Elsa was the youngest person to appear on the Forbes list.
Elsa Majimbo Low Key About Her Boyfriend
In December 2022, Elsa Majimbo shared the pictures of her boyfriend on Instagram along with a caption that had all the good things about her lover.
The exact timeline details of the couple are hidden, but we do know Majimbo's boyfriend, Dj Hkeem, is a producer and a DJ by profession. Both Elsa and Hkeem rarely share any pictures of each other, which further indicates they are trying to have a low-key relationship.
Although the images are no longer on her social media, the fans and the media have all the evidence to prove Majimbo's romantic relationship.
From arriving in the United States to making it big, the Kenyan girl has achieved major success at an early age. After carefully reading Elsa Majimbo biography, it can be said that she is proof that anyone can achieve their dreams, regardless of their background.
It's not easy being a comedian, as it takes a lot of hard work and dedication. But it's also incredibly rewarding. When you make someone laugh, you're giving them a gift. You're making them feel happy and carefree, even for just a moment. And that feeling is priceless.
References
Did you notice an error ?
Please help us make corrections by submitting a suggestion. Your help is greatly appreciated!