Sports
Olli Caldwell Biography: Know The British Racing Driver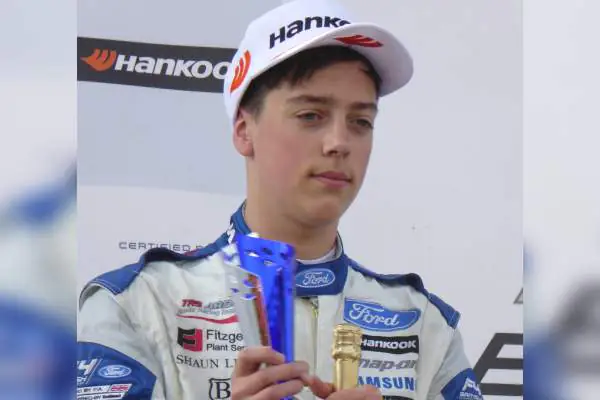 Olli Caldwell Biography. Image Credit: Wikimedia Commons.
Full Name

Oliver Caldwell

Age

21 yrs

Birth Date

June 11, 2002

Country

United Kingdom (UK)

Relationship Status

In a relationship

Nationality

British

Ethnicity

White

Profession

Racing Driver

Education

Alpine Academy

Height

5 feet 10 inch
The racing world is broad and exhilarating, with racing cars reaching speeds of many miles per hour on the track. The young British racing driver, Olli Caldwell, has managed to establish himself as a promising candidate for the Formula One championship.
In the world of Formula racing, it's not just about speed; it's about the relentless pursuit of perfection and the will to win. Today, our piece of commentary on Olli Caldwell biography focuses on the driver's potential and compares his professional achievement to the thunderous sound he produces on track.
From his early days in karting to his current position in the FIA Formula 3 Championship, Caldwell has consistently showcased his potential and determination. As a young British racing driver, he carries the hopes and dreams of motorsport enthusiasts.
Early Life: Introduction to Karting
It was the genes for Olli Caldwell as his father was involved in the karting and racing industry. As a result, Caldwell was destined to become a racer sooner or later. Born as Oliver "Olli" Caldwell on June 11, 2002, in Hampshire, Winchester, U.K., his parents Martin Caldwell and Julie Caldwell raised him in a supportive environment. Further, Olli has a sister named Molly Caldwell.
At the age of 11, Caldwell began karting in 2013 and raced in karts for four seasons. Further, he finished third in the 2016 edition of the Rotax Euro Challenge and took part in the Rotax Max Challenge Grand Finals in the same year. During his five-year karting career, Olli represented Great Britain and achieved numerous feats.
Caldwell made his single-seater debut with the Arden Racing Team at the Croft Circuit in 2017. He missed the first third of the season owing to age restrictions, although he was the youngest-ever competitor in a British F4 race. He was 15.
As Caldwell progressed through the ranks of karting, his dedication and competitive spirit shone brightly. He consistently performed well in national and international competitions, earning recognition as one of the rising stars in British karting.
ADAC Formula 4 and Formula Regional
Olli Caldwell's remarkable success in karting caught the eye of talent scouts and motorsport professionals. In late 2017, he made the crucial transition to single-seater racing and debuted at the ADAC Formula 4 Championship. This marked the beginning of his journey into the world of open-wheel racing. In 2018, he made the full-time switch to Prema, a motorsports team from Italy.
Caldwell's debut in the ADAC Formula 4 was impressive, with podium finishes and strong performances throughout the season. In 2019, he further honed his skills in the Italian Formula 4 Championship, demonstrating his adaptability and determination. His progress didn't go unnoticed, and in 2020, Olli Caldwell joined the highly competitive Formula Regional European Championship by Alpine, where he continued to impress.
ALSO READ: Theo Pourchaire Biography: A French Racing Driver.
FIA Formula 3
Olli Caldwell's admission into the FIA Formula 3 Championship has been the top of his career thus far. In 2021, he made his debut with the prestigious Prema Racing team, which has a reputation for developing young talent. In terms of competition and exposure, this was a major step up.
Despite the fact that the FIA Formula 3 Championship is a highly competitive series with some of the world's top young talents, Olli Caldwell has continually demonstrated his promise and determination, garnering the respect of both spectators and other competitors.
Outside of the racetrack, Olli is known for his dedication to physical fitness and mental preparation, which is an important component of modern motorsport. His commitment to staying in peak physical shape and refining his racing talents demonstrates his ambition and passion to achieve the pinnacle of motorsport.
In his pursuit of furthering his motorsport career, Caldwell stepped up to the FIA Formula 3 Championship, a highly competitive and challenging racing series. Competing at this level allowed him to gain experience and exposure on the international racing stage.
In 2023, Olli competed in the FIA WEC with the Alpine ELF Endurance Team & ELMS with the Inter Europol Competition. Caldwell will race with the Alpine Elf Endurance team in November for the season finale in Bahrain. Caldwell proved his speed despite a disappointing result in the FIA World Endurance Championship.
Olli Caldwell Net Worth and Personal Life
In the world of motorsport, talent and determination often make the difference between success and obscurity. Olli Caldwell's net worth might be in the hundreds of thousands of dollars. However, the exact figures remain hidden because he is a young driver. Talking about Caldwell, he earns enough money through his sponsors and endorsements.
Some of them are Infinity Sports Management, Finlay (a British eyewear brand), Stilo (a helmet supplier), Alpine Academy, BRDC (British Racing Drivers' Club), and 115 Degrees (a digital, media, and PR Agency focused on motorsport journalism).
One of Caldwell's notable achievements was competing in the British F4 Championship, where he showcased his racing skills and earned podium finishes during the 2018 and 2019 seasons. Olli won the 2018 Gulf 12 Hours -GT4 for Built racing team.
Now, talking about Olli Caldwell's girlfriend, several sources claim that he was in a relationship with a beautiful girl named Lilly Morris. Looking into his social media, we found that Olli had indeed been close to Lilly, and she even accompanied him to many races. Well, the couple is surely successful in keeping a low profile regarding their relationship. The pair rarely shares any pictures on social media.
The essence of Formula Racing lies not only in the sleek machines or the taste of victory but also in the electric atmosphere that surrounds it. It's the collective roar of the crowd, the anticipation in the air, and the palpable tension as every lap unfolds.
Formula cars, winning, and the thrill of the race create a symphony of emotions that resonate deeply within us, reminding us of the unbridled potential of human achievement and the enduring allure of the pursuit of greatness. The future is undoubtedly bright for this rising star, and fans eagerly await his continued success and evolution as a racing driver.
Check back with us in the future, as we will be sure to update you guys on Olli Caldwell biography.
References
Did you notice an error ?
Please help us make corrections by submitting a suggestion. Your help is greatly appreciated!