People
Charles Farrar Browne Biography: Meet America's First Stand-Up Comedian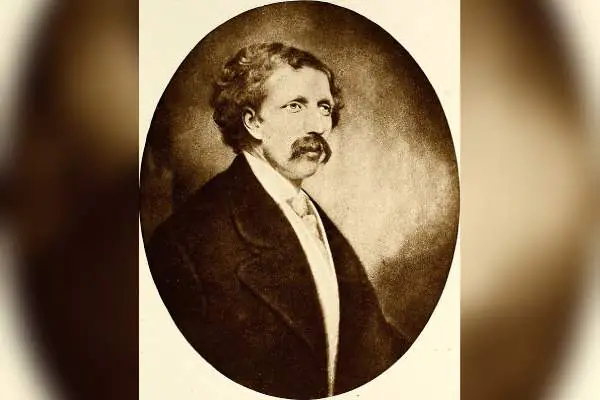 Charles Farrar Browne biography. Image Source: Wikimedia Commons.
Full Name

Charles Farrar Browne

Age

32 yrs

Birth Date

April 26, 1834

Country

America

Relationship Status

Single

Nationality

American

Profession

Humorist

Death Date

March 6, 1867
Charles Farrar Browne, who went by the name Artemus Ward, is a prominent figure in the history of American comedy. He was recognized as the nation's initial stand-up comedian and left an enduring mark during the 1800s through his distinctive combination of cleverness, mockery, and narratives.
This piece aims to delve into Browne's life and accomplishments while underscoring his groundbreaking influence on shaping stand-up comedy as an art form. Stick with us to learn about Charles Farrar Browne biography and the legacy he left behind.
Early Life and The Birth of Artemus Ward
Charles Farrar Browne, born in Waterford, Maine, on April 26, 1834, came from a humble background and had limited formal education. However, he displayed a natural knack for humor and storytelling at an early age. This combination of innate comedic talent and his love for literature set the stage for his future career.
In the late 1850s, Charles Farrar Browne adopted the pseudonym Artemus Ward inspired by a historical figure. Under this new persona, he wrote amusing sketches that were performed publicly.
The character of Artemus Ward was essentially a fictional showman who delighted audiences with exaggerated tales and witty observations. He cleverly used satire to comment on prevalent social and political issues during that time.
In 1860, Charles assumed the editor position for the inaugural edition of Vanity Fair, a witty publication based in New York that unfortunately did not succeed and ceased production by 1863. Concurrently, he ventured into public speaking engagements as a lecturer and captivated sizable crowds with his delightful and offbeat humor.
Browne's association with the bohemian community in New York was well-known; this group included prominent figures such as Henry Clapp Jr., Walt Whitman, Fitz Hugh Ludlow, and actress Adah Isaacs Menken.
Rise to Prominence
In 1863, Browne arrived in San Francisco intending to perform under the alias Artemus Ward. Known for his keen understanding of how to generate publicity in the entertainment industry, Browne took proactive measures to ensure the success of his show. He sent his manager ahead several weeks before purchase advertisements in local newspapers and garner endorsements from influential individuals within the community.
These efforts culminated on November 13, 1863, at Platt's Music Hall, where Browne stood before a captivated audience as Artemus Ward, portraying an uneducated character while still conveying Yankee ingenuity through sheer common sense.
It is worth noting that esteemed writer Bret Harte was present that night, and he later recounted this performance as masterfully capturing authentic American speech.
Artemus Ward's ascent to fame was fueled by his published essays and public readings. His comical sketches, which featured clever wordplay and absurd situations, quickly gained popularity and amassed a loyal following.
What set Ward apart from other performers of his time was his distinct delivery style, characterized by deadpan humor and unexpected punchlines. Not only did Artemus Ward achieve nationwide recognition, but he also garnered international appeal.
Through successful tours across the United States, he captivated audiences with his comedic performances. However, during an overseas tour in England, Ward truly reached new heights of fame as he received accolades for amusingly observing American society and culture that resonated with audiences on both sides of the Atlantic.
Literary Contributions
In addition to his live comedy performances, Artemus Ward gained significant recognition for his exceptional contributions to literature. He published a series of books and essays showcasing his immense talent as a humorist and social commentator.
One notable publication is "Artemus Ward, His Book," which features various witty essays and sketches. Through the clever combination of humor and insightful observations on societal issues, Ward demonstrated his remarkable ability to satirize contemporary society through concise yet impactful writing.
Some of Browne's most popular works are listed below with the price as listed on Amazon.
| | |
| --- | --- |
| Name of Book | Price (Hardcover) |
| Artemus Ward, His Book | $16.25 |
| Artemus Ward, His Travels, Among the Mormons | $31.95 |
| The Complete Works of Artemus Ward | $26.95 |
| Artemus Ward: His Book, Or, the Confessions and Experiences of a Showman. | $36.55 |
Table Source: Amazon
The contributions of the comedian aren't talked about enough, and it's due time.
Legacy and Influence
The influence of Charles Farrar Browne on American comedy is immeasurable. As the pioneer of stand-up comedy in America, he paved the way for future generations of comedians to follow.
Ward's inventive use of storytelling, satire, and observational humor laid a strong foundation for the evolution and growth of stand-up comedy as an artistic genre. Browne's impact extended beyond his time; it can be seen in the works of later comedic greats such as Mark Twain and Will Rogers, who adopted similar styles incorporating captivating narratives and sharp wit.
Today, contemporary stand-up comedians continue to draw inspiration from Browne's groundbreaking approach to humor.
In conclusion, Charles Farrar Browne played an instrumental role in shaping American comedy by introducing innovative techniques that have endured throughout history.
ALSO READ: Gregory Reid Wiseman Biography: The Lunar Odyssey of The Artemis II Commander
Personal Life and Tragic End
Charles Farrar Browne, the man behind the humorous character of Artemus Ward, encountered various personal obstacles.
One such challenge was his battle with ongoing health issues, specifically a chronic lung condition. Despite his declining well-being, Browne remained dedicated to his craft and delighted audiences until he tragically passed away of tuberculosis on March 6th, 1867, at only 32 years old.
Browne's final resting place was initially Kensal Green Cemetery in England, but his remains were later transported to the United States in 1868 and laid to rest at Elm Vale Cemetery in Waterford, Maine.
Similarly, you might want to check out our article on Suli Breaks' biography, the spoken word poet.
Ending Remarks
Artemus Ward, the pen name of Charles Farrar Browne, is widely regarded as America's inaugural stand-up comedian and holds a prominent position in the annals of American comedy.
With his clever anecdotes, sharp observations, and distinct storytelling technique, Browne captivated audiences throughout the mid-1800s. His comedic endeavors not only laid a foundation for future generations of comedians but also played a pivotal role in shaping modern stand-up comedy.
Even today, Charles Farrar Browne biography serves as a reminder of laughter's potent influence and the lasting impact left behind by exceptionally talented comics.
References
Did you notice an error ?
Please help us make corrections by submitting a suggestion. Your help is greatly appreciated!