Business
Wyc Grousbeck Biography: Owner and Governor of The NBA's Boston Celtics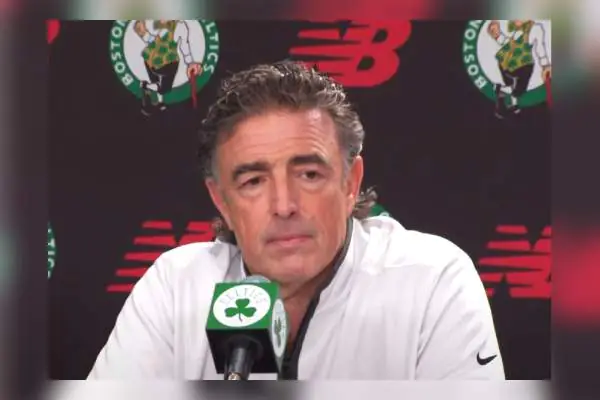 Wyc Grousbeck Biography. Image Source: Social Media
Full Name

Wycliffe "Wyc" K. Grousbeck

Age

62 yrs

Birth Date

June 13, 1961

Country

America

Relationship Status

Married

Spouse

Emilia Fazzalari

Nationality

American

Ethnicity

White

Profession

Entreprneur, Boston Celtics' governor

Children

4 (including 2 stepkids)

Education

MBA, Stanford Graduate School of Business

Net Worth

$400 million

Height

5 feet 8 inches
Since 2008, the Boston Celtics of the NBA haven't been able to win their next championship. But Wyc Grousbeck, the team's co-owner, and governor, has high hopes for the upcoming season as he is putting effort into improving teamwork and intelligence.
Although Grousbeck is not an omnipresent person in the Boston Celtics, his voice and vision carry weight as the franchise governor.
Let's get ready to rumble as our article aims to explore Wyc Grousbeck biography, an individual who shoots his perseverance in life's backboard and scores success in the rim.
Born In A Well-To Do Family: Who are Wyc Grousbeck's Parents?
Wycliffe "Wyc" K. Grousbeck was born to father H. Irv Grousbeck and mother Sukey Grousbeck on July 13, 1961. He grew up with three other siblings in Worcester, Massachusetts, the United States.
Wyc comes from a well-to-do family, as his father, Harold Irving (H.Irv), is a self-made billionaire, while his mother's family belonged to esteemed physician heritage. Wyc's mother, who was known as Suzzane Barber during her college days, grew up in Quincy, Illinois, and graduated from Quincy High School (QHS) in 1954. She met her future husband, H. Irv, at 19 when he was attending Harvard Business School. At that time, Sukey was also a cheerleader for football and basketball games at QHS.
The Grousbecks lived in Boston for many years, where Wyc's father, Irv, co-founded a company Continental Cablevision (later Media One), in 1964. After living in Quincy for a year, they later moved back to Boston, and Irv began teaching at the Stanford Business School. Previously, he worked as a visiting lecturer at Harvard Business School. At present, the senior Grousbecks resides in Portola Valley, California.
ALSO READ: Nathan Blecharczyk Biography: From Airbeds To Airbnb
Princeton Alumni, Acquisition of Nearly Half A Billion Dollar Sports Team
Talking about Wyc Grousbeck's education, he graduated from Noble and Greenough School in Massachusetts. Additionally, he graduated with a Bachelor's degree in History from Princeton University in 1983. At Princeton, Wyc was a member of the 1983 undefeated lightweight crew team that claimed the Ivy League and National Rowing Championship.
After Princeton, Wyc attended the University of Michigan and received a Juris Doctor degree in 1986. Further, he went on to receive an MBA from the Stanford Graduate School of Business in 1992. Afterward, he joined a venture capital firm Highland Capital Partners, where he served as its general partner from 1995 until 2002.
In his early career, Grousbeck spent his time as a venture capital lawyer and a business development manager, a foundation that later proved to be fruitful as a governor of the Boston Celtics. Do you know it was Wyc who convinced his father and a group of investors to buy the NBA team?
Grousbeck founded and led the group Boston Basketball Partners L.L.C., which bought the Boston Celtics for $360 million in 2002. However, there were two main motivations for Wyc to buy the Celtics. As a kid, he developed a profound bond with the sporting teams as his father used to take his four kids to Fenway Park and Boston Garden several times a year. The second motivation was his son's LCA (Leber congenital amaurosis) diagnosis, a retinal disease characterized by a severe loss of vision at birth.
Wyc Grousbeck's Ex-Wife And Children: Son's Diagnosis Became A Turning Point
The Boston Celtics' governor, Wyc Grousbeck's ex-wife, is Corinne Grousbeck. The former partners had first met when they were studying at the University of Michigan. At the time, Wyc was earning a law degree while Corrine was doing her bachelor's.
Wyc and Corrine Grousbeck married in 1986 and welcomed their first child, a daughter named Kelsey Grousbeck, in 1989. Their second child, son Campbell Grousbeck, was born in 1992 with a visual impairment after being diagnosed with LCA.
In an interview, Wyc shared that if it wasn't for Campbell getting the LCA diagnosis, they would have never moved to Massachusetts and eventually bought the Boston Celtics. Their son Campbell attended Perkins School for the Blind in 1995 in Watertown, Massachusetts. Since then, the former husband-wife has been active in philanthropy and social change.
In 2010, Wyc became chair of the Massachusetts Eye and Ear Infirmary, the world's largest research and clinical hospital specializing in blindness and deafness research. There, he launched a campaign to seek cures for blindness and deafness that raised in excess of $250 million. At present, both of his kids, Campbell and Kelsey, are happily married and are accomplished in their respective professions.
In October 2014, Wyc and Corinne Grousbeck separated after 28 years of marriage. The reason for their divorce might be a hectic schedule and their personal preferences. Further, their divorce was finalized in early 2016. Even after separation, both Wyc and his ex-wife Corinne are heavily involved in charity work to improve the lives of people having the condition deaf and blindness.
At present, Corrine serves as the chairperson of the Perkins School of the Blind, and she resides in her Chestnut Hill home. Additionally, she serves on the leadership council for the chief of medicine at Massachusetts General Hospital and is on the boards of several other organizations.
Who is Wyc Grousbeck's Wife, Emilia Fazzalari?
The Boston Celtics' co-owner Wyc Grousbeck's wife is Emilia Fazzalari, an accomplished entrepreneur. The couple married on January 7, 2017, in Las Vegas, and their wedding ceremony took place at the Bellagio Chapel. Wyc began dating his future wife, Emilia, in early 2015, and they got engaged in December 2016.
Emilia is also a previously married woman who hasn't revealed anything about her past relationship. Like Emilia Fazzalari's husband, she has two kids, a son and a daughter from her previous marriage. As of now, Wyc Grousbeck and his spouse have been married for over six years.
In their business, Wyc Grousbeck's partner, Emilia, currently serves as the co-founder and CEO of Cinco Spirits Group and Cincoro Tequila. Grousbeck has a majority of shares in the company, and together they appear in NBA tournaments, public events, charity galas, and private functions.
As a co-owner of the Boston Celtics, Grousbeck convinced his wife to take part in the Boston Celtics Shamrock Foundation, Boston Children's Hospital, Boys and Girls Clubs of Boston, National Braille Press, Make-a-Wish Foundation, and a number of charitable organizations.
Net Worth As A Co-Owner and Governor of the Boston Celtics
The NBA franchise co-owner, Wyc Grousbeck, has a net worth of $400 million. Wyc has over 25 years of investment, operating, and legal experience. The major point in Wyc Grousbeck's wealth came in 2002 when he founded Boston Basketball Partners LLC.
In 2003, former Celtics owner Paul Gaston sold the team for $360 million to Wyc, his father, Irv Grousbeck, and partners, including Steve Pagliuca, Robert Epstein, David Epstein, William P. Egan, and John Svenson. As per 2022 Forbes reports, the Boston Celtics' estimated value is approximately $4 billion becoming the fifth most valuable franchise.
| | | |
| --- | --- | --- |
| Rank (2022) | NBA Team | Estimated Worth (USD) |
| 1 | Golden State Warriors | $7 billion |
| 2 | New York Knicks | $6.1 billion |
| 3 | Los Angeles Lakers | $5.9 billion |
| 4 | Chicago Bulls | $4.1 billion |
| 5 | Boston Celtics | $4 billion |
Table Source: Forbes
Since its acquisition in 2002, the value of the Boston Celtics has significantly increased. However, several claims appeared in the media that Grousbeck wanted to sell the franchise. Similarly, his business partner, Michael Jordan, sold his stock in the Charlotte Hornets for roughly $3 billion in August 2023. While asked if he has a plan to sell the Celtics, Grousbeck said in an interview that he has no thought of selling his team, and he became involved with the Celtics because of his love for sports and Celtic pride.
Being a member of the media-executive, audit-compensation, and planning-labor committees of the NBA massively contributes to Wyc Grousbeck's fortune. In addition, he is the co-founder of Causeway Media Partners, a private equity firm that managed over $340 million, focusing on sports and technology investments.
For information, the Grousbeck family has a net worth of $1.6 billion, and their primary source of wealth is telecommunication and sports. Besides an impressive resume, Grousbeck also has an amazing portfolio of real estate. In August 2015, he listed a mansion located on Martha Vineyard estate at $22.5 million but two years later cut down the price to $16 million. The seven-bedroom property includes 8.5 bathrooms and is just over 6,800 square feet.
Cincoro Spirits Leading to Become The U.S Top Tequila
In the summer of 2016, five NBA owners gathered to have dinner in New York. The Celtics' owner, Emilia and Wyc Grousbeck, Jeanie Buss of the Lakers, Michael Jordan of the Hornets, and Wes Edens of the Bucks attended the late-night dinner. The business owners bonded over their shared love for tequila, and from there Cincoro brand was born. The partners founded Cincoro Tequila which launched to acclaim in September 2019.
The name Cincoro translates as five gold in Spanish (cinco is five and oro is gold), which pays tribute to the five founding partners and their pursuit to create the gold standard in tequila. Cinco Spirits Group LLC, an ultra-luxury spirits company where Wyc Grousbeck's wife, Emilia, serves as its CEO, has created an award-winning portfolio of tequilas called Cincoro.
Whether it's sports, science, business, or technology, Grousbeck has managed to accomplish a succesful quest. Wyc Grousbeck biography still has chapters that he plans to add, and we eagerly wait for any news. Let's hope Celtics and Wyc achieve even more success in the future.
References
Did you notice an error ?
Please help us make corrections by submitting a suggestion. Your help is greatly appreciated!