People
Jeremy Roger Hansen Biography: Meet The Mission Specialist of Artemis II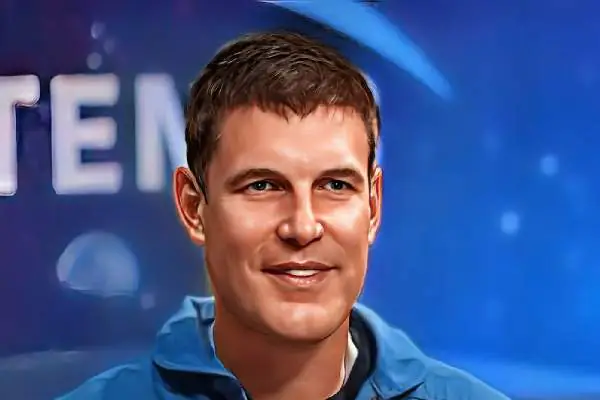 Jeremy Rogers Hansen Biography. Image Source: Instagram
Full Name

Jeremy Roger Hansen

Age

47 yrs

Birth Date

January 27, 1976

Country

Canada

Relationship Status

Married

Spouse

Catherine Hansen

Nationality

Canadian

Profession

Astronaut

Children

3

Awards and honors

Calgary Stampede Parade Marshal (2023), Gold Medal of the Royal Canadian Geographical Society, Canadian air force pilot wings (May 2002)

Education

Master's in Science, Royal Military College

Height

6 feet 1 inch
For millennia a constantly present yet ever-changing shining celestial object in the sky captivated humans. Similarly, the Canadian native Jeremy Roger Hansen was always fascinated by space and used to dream of going near the Luna. Well, nearly four decades later, Hansen's dream is finally happening in real life as he is one of the members of the first crewed mission program called Artemis II.
Between 1968 and 1972, the United States of America successfully completed nine human missions to the moon, and since Apollo 17 in 1972, humans have been more ambitious than they have ever become. As Buzz Aldrin followed Neil Armstrong onto the moon's surface, the whole world tuned in to watch their historical adventure on the celestial body far from our home. At present, the same is happening with Artemis II as it is the first scheduled crewed mission since Apollo 17 in 1972.
Dear selenophile readers, today in this article, our piece of commentary will focus on Jeremy Roger Hansen biography. Likewise, we will get to know more about the latest updates on what's happening with the mission of our only satellite.
Fueled By Love of Airplane, Destined to Become A Space-Man
Jeremy Roger Hansen was born and raised on January 27, 1976, in London, Ontario, Canada, to parents Gary Hansen and Nancy Hansen. He grew up on a farm near Ailsa Craig and later moved to Ingersoll for his high school education.
Fueled by a love of airplanes, Jeremy's fascination with rockets, space, and the moon began when he was 5. His mom Nancy recalled that as a kid, he used to sit for hours looking at pictures of Neil Armstrong in a volume of the encyclopedia.
Since his childhood, Hansen has adored science and technology. His father, Gary, recalls that Jeremy, as a kid, had a very strong interest in science, technology, and space. Further, Gary recalls that his son's passion never went away since he told him about the Canadian Air Cadet program.
Therefore at 12, Jeremy joined the program, and his journey into aviation began. The family visited the Kennedy Space Center as they planned a family trip to Florida. Likewise, the Hansens tried tied to fulfill every possible demand of their son. At just 17, Hansen earned his pilot's license.
Hansen graduated from Ingersoll District Collegiate Institute in Ontario. Afterward, he graduated with a Bachelor's degree in Space Science with First class honors from the Royal Military College, Ontario(1999). From the same college, Hansen completed a Master of Science degree in physics in 2000 with a research focus on a wide field of view satellite tracking.
After all those long, hard years of dreaming and waiting, Hansen will be the first Canadian to orbit the Earth's satellite and the first non-American astronaut to make the trip in 2024. Scroll down to learn how Hansen became one of the members of an expedition that is happening after nearly 50 years.
What is Artemis II Mission?
On May 2019, NASA administrator announced the new program called Artemis, after the ancient Greek goddess of the moon and the twin sister to Apollo.
The Artemis program is a robotic and human Moon exploration program led by NASA, and after Artemis I, there will be three other lunar landing missions dated up to 2028. Artemis I was an unmanned moon-orbiting mission launched on November 16, 2022.
The 2024 NASA's Artemis II lunar mission will return astronauts to the moon for the first time since 1972, a period of almost 50 years. The Orion spacecraft, powered by a Space Launch System rocket, will carry astronauts on a lunar flyby around the moon. Therefore, Artemis II will be the first crewed mission currently planned to be launched by the Space Launch System (SLS) in November 2024.
Artemis II features a free-return trajectory and is the final test before the Artemis 3 crewed lunar landing mission in 2025. The Artemis II crew includes astronauts, pilots, commanders, and mission scientists of NASA, who are Victor Glover, Christina Koch, Reid Wiseman, and Space Agency astronaut and mission specialist Jeremy Hansen.
In early 2023, the Biden administration's budget framework proposed $27.2 Billion for NASA in 2024, which would include increased funding for Artemis. The Budget fully funds the rockets, crew vehicles, landers, space suits, and other essential systems required to fly astronauts around the moon.
With Artemis II, the four pioneers will fly into space; they will launch on 8.8 million pounds of thrust; they will pilot Orion and test its life support system; they will venture 600,000 miles around the moon and back. Further, they will return to Earth at 30 times the speed of sound.
ALSO READ: Mileva Maric Biography: A Brilliant Mind And Albert Einstein's First Wife
Why Jeremy Hansen As A First Canadian For Artemis II is a Big Deal?
In 2020, the Canadian Space Agency secured Jeremy Hansen's spot for Artemis II 2020 through an agreement with NASA. As per the agreement, Canada is to provide a modern robotic arm called the Canadarm3 for Gateway, a US-led outpost spacecraft that orbits the moon. The outpost spacecraft orbiting the Moon will provide vital support for a sustainable, long-term return of astronauts to the lunar surface.
On April 3, 2023, NASA's Artemis II moon crew was revealed to the world with an event at Ellington Field near Johnson Space Center in Houston. Through Artemis II, Hansen will be flying to the moon is the first time in space. Likewise, the Royal Canadian Air Force colonel will be the first Non-American to leave low Earth orbit.
After the news broke, the Canadian prime minister,  Justin Trudeau, congratulated Hansen and the team. He said there are only 24 people in the history of the world who've seen the full circle of the earth, and they're all Americans. Trudeau congratulated Hansen as he will be the first Canadian, the first non-American, which is a big deal.
For all those accomplishments, he has been waiting longer than any other Canadian astronaut to go to space.
Learn About Artemis II Crew
The crew's commander is Reid Wiseman, former chief of the Astronaut Office, who spent 165 days in Earth's orbit on his first mission, a 2014 flight to the International Space Station(ISS). A native of Baltimore, Maryland, Wiseman is a former fighter pilot for the U.S. Navy.
The crew's pilot is Captain Victor Glover, who became a NASA astronaut in 2013. Glover flew as pilot of SpaceX's first operational crewed spaceflight and spent 167 days on the ISS in 2021. Born in California, the U.S. Navy captain was the first Black astronaut to serve on a space station crew.
Another member of the Artemis II crew is Christina Koch, a member of NASA's 21st astronaut class selected in 2013. Further, in 2019, Koch's 328-day journey to the International Space Station broke a record for the single-longest mission by a woman. The former station chief for the National Oceanic and Atmospheric Administration (NOAA) is an influential engineer and an inspiration to women.
Jeremy Hansen's Wife is A Medical Doctor
Jeremy Hansen's wife, Catherine Hansen, is a medical doctor. She has over 25 years of experience as a board-certified OB/GYN, menopause practitioner, coach, facilitator, and speaker who helps midlife women re-align, re-center, and reclaim their lives. At present, she is working as the head of menopause at Pandia Health, a women-founded, women-led, doctor-led birth control delivery service.
Jeremy Hansen's spouse completed her residency in obstetrics and gynecology, followed by a fellowship in sexual health and certification in menopause. She is a passionate physician and advocates for women and girls. Further, Catherine also volunteers with Orbis Canada, a non-profit organization serving the welfare of women and young girls.
The Canadian astronaut Jeremy Hansen and his wife have 3 adult children, son Devon Hansen (b: September 2004) and twin daughters Ashley Hansen and Katelyn Hansen (b: April 2006).
Devon Hansen as, a Lake-field college school student, won with his team in the Peterborough Engineering challenge as part of National Engineering Month held at the Healthy Planet Arena in March 2023. Nevertheless, the Hansen family is accomplished in the field of science and technology.
In conclusion, the four astronauts are going on a mission, and they have made a decision to go for people. Jeremy Hansen and the team are an inspiration as they are going to make the expedition more exciting. In the end, the moon is normally the largest celestial object we can see, whose light serves as a reminder of our connection to the universe.
References
Did you notice an error ?
Please help us make corrections by submitting a suggestion. Your help is greatly appreciated!