People
Victor Jerome Glover Biography: First Black NASA Pilot Going To The Moon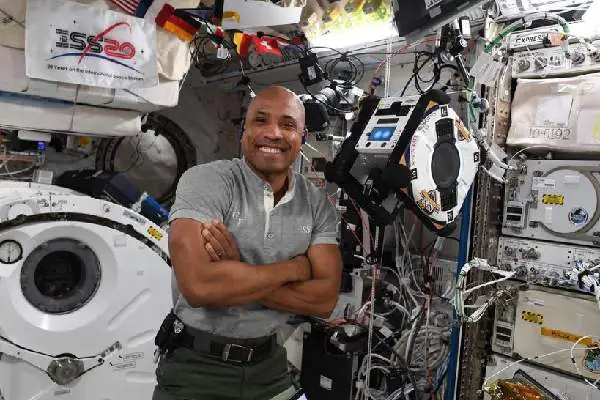 Victor Jerome Glover Biography. Image Source: Instagram
Full Name

Victor Jerome Glover

Age

47 yrs

Birth Date

April 30, 1976

Country

America

Relationship Status

Married

Spouse

Dionna Glover

Nationality

American

Ethnicity

African-American

Profession

Astronaut, Pilot

Children

4

Education

Bachelor of Science degree in Aerospace Engineering, United States Naval Academy

Height

5 feet 8 inches
For NASA astronaut Victor Jerome Glover, the greatest challenges he faced were the ones that came from himself. From flying roaring fighter jets to flying a spacecraft in the International Space Station, Glover has broken the institutional barriers as a man of color.
Since the 1960s, only a handful of African-American people went to space where mostly Americans would lead the mission. However, Glover is a great example of the diversity of NASA's astronaut corps as he was the pilot and vice commander of the SpaceX Crew One mission.
Further, NASA selected Victor Glover as the pilot of the crew for the Artemis II, NASA's lunar exploration program scheduled to return humans to the moon by late 2024 or early 2025. Victor and his crew will make humanity's first trip to the moon in over a half-century, and today we will learn more about Victor Jerome Glover biography and his career trajectory.
Journey To the Moon Began With Education: Belief From Parents and Teachers
Victor Jerome Glover was born on April 30, 1976, in Pomona, California, USA. Raised in Southern California, he developed an early fascination with space and aviation. His interest in science and engineering was nurtured by his father, Victor Glover Sr., who encouraged his curiosity and love for learning.
Glover's grandfather was in the Air Force in the Korean War era, and he had lots of institutional barriers to him ever having an opportunity to fly.
Glover attended Ontario High School in California, where he excelled academically and stood out as a leader in various extracurricular activities. After high school, he pursued his passion for aerospace engineering by enrolling at the California Polytechnic State University (Cal Poly) in San Luis Obispo.
Glover graduated from the United States Naval Academy in 1999 with a Bachelor of Science degree in Aerospace Engineering. Afterward, he served as a pilot in the Navy for 12 years, flying the F/A-18 Hornet and F/A-18 Super Hornet. In 2023, NASA selected him as an astronaut. Glover flew his first spaceflight in 2021 as part of the SpaceX Crew-1 mission to the International Space Station.
Military Career: From Learning to Fly F-18s to Flying Fighter Jets in Iraq
Glover actually joined the Navy while he was still in college. Right after graduating in June of 1999, he was commissioned in December and went right to flight school. For two years, Victor flew and learned the basics and a lot of other stuff for military flying.
Afterward, Victor went to Corpus Christi and did primary flight training, and for all of 2001, he was in Kingsville for advanced flight training, and that's where he learned to fly jets. Moreover, the Pomona native landed on an aircraft carrier for the first time, and then he got his wings of gold in December of 2001. Also, he moved to San Diego to learn to fly the F-18 fighter jets.
The whole year of 2002, Glover learned to fly F-18s in a Marine base located in Miramar. In 2003 Glover went to his first squadron, the Blue Blasters, out of Virginia Beach, Virginia, and he was in that squadron for three years.
From the summer of 2004 to the winter of 2004, Glover was deployed for six months in the North Arabian Gulf, flying missions in support of Iraqi freedom. There he flew a couple of dozen combat missions in Iraq and a bunch of training and came back from there and did all the preparation for a second deployment to the Western Pacific. When the squadron deployed, he was accepted to Navy Test Pilot School, so he left to go there.
In the summer of 2006, Glover went to Air Force test pilot school and graduated as an experimental test pilot. He went a little further north than the Mojave Desert to a Navy base called China Lake and did weapons systems training on F-18s and E-18 G's. There, Victor also went to grad school part-time and got a master's in system engineering at the Naval graduate school.
From September 2009-2010, Glover went to Air Command and Staff College and got another master's degree, further going to get re-qualified for the F-18. He showed back up in Japan, moved his whole family across the Pacific, and lived there for two years. Every year he would go on six months worth of deployment, two three-month deployments, out on the U.S.S. George Washington, and he did that until October of 2012.
Glover wasn't fulfilled with all these accomplishments; he further applied to do a fellowship in Congress and was accepted to be a legislative fellow. So, he went to work on the personal staff in the office of Senator John McCain, and it was a year-long program. Over the course of his military career, he accumulated over 3,000 flight hours in various aircraft, including the F/A-18 Hornet. Glover's dedication, leadership skills, and exceptional performance as a naval aviator led to his selection as a test pilot.
ALSO READ: Eric Holthaus Biography: A meteorologist's life updates.
NASA Selection and Training: Space Missions and Accomplishments
Glover was one of just eight who were chosen for NASA's Astronaut Class of 2013 out of 6,400 people.
In 2013, Victor Glover was chosen as a member of NASA's Astronaut Group 21, making him one of the newest additions to the astronaut corps. His selection was a result of his remarkable track record as a military pilot and test pilot, coupled with his academic achievements and engineering expertise.
Glover completed NASA's rigorous astronaut training program, which covered a wide range of disciplines, including spacewalk training, robotics, spacecraft systems, survival training, and more. His adaptability, problem-solving skills, and ability to work effectively in high-pressure environments were highlighted throughout his training.
Victor Glover's most notable achievement came in November 2020 when he became part of the historic SpaceX Crew-1 mission. As the pilot and second-in-command of the mission, Glover, along with his fellow crewmates, successfully launched aboard the Crew Dragon spacecraft and docked with the International Space Station (ISS). This mission marked the first operational crewed flight of the Crew Dragon under NASA's Commercial Crew Program.
During his approximately six-month stay aboard the ISS, Glover participated in a wide range of scientific experiments and research projects, contributing to advancements in various fields, including biology, physics, and materials science. He also conducted several spacewalks, which involved critical maintenance tasks and upgrades to the station's systems. For the information, Glover is the first African American to serve as a pilot in long-duration spaceflight.
Glover's presence on the Crew-1 mission was particularly significant as he became the first African American astronaut to live and work on the ISS for an extended period. His achievements served as an inspiration to people around the world, highlighting the importance of diversity and representation in space exploration.
The First Black NASA Astronaut to Orbit The Moon on Artemis II Crewed Mission
It is a fact that NASA began including African Americans in their astronaut program with the selection of Ed Dwight, an Air Force test pilot, in the 1960s. Although he didn't venture into space, Guion S. Bluford Jr. became the first Black American in space in 1983. Similarly, Mae Jemison was the first Black woman in space in 1992.
On May 2019, NASA announced a new program called Artemis, named after the ancient Greek goddess of the moon and the twin sister to Apollo. Artemis is NASA's next chapter of lunar exploration. The mission has the task of not just going to the moon to create a long-term human presence on the earth's satellite but also to prepare for ever more complex human missions to Mars.
Since the Apollo 17 mission in 1972, Artemis II will be the first crewed spacecraft to travel to the Moon and beyond low Earth orbit. The lunar mission will return astronauts to the moon for the first time in a period of almost 50 years. With this, Glover will be NASA's first black astronaut and pilot to orbit the moon.
The Orion spacecraft, powered by a Space Launch System rocket, will carry astronauts on a lunar flyby around the moon. Therefore, Artemis II will be the first crewed mission currently planned to be launched by the Space Launch System (SLS) in November 2024. Besides Glover, the crew includes Christina Koch, Reid Wiseman, and Space Agency astronaut and mission specialist Jeremy Hansen.
Quick facts: The crew's commander Reid Wiseman spent 165 days in Earth's orbit on his first mission. The first woman who will fly in the Artemis II mission, Christina Koch set a record in 2019 for her 328-day journey to the International Space Station. Likewise, mission specialist Jeremy Hansen is the first Canadian astronaut to fly to the lunar.
What is Artemis II?
NASA is in charge of the Artemis program, a robotic and human Moon exploration initiative. Following Artemis I, three additional lunar landing missions are scheduled to take place up until 2028. On November 16, 2022, Artemis I, an unmanned moon orbiting mission, was launched, with Glover being announced as Artemis II pilot.
With Artemis II, the four pioneers will fly into space; they will launch on 8.8 million pounds of thrust; they will pilot Orion and test its life support system; they will venture 600,000 miles around the moon and back. Further, they will return to Earth at 30 times the speed of sound.
Victor Glover's journey from a young aerospace enthusiast to a seasoned astronaut and space pioneer showcases his determination, perseverance, and dedication to the field of space exploration. His achievements have not only advanced our scientific knowledge but also inspired individuals from diverse backgrounds to pursue careers in science, technology, engineering, and mathematics (STEM).
As a role model, Glover's legacy extends beyond his individual accomplishments, emphasizing the importance of inclusivity and representation in the space industry. His contributions continue to inspire generations to dream big and reach for the stars, regardless of their background or origin.
Who is Victor Glover's Wife? Know His Children and Personal Life
The first African-American pilot to fly around the moon, Victor Glover's wife, Dionna Odom Glover, is a health and fitness trainer at her local YMCA, a local Christian association.
Victor and Dionna Glover have been married for more than two decades and are the proud parents of four daughters: Genesis, Maya, Joia, and Corinne. The family lived in several states and even spent time in Japan as Victor served as a fighter pilot in the U.S. Navy before shifting his focus from the skies to space.
As a loving partner, Dionna has been beside her husband every step of the way. Her background in early childhood development has been helpful as a stay-at-home parent keeping up with four children. Both California natives, Victor and Dionna Glover, first met in the 1990s as students at California Polytechnic State University. At the time, Dionna was studying child development.
While the astronaut is preparing to fly around the Moon as the pilot of Artemis II, Victor Jerome Glover's wife Dionna is beyond thrilled. Meanwhile, all of the couple's daughters are doing well in school; their eldest two children, Genesis and Maya, have full academic scholarships to universities out of state. At the same time, they're preparing for Victor's farthest mission yet.
Victor Jerome Glover biography is a reminder of his accomplishments as an astronaut that have made him an inspirational figure in space exploration and have contributed to increasing diversity and representation within the astronaut corps.
References
Did you notice an error ?
Please help us make corrections by submitting a suggestion. Your help is greatly appreciated!