People
Yamiche Alcindor Biography: The Most Influential African-American Journalist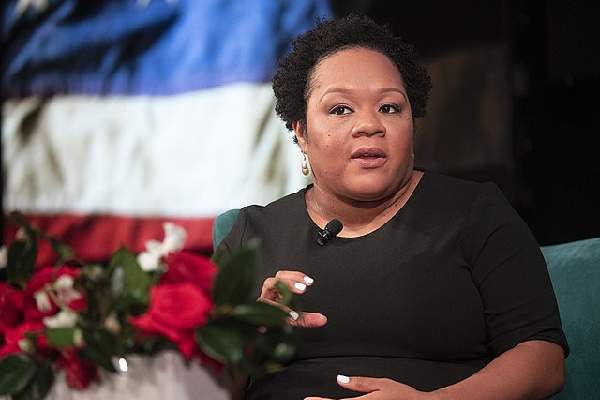 Yamiche Alcindor biography. Image Credit: Wikimedia Commons.
Full Name

Yamiche Léone Alcindor

Age

37 yrs

Birth Date

November 1, 1986

Country

America

Relationship Status

Married

Spouse

Nathaniel Cline

Nationality

American

Ethnicity

African-American

Profession

Journalist

Children

Yrie Myles Alcindor Cline

Awards and honors

Emerging Journalist of the Year

Education

Georgetown University (BA), New York University (MA)

Height

5 feet 9 inches
In the world of journalism, Yamiche Alcindor stands out as one of the most influential African-American journalists of our time. As the White House Correspondent for PBS NewsHour and a political contributor to NBC News and MSNBC, Alcindor has made a significant impact with her insightful reporting and analysis.
In Yamiche Alcindor biography, we will delve into the life and career of the journalist, exploring her upbringing, education, professional achievements, and the impact she has had on the media industry.
Early Life and Education
Yamiche Léone Alcindor, born to Haitian immigrant parents in Miami during the 1980s, has had a lifelong affinity for writing. From a young age, while growing up in Miami, she nurtured her talents through crafting poems and short stories. It was this fervor for storytelling that ultimately propelled her towards pursuing journalism as a career.
Alcindor's early exposure to the field began with an internship at the Westside Gazette, a local African-American newspaper, while she was still in high school. This pivotal experience ignited her dedication to reporting and subsequently led her to intern at the prestigious Miami Herald in 2005. During this time, she focused on covering stories centered around the very neighborhoods that shaped her upbringing.
Upon graduating from high school, Alcindor enrolled at Georgetown University to pursue a Bachelor of Arts degree in English, Government, and African-American Studies. Alongside her studies, she joined the African-American sorority Alpha Kappa Alpha.
Eager to gain practical experience in journalism, Alcindor completed internships at notable publications such as the Seattle Times, Mmegi (a newspaper based in Botswana), and the Washington Post.
In order to further refine her skills in broadcast and documentary reporting, Alcindor decided to obtain a Master's degree from New York University. In 2015, she successfully graduated with advanced knowledge and expertise that would aid her success within the field of journalism.
Career Beginnings and Rise to Prominence
After being inspired by esteemed journalist Gwen Ifill, Yamiche Alcindor set her sights on a career as a civil rights journalist. She kickstarted her professional journey when she secured a full-time reporter position at Newsday in Melville, New York. Throughout her tenure at Newsday, she covered numerous national news stories and events, including the tragic Sandy Hook Elementary School shooting.
In December 2011, Alcindor transitioned to USA Today as a multimedia reporter, where she continued to establish herself through captivating storytelling and comprehensive reporting. Her thorough coverage of social issues and politics caught the attention of NBC News and MSNBC, which led to frequent appearances as a political contributor on notable shows such as "PoliticsNation with Al Sharpton," "Hardball with Chris Matthews," and "Meet the Press."
In 2015, Alcindor became a member of The New York Times team as a skilled political reporter and videographer, enhancing her reputation as an esteemed journalist.
Throughout her tenure at The New York Times, the journalist extensively covered notable happenings, including the formidable presidential campaigns led by Donald Trump and Bernie Sanders.
Alongside this remarkable feat, Yamiche also directed, wrote, and produced a compelling documentary called "The Trouble With Innocence" in 2015, which brought attention to the wrongful conviction of an individual for murder.
Awards and Accolades
Yamiche Alcindor has received recognition for her standout achievements as a journalist. She earned the esteemed title of "Emerging Journalist of the Year" in 2013 from the National Association of Black Journalists, highlighting her talent and unwavering commitment to her craft. Her focused reporting on topics impacting African Americans and skillful ability to shed light on these stories have garnered widespread acclaim.
In addition to this notable accolade, Alcindor's contributions have also been acknowledged through a nomination for a Shorty Award in the Journalist category and receiving Syracuse University's prestigious Toner Prize.
The Root magazine celebrated Yamiche's impactful work by ranking her among their list of top 100 influential African Americans aged between 25 and 45 years old.
ALSO READ: Fredricka Whitfield Biography: Journey To Being an Influential Journalist
Reporting Style and Impact
Yamiche Alcindor is known for her adeptness in posing challenging questions and holding those in positions of power responsible. She has emerged as a prominent advocate for the Black community within the media sector, drawing attention to often-overlooked issues.
Through Alcindor's reporting on President Trump's policies' impact on working-class individuals and immigrants, as well as police violence and its consequences on communities, she has shed light on critical social and political matters.
Alcindor's influential journalism not only garners admiration from colleagues but also shapes public discourse and policy conversations. Her ability to offer perceptive analysis while amplifying marginalized voices has established her credibility as a reliable source of information—an inspiration for aspiring reporters.
Personal Life and the Fight to Be a Mother
While Yamiche Alcindor's professional achievements speak volumes, her personal life is equally inspiring. She is the daughter of Haitian immigrants who met while attending Boston College. Alcindor's Haitian heritage and authentic cultural upbringing have shaped her perspective and influenced her approach to storytelling.
In 2018, Alcindor wedded Nathaniel Cline, who shares a passion for journalism. Yamiche Alcindor's husband is a reporter for the Loudoun Times-Mirror. Together, they continue to contribute to the media industry and support each other's professional endeavors.
In April 2023, the duo revealed that after years of IVF (in vitro fertilization) treatment, Yamiche was going to be a mother to a baby boy.
Similarly, you might want to read what a survivor of the 9/11 tragedy has to say. Read our article on Joe Dittmar's Biography to find out.
The Darkness Before the Light
In an essay published in April, the journalist shared her personal experiences of facing challenges while trying to conceive. She expressed feelings of disappointment and shame as she witnessed others effortlessly achieve pregnancy while undergoing multiple rounds of in vitro fertilization treatments.
Over the past four years, Alcindor's intense desire to become a mother drove her efforts, which paid off when she finally got pregnant. Alcindor expressed gratitude and joy as she announced that despite the challenges along the way, she and her husband, Nathaniel Cline, are now able to embrace this moment with full hearts filled with happiness and love.
The NBC News Washington correspondent welcomed her son, Yrie Myles Alcindor Cline, on May 30, 2023. The proud mother revealed her son to the world through her Twitter post, where she also added that his name is pronounced 'i-ree,' which meant 'vibes are good and everything is well.'
Introducing: Yrie Myles Alcindor Cline@nathanielcline & I are so overjoyed.

Yrie was born on Tuesday, May 30th. His name is pronounced "i-ree" — the same pronunciation of the Jamaican saying "Irie," which means "vibes are good & everything is well."

Thank you @TODAYshow for… pic.twitter.com/PLJQ7EQY0J

— Yamiche Alcindor (@Yamiche) June 6, 2023
Yamiche Alcindor's journey from Miami to becoming one of the most influential African-American journalists of our time is a testament to her talent, hard work, and dedication to the craft of journalism. Her reporting on social issues, politics, and the experiences of marginalized communities has made a significant impact, shining a light on important stories that need to be told.
As the White House Correspondent for PBS NewsHour, Alcindor continues to make her mark in the media industry. Her fearless reporting style and commitment to uncovering the truth have solidified her position as a respected journalist.
An accomplished journalist of color, Yamiche Alcindor biography serves as an inspiring figure for aspiring journalists seeking representation and advocating for progress in the field of journalism.
References
Kurtz, J. (2023, June 7). Yamiche Alcindor announces birth of son: 'We are overjoyed.' The Hill.
Uwumarogie, V. (2023, June 7). Meet Yrie! NBC's Yamiche Alcindor Welcomes Son Following 'Harrowing' IVF Journey. Essence. 
Wyllie, J., & Wyllie, J. (2020). With a focus on civil rights, Yamiche Alcindor rises to the top as a White House correspondent. Current. 
Alexander, O. (2023, June 29). Yamiche Léone Alcindor (1986- ) 
FRONTLINE, PBS. (2021, January 27). Yamiche Alcindor. FRONTLINE. 
Yamiche Alcindor. (n.d.). The Root. 
Yamiche Alcindor Is Cromwell Day Speaker. (n.d.). Smith College. 
Yamiche Alcindor – The McSilver Institute for Poverty Policy and Research at New York University. 
Did you notice an error ?
Please help us make corrections by submitting a suggestion. Your help is greatly appreciated!