Sports
Blake Schoupp Biography: Meet The Australian Rugby Union Player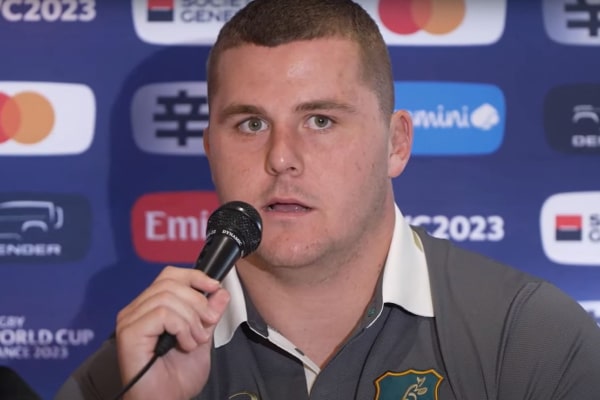 Blake Schoupp Biography. Image Credit: Social Media.
Full Name

Blake Schoupp

Age

25 yrs

Birth Date

March 28, 1998

Country

Australia

Relationship Status

Not Confirmed

Nationality

Australian

Profession

Rugby Union Player

Education

Nudgee College

Height

5 feet 11 inches
In the expansive and storied world of Australian rugby, where greatness is achieved and legends are born, one player's journey has managed to enchant fans across the nation. Blake Schoupp, an exceptional Australian Rugby Union player, finds himself on the verge of immortality as he strives to carve his place in the sport's illustrious history.
Through a remarkable combination of innate talent, unwavering resolve, and an unyielding love for the game, Schoupp personifies the essence of a genuine sporting phenomenon. Blake Schoupp biography offers a comprehensive exploration into the Australian professional's life and career – from his modest beginnings to his current standing on the brink of rugby stardom- as he continues to make an enduring impact on Australian rugby.
Early Life and Sporting Beginnings
Blake Schoupp's journey began on March 28, 1998, in Wollongong, Australia. From a tender age, his fervent devotion to sports was evident; however, it was the awe-inspiring world of rugby that truly mesmerized him.
Schoupp embarked on his rugby odyssey by partaking in junior matches for Woonoona before pursuing academic endeavors at Nudgee College. His return to Sydney saw him don the jersey of Randwick, followed by an illustrious tenure with Southern Districts.
Schoupp's unwavering ardor for the game found fertile ground within a nurturing family backdrop where he painstakingly honed his athletic prowess. Whether engaged in spirited backyard skirmishes with his brother, Aaron Schoupp, who played in the NRL or delving into organized youth teams, Schoupp's indomitable spirit and innate abilities unfailingly distinguished him among his peers.
Joining The Brumbies
Blake Schoupp's journey to the Brumbies reflects a tradition of talent finding success in the nation's capital. His path mirrors that of Allan Alaalatoa, who also made his mark after heading south.
Discovered by assistant coach Dan Palmer, Schoupp joined the club on a train-and-trial basis and quickly proved himself, securing a permanent spot in the squad at the beginning of 2023 with outstanding trial performances.
View this post on Instagram
As fate would have it, Blake found himself starting for the Brumbies against their rivals, NSW Waratahs, catching coach Eddie Jones' attention with his formidable presence on the field.
During his debut season for The Brumbies, Schoupp made a notable impact by featuring prominently in 14 matches, including 4 starts.
ALSO READ: David Ribbans Biography: The Rugby Odyssey From Somerset to Toulon
International Recognition and Representing Australia
Schoupp's stellar performances at the domestic level did not go unnoticed by the national selectors. In August 2023, Schoupp was named in the preliminary 33-man Australian Wallabies squad for the 2023 Rugby World Cup.
This exceptional opportunity allowed Blake to showcase his talent on a global platform and represent Australia with pride and passion. He made his test debut on 27 August 2023 against France, coming off the bench in a World Cup warm-up match.
This pinnacle achievement marked a significant milestone in his career as he donned the iconic green and gold jersey, marking the beginning of an illustrious international journey representing his nation. Under the guidance of the newly selected captain, David Porecki, and other talented teammates like Pone Fa'amausili and Zane Nonggorr, the Wollongong native will only keep getting better.
Schoupp's tenacity, versatility, unwavering determination, and ability to make game-changing plays quickly endeared him to fans across Australia, solidifying his place among the rugby elite at both national and international levels.
Life Before Joining the Brumbies
Did you know prior to training with the Brumbies, the prop player was a teacher?
Just over a year ago, Blake Schoupp was making a difference as an educator at a specialized school in NSW's Hurlstone Park. Today, he has transitioned to the grand stage of Rugby.
Schoupp's journey to the Wallabies is an inspiring tale that sees him moving from the classroom to competing on the world stage. A health and physical education graduate, he embarked upon his teaching vocation at Edgeware School—a place designed for students who struggled in traditional educational settings due to reasons such as expulsion, transitioning from youth detention centers, or enduring challenging circumstances because of their backgrounds.
Blake fondly recollected his final day as a teacher, reminiscing about how the students were aware of his impending departure to train with the Brumbies. He shared an amusing anecdote about showcasing one of his games on the big screen after numerous inquiries and some good-natured teasing from the children.
Schoupp maintains close communication with the school, creating an environment where he can receive candid feedback on his performance from the students, who are always willing to provide their honest appraisal.
Personal Life of the Rugby Star
Like most celebrities, Blake also likes to share the highs and lows of his life with his fans and followers. Whether it's the thrill of being selected for the national team or the heartache of losing a family member, he isn't shy about giving insight into his personal experiences.
Blake's social media is filled with poignant moments that provide glimpses into both his professional successes and personal challenges. However, conspicuously absent from this public representation is any mention of Blake Schoupp's girlfriend, leaving us to wonder about this aspect of his life.
As for the financial aspect, while there are no exact figures available regarding Blake Schoupp's net worth, given his recent debut for the Wallabies and just 14 appearances in Brumbies matches since his debut in 2023, it can be presumed that he has made significant earnings as rugby players are known to receive lucrative compensation.
As the big Australian player continues to refine his skills and demonstrate ongoing improvements on the field, we will diligently gather a wealth of information about him. Rest assured that once significant developments occur, we will promptly update Blake Schoupp biography with these details. Stay engaged for future updates.
Did you notice an error ?
Please help us make corrections by submitting a suggestion. Your help is greatly appreciated!