Net Worth
Does Ashleigh Buhai's Earnings Make Her The Top Earner in LPGA History?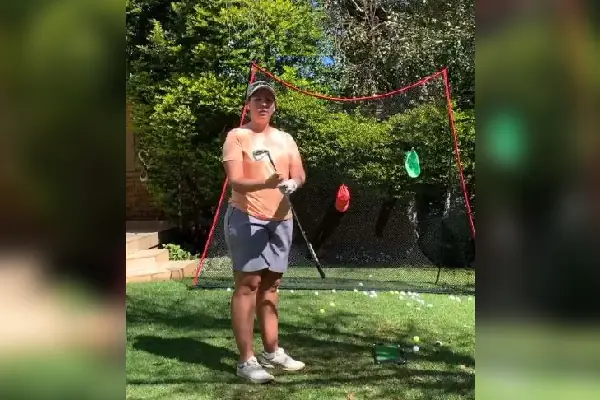 Ashleigh Buhai's Earnings. Image Credit: Instagram.
No ifs and buts; earnings power as a golf professional depends on many ifs and putts. Ashleigh Buhai, a professional LPGA golfer, is considered one of the best women's golfers from South Africa. While an amateur, she has represented her country in the professional Women's World Cup of Golf three times.
Winning her first major title at the 2022 Women's Open, Ashleigh Buhai's earnings have reached a pinnacle top. The former youngest-ever professional winner on the Ladies European Tour, Buhai won the 2007 Catalonia Ladies Masters.
Know Ashleigh Buhai Golf Career
Born on May 11, 1989, as Ashleigh Ann, she was raised alongside her younger sister, Jessica Simon, by their parents, Gianni Bugno Simon (father) and Debbie Simon (mother).
Ashleigh Buhai's maiden name is Simon, which she put aside after marrying her longtime husband, David Buhai.
Buhai attended a private independent girl Catholic School called Holy Rosary School in Johannesburg, South Africa.
At 6, Ashleigh started playing golf, and with her father's encouragement, she pursued a career in the sport. However, she also played field hockey at school.
As an amateur, Buhai has won the Acer South African Women's Open three times. She turned professional right after her 18th birthday in 2007.
Ashleigh Buhai's Earnings from LPGA
Starting in 2008, Buhai's earnings were decent, as she made around $25,000 from competing in five LPGA tournaments. The following year, she made over $42,000 from seven tournaments. Meanwhile, Ashleigh won the 2022 ISPS HANDA Australian Open crown at Victoria Golf Club in Melbourne, becoming the first player since Yani Tseng in 2011 to win both the AIG Women's Open and the Australian national title in the same year. Below are some stats on Buhai's impressive earnings, which she claimed in the early 2020s.
| | | |
| --- | --- | --- |
| Date | Tournaments | Earnings |
| 2023 (May 11-May 14) | Cognizant Founders Cup | $204,690 |
| 2023 (June 9-June 11) | ShopRite LPGA Classic pres. by Acer | $262,500 |
| 2022 (August 4-August 7) | AIG Women's Open | $1,095,000 |
| 2021 (October 16-October 19) | Cambia Portland Classic | $27,168 |
| 2020 (December 10-December 14) | U.S. Women's Open | $36,915 |
Table Source: Espn
As per the LPGA statistics, there are several LPGA women's golfers who have decent earnings. Ashleigh Buhai's earnings are reported at $4,577,389. Meanwhile, the top three highest-earning golfers are Annika Sorenstam, Karrie Webb, and Cristie Kerr. The earnings are based on the player's performance in the LPGA tournament.
ALSO READ: Everything You Need To Know About Brittany Lincicome Husband: Know Their Love Story
Revealing Ashleigh Buhai Net Worth – $4M (Est.)
The 2022 AIG Tournament winner, Ashleigh Buhai, has an estimated net worth between $3.5 million-$4 million. Meanwhile, she has earned a total of over $4.57 million from competing in numerous LPGA Tour events.
From their golf career, the sportsperson earns a decent amount of money. However, the numbers vary widely because of taxes, expenses, and other factors. While Ashleigh Buhai's wealth from her golf career is impressive, it should be considered that a significant amount of players' earnings goes to their gear.
Sponsorships and Endorsements
In golf, players with potential prospects bag lucrative deals and sponsorships mostly from the sports brands. Likewise, Ashleigh Buhai has a list of sponsors who constantly provide their support for the golfer. She earns a decent amount from her sponsors, Srixon Golf, FTI Consulting, Cutter and Buck, and ECCO Golf.
However, the deals are undisclosed, which makes it difficult to estimate Buhai's earnings from these sports brands and companies. Starting in February 2023, Ashleigh partnered with Levelwear Golf, an apparel brand that manufactures items for golf, basketball, baseball, and hockey.
Married Life: Ashleigh Buhai Husband
Ashleigh Buhai has been married to her longtime husband, David Buhai, since December 2016. Their wedding ceremony took place at Royal Johannesburg and Kensington Golf Club in South Africa. Previously, he proposed to his wife on December 12, 2015, during the Dubai Ladies Masters in the season finale at Emirates Golf Club.
David Buhai is a professional caddie who has also served his wife for seven years in the LPGA and LET. Previously, he spent a year as an elite amateur golfer at Gavan Levenson's Golf Academy from November 2005 until December 2006.
FAQs
Q: How much does Ashleigh Buhai make?
A: Ashleigh Buhai has made over $4.5 million.
Q: What is Ashleigh Buhai's world ranking?
A: Ashleigh Buhai is currently ranked 12 in the 2023 Rolex Women's World Golf Rankings.
Q: How old is Ashleigh Buhai?
A: Ashleigh Buhai is in her early 30s.
Q: Is Ashleigh Buhai still married?
A: Yes, Ashleigh Buhai is still happily married.
Did you notice an error ?
Please help us make corrections by submitting a suggestion. Your help is greatly appreciated!