Sports
Kamren Curl Biography: The Upcoming NFL Star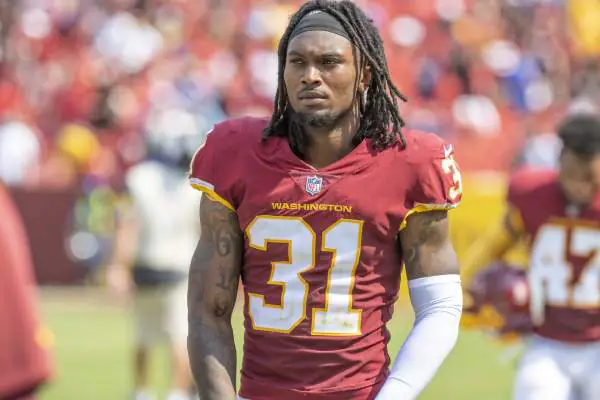 Kamren Curl Biography: Image Source: Instagram.
Full Name

Kamren Curl

Age

24 yrs

Birth Date

March 31, 1999

Country

America

Relationship Status

Not Confirmed

Nationality

American

Ethnicity

African-American

Profession

NFL Player

Awards and honors

Pro Football Focus 2020 NFL All-Rookie Team

Education

University of Arkansas

City

San Diego, California

Net Worth

$3 milion

Height

1.87m
The 24-year-old Kamren Curl is an American football strong safety currently playing for the Washington Commanders of the National Football League (NFL). A former three-star recruit, Curl was drafted by the Commanders (previously known as Redskins) in the seventh round of the 2020 NFL Draft.
Curl's athletic skills and diligent impact on the field make him one of the rising young NFL players. This article about Kamren Curl biography will tell us how much potential Kamren has and what makes him an indispensable athlete. Stay with us to be familiar with the upcoming NFL star Kamren Curl.
Kamren Curl Biography and Early Life
Kamren was born on March 31, 1999, in San Diego, California, United States, to parents Greg Curl (father) and Adrienne Curl (mother). Later the family moved to Oklahoma. 
A natural born-leader, Curl has shown extreme enthusiasm for football since childhood. As a child, he idolized Adrian Peterson and LaDainian Tomlinson, two distinctive NFL players. Also, Kam glued for hours to his laptop screen, watching an endless loop of football highlights on YouTube.
The 6 feet 2-inch athlete attended Muskogee High School, a three-year public school in Muskogee, Oklahoma. After joining the Arkansas Razorbacks team, Curl started 12 games at cornerback. It was during his sophomore season when Kam switched to safety. Since then, he has shown diligence on and off the field.
Kamren Curl Professional Career
The former Razorbacks athlete began his NFL journey after a fruitful high school and college football career. With the 216th overall pick in the 7th round, Kam signed a four-year contract on July 2020 with the Washington Commanders.
In his debut season, Kamren Curl became the PFF's highest-graded rookie after finishing with 68.0 overall across 763 defensive snaps. Likewise, Curl and Chase Young were named to Pro Football Focus 2020 NFL All-Rookie Team.
Curl played as a quarterback, running back, receiver, defensive back, and linebacker growing up. These variations undoubtedly helped him develop strong instincts. His fixture as strong safety  came when another safety Landon Collins suffered a severe injury. Afterward, Kamren played against the likes of teams such as the New York Giants and San Franciso 49ers.
With an impressive beginning, Curl ended his first season with 3 interceptions, 88 tackles, 2 quarterback sacks, and 4 defended passes. Although not regarded as high as his fellow rookies, Kam soon exceeded his defensive/head coaches' expectations.
Commander's defensive coordinator Jack Del Rio praised Kamren for his substantial growth. Similarly, head coach Ron Rivera stated that Curl exceeded his expectations since training camp.
You might be interested in reading about Jordan Mailata Biography and his journey from Rugby To NFL.
Kamren Curl Girlfriend and Relationship Status
Young and athletically gifted athlete Kamren Curl is not involved in romantic relationships. Unlike other NFL players, Curl prefers to stay silent about his relationship status.
Hence, the information about Kamren's girlfriend is still under the shadow.
Kamren is currently focused on his professional career and is not interested in initiating love affairs. Also, he is not involved in any scandals and link-ups.
Kamren Curl Injury
After a thumb injury, Kam missed the week 1 and week 2 games of the 2022 season.
Likewise, he received an ankle injury in weeks 16, 17, and 18 games, which made his status somewhat questionable.
Curl was forced to miss the game against the Philadelphia Eagles after he was placed on the team's COVID-19 reserve list.
He missed his third consecutive game to end the 2022 regular season. In his absence, Jeremy Reaves handled the safety line for the team.
Kamren Curl's Net Worth
The Commanders' strong safety Kamren Curl has an estimated net worth of $3 million as of 2023.
Curl signed a 4 year, $3.4 million contract with the Commanders, including a $113,328 signing bonus and an average annual salary of $852,082.
In 2023, Curl will earn a base salary of $2,993,000 while carrying a cap hit of $3,020,332 with a prorated bonus worth $28,332.
From 2020 until 2023, Kamren's total base salary is $5,277,000. Let's take a look at his wealth accumulations year by year.
Year
Age
Base Salary
Bonus
Cap Number
2020
21

$610,000

$28,332

$638,332

2021
22

$780,000

$28,332

$808,332

2022
23

$895,000

$28,332

$923,332

2023
24

$2,992,000

$28,332

$3,020,332

Total
$5,277,000
$113,328
$5,390,328
Table Source: Spotrac Website
The Commander's safety currently earns millions, and he doesn't prefer to live an extravagant lifestyle.
However, he does own a few luxury sports cars, like Porsche and Dodge Challenger, which he proudly flexes on his Instagram.
ALSO READ: Pierre-Emile Hojbjerg Biography: Dynamic Midfield Enforcer
Kamren Curl's Future in the NFL and Washington Commanders
As of June 2023, Washington's elite defense is entering the final season of his rookie contract.
Without a doubt, Curl's development as a leader and a player will give the Commanders enough confidence to play phenomenal tournaments.
In conclusion, by reading Kamren Curl biography it is evident that he is Washington's security elite defense and is one of the rising NFL players.
Did you notice an error ?
Please help us make corrections by submitting a suggestion. Your help is greatly appreciated!