Sports
Pierre-Emile Hojbjerg Biography: Dynamic Midfield Enforcer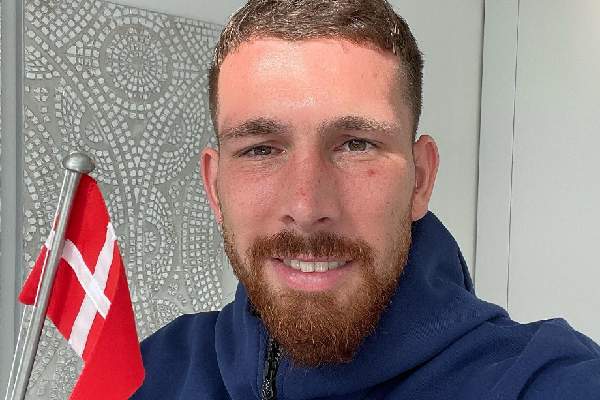 Pierre-Emile Hojbjerg Biography. Image Source: Instagram.
Full Name

Pierre-Emile Højbjerg

Age

28 yrs

Birth Date

August 5, 1995

Country

Denmark

Relationship Status

Married

Spouse

Josephine Siw Nielsen

Nationality

Denmark

Profession

Footballer

Children

2

City

Copenhagen

Height

6 feet 2 inches
Pierre-Emile Hojbjerg, a Danish football star, has become famous for his energetic and persistent performances as a central midfielder. His technical expertise, physical power, and strategic awareness have made him an essential player for both club and country teams.
This blog will investigate Pierre-Emile Hojbjerg's life story and career path; it'll cover his early days in Danish football to how he gained prominence at Bayern Munich before joining Southampton FC, followed by Tottenham Hotspur FC. Come along with us as we explore the journey of this lively midfield defender while discovering what makes him such a significant talent on the pitch.
Early Life and Youth Career
Pierre-Emile Kordt Højbjerg was born on August 5th, 1995, in Copenhagen, Denmark.
Højbjerg's outstanding skills, even during his younger years, drew attention not only from local teams but also bigger clubs – thus, an opportunity to play and showcase what he has with prominent organizations such as Kjøbenhavns Boldklub and Brøndby IF.
The Copenhagen native thrived regardless of where he played within the field, displaying versatility through being deployed either in a central midfielder position or taking responsibilities both offensively and defensively by handling left-back or attacking midfield roles.
Højbjerg's impressive performances in youth leagues gained his acknowledgment, and he was awarded as the top Danish player under 17 in 2011. When he was 16 years old, Bayern Munich, one of Europe's most prosperous clubs, signed Højbjerg.
The switch to Bayern Munich initiated a fresh phase in Pierre's profession and paved the way for him to emerge as an energetic midfield enforcer.
Rise to Prominence at Bayern Munich
Højbjerg joined Bayern Munich back in 2012, and his talent was instantly recognized as he showed great potential. He made his professional debut in April 2013. At only 17 years old, he made history by becoming the youngest player to play for Munich in a Bundesliga match.
The soccer star participated in a total of twenty-five matches across different competitions, such as the Bundesliga, DFB-Pokal, and UEFA Champions League with the German club.
Winning both the Bundesliga title and DFB-Pokal championship thus cemented Højbjerg among Europe's top footballing talents. His time at Bayern Munich saw him gain recognition as a skillful and adaptable player, thanks to his versatility in several positions on the field.
Despite being utilized primarily as a central midfielder, the Danish footballer was capable of fulfilling roles of defensive or attacking midfield too. He proved valuable for Bayern Munich owing to his exceptional ability to read games, along with impressive passing skills and an unwavering work ethic.
Although Højbjerg exhibited immense potential, his first-team opportunities took a hit during the 2014-15 season leading him towards spending half of it at FC Augsburg on loan instead.
Southampton Years: Becoming the Captain and Departure
Højbjerg signed for Southampton in the summer of 2016 for a reported fee of £12.8 million. He made an immediate impact at the club and quickly set up himself as a regular starter in midfield.
Over the next four seasons, Højbjerg made 109 appearances for Southampton in all competitions, scoring 4 goals and providing 6 assists.
Højbjerg's performances at Southampton caught the eye of the club's coaching staff, and he was named the team's captain in July 2019. He led Southampton to an impressive 11th-place finish in the Premier League in the 2019-20 season, playing a pivotal role in the team's midfield.
However, despite being a fan favorite and an essential player for Southampton, Højbjerg's desire to play for a bigger club saw him depart the club in the summer of 2020. He joined Tottenham Hotspur for a reported fee of £15 million, plus add-ons.
Højbjerg's departure was met with mixed reactions from Southampton fans, who recognized his contributions to the club during his four-year spell. He left a lasting legacy at Southampton and will be remembered as a dynamic midfield enforcer who played a crucial role in the club.
Joining Tottenham Hotspur: Making His Mark in the Premier League
Højbjerg joined Tottenham Hotspur in the summer of 2020, and he quickly established himself as a key player in midfield. He made his debut for the club in a 1-0 loss against Everton in the opening game of the 2020-21 Premier League season.
Fans and critics have praised Højbjerg's performances at Tottenham Hotspur, calling him a dynamic midfield enforcer who has brought strength to the team. Højbjerg's impact extends beyond just his play on the field; he is also a vocal leader in the dressing room and has earned the respect of his teammates. 
In November 2020, he was nominated Premier League Player of the Month, further highlighting his individual success on the pitch. Overall, Højbjerg has successfully established himself as one of the top midfielders in the Premier League and will continue to be a key player for Tottenham as they aim to win their first major trophy in over a decade.
International Career: Representing Denmark at UEFA Euro 2020 and the 2022 FIFA World Cup
Højbjerg was part of the Denmark team that reached the semi-finals of UEFA Euro 2020, where England eventually knocked them out. He played a crucial role in midfield throughout the tournament, providing defensive cover and creating chances for his teammates. Højbjerg's performances earned him a place in the UEFA Euro 2020 Team of the Tournament and established him as one of the best midfielders in Europe.
View this post on Instagram
Højbjerg continued his impressive form for Denmark in the 2022 FIFA World Cup qualifiers, helping the team qualify for the tournament. He was an influential presence in midfield and played a key role in Denmark's 2-0 win over Scotland in the playoff final.
As Denmark's vice-captain, Højbjerg was an essential player for the team in the 2022 FIFA World Cup, where they were hoping to make a deep run in the tournament.
Personal Life and Legacy: Remembering Pierre-Emile Hojbjerg's Father
Pierre-Emile Højbjerg's personal life has been marked by both tragedy and joy. He lost his father, Christian Højbjerg, to stomach cancer in 2014, which had a profound impact on him. However, he has also found happiness in his family life. Højbjerg is married to Josephine Siw Nielsen, and they have two children together, named Rosa Højbjerg and Theo Højbjerg.
Højbjerg's legacy in football is one of a dynamic midfielder who has impressed fans and critics alike with his performances on the pitch. He has earned a reputation as a versatile and technically gifted player who can play in multiple positions, and he has shown his leadership qualities both on and off the pitch. Højbjerg's success in his career and his personal life serve as an inspiration to many, and he will undoubtedly be remembered as a player who overcame personal challenges to achieve success at the highest level.
References
Pierre-Emile Højbjerg 5. Premier League. (n.d.).
Heim:spiel. (n.d.). Pierre Højbjerg.
Guardian News and Media. (2015, February 6). Arsenal's Arsène Wenger ready for battle with Tottenham's Mauricio Pochettino | David Hytner. The Guardian.
BBC. (n.d.). Tottenham Hotspur 0-1 Everton: Dominic Calvert-Lewin heads winner against Spurs. BBC Sport.
Aiscore football LiveScore. (n.d.). Scotland vs Denmark head to head
Cunningham, S. (2020, July 17). Pierre-Emile Højbjerg: 'Grief is a difficult thing – I learned the hard way' inews.co.uk.
Did you notice an error ?
Please help us make corrections by submitting a suggestion. Your help is greatly appreciated!