History & Culture
Everything You Need To Know About Nancy Harkness Love's Legacy: A Trailblazer For Women In Military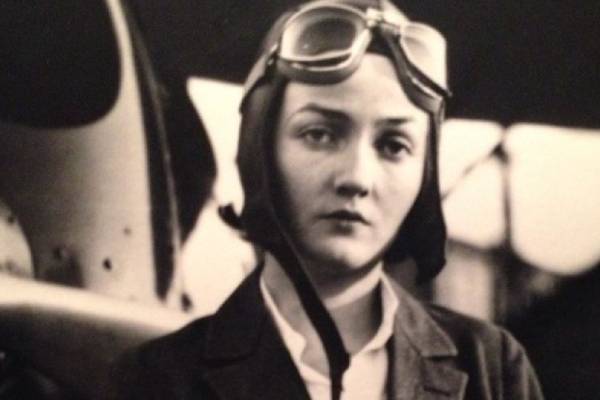 Nancy Harkness Love's Legacy. Image Source: Instagram.
Nancy Harkness Love was a pilot and airplane commander during World War II. She was an accomplished pilot, leader, and early supporter of women's equal involvement in military service.
Nancy's name can never be forgotten when talking about some notable names in the aviation industry. So, here's everything one needs to learn from Nancy Harkness Love's legacy. Stick with us till the end.
Born Into a Wealthy Family
Nancy was born Hannah Lincoln Harkness on February 14, 1914, in Houghton, Michigan. She was welcomed into the world by her dad, Robert Bruce Harkness, and her mom Alice Graham Chadbourne Harkness.
Harkness received her name after popular ancestors on her mom's side, Benjamin Lincoln, and his daughter, Hannah Lincoln. Nancy Harkness Love's dad preferred the name Nancy, and it stuck.
The family ended up in the Upper Peninsula of Michigan because Alice's family had bought many plots of land during the copper mining boom.
The community there needed a Public Health Officer for Houghton County. Nancy Harkness Love's dad was a wealthy physician.
So, Robert used to attend calls from those from the community and was often paid for goods like vegetables and eggs.
Nancy grew up with her brother, Robert Harkness Jr. Nancy Harkness Love's mom used to knit Arygle socks, read Doctor Zhivago, and even won Scrabble against her dad.
It has been said that Nancy's skills with aircraft controls came from her mom's dexterous hobbies.
Got the Knack For Airplane As a Young Teen
The pilot was fascinated by airplanes and aviation from a young age. In 1930, Nancy, who was sixteen-year-old, was out riding her horse when she saw a biplane fly over.
Three years before that, when Charles Lindberg landed the Spirit of St. Louis in Le Bourget Field in Paris, Harkness was there with her aunt. The spark for it lit after she took flight with the barnstormer.
The Michigan native convinced her parents, who disapproved of her idea, to send her to pilot lessons. Then, at the age of 16, she earned her private pilot's license after one month of lessons.
While Nancy was studying at Vassar College, she obtained her commercial pilot's license and made money by transporting people from Poughkeepsie, New York, to several airports in the Northeast.
One day, Nancy took her brother on a flight nearby school, and they ended in a crash landing due to one daring stunt. Despite that, she earned the title "The Flying Freshman" on campus.
Due to Great Depression, Nancy left school during her junior year as her parents were not able to afford her tuition. She then started to work as an aircraft salesperson in Boston.
There, Nancy met her husband, Robert Macure Love, and they got married in 1934. After that, she worked as a test pilot for the Bureau of Air Commerce (now the Federal Aviation Administration).
Nancy also flew across the country to convince farmers and towns to paint barns and water towers with navigational aids, which would make flying safer.
Nancy Harkness Love's Legacy Is Unforgettable
After World War II broke out in Europe in 1939, Nancy wrote to Lieutenant Colonel Robert Olds to investigate if she could put together a female aircraft ferrying squadron to move planes to bases from factories.
Harkness already had 49 excellent applicants who had each accumulated over a thousand hours ready to fly, but she was turned down.
Nancy Harkness Love's husband, Deputy Chief of Staff of the American Ferry Command, put a good word for her. So, with a little luck and his recommendation, the WAFS (Women's Auxiliary Ferry Squadron) was born.
It started with 27 pilots and Nancy in command. She also became the first female pilot in the Army Air Forces.
Nancy's calm attitude regarding risk management extended outside the cockpit. She demanded professionalism and forbade the female fliers to accept rides from male pilots.
Also, Harkness led her squadron with a strong sense of propriety and virtues. She advocated and won cases when there were several hindrances to them.
The obstacles included the press not taking them seriously, being grounded during their menstrual periods, and being prevented from flying high-powered planes.
Having won the case, Nancy helped allow women to fly without any sort of restrictions. She also helped improve the reputation of the WAFS after delivering the P-39s, which men had dubbed the "flying coffin."
Harkness became the first to fly several high-performance combat aircraft like the P-51 Mustang, B-17 Flying Fortress heavy bomber, P-38 Lightning, transports, and other multi-engine aircraft.
As a result of her works, Nancy Harkness Love's legacy is eternal. She has been awarded several awards and accolades.
Was Decorated For Her Work
Nancy's work and contribution to the aviation industry went unnoticed. Her commendable works were decorated by providing her with several recognitions.
For instance, in August 1943, Mrs. Love was named the WASP Executive in Air Transport Command and was responsible for six ferrying squadrons and over 300 hundred women pilots.
Furthermore, for her wartime efforts, Nancy received an Air Medal. She was inducted into the Michigan Women's Hall of Fame and the National Aviation Hall of Fame in Dayton, Ohio, in 1997 and 2005, respectively.
Likewise, there's a statue honoring Nancy at the New Castle County Airport in Delaware. Unfortunately, we lost the trailblazer for women in the military in 1976 due to cancer.
Nevertheless, Nancy is alive through her work and in the memories of her three children. One of Nancy Harkness Love's daughters, Hannah Robinson, and grandson are both pilots.
Did you notice an error ?
Please help us make corrections by submitting a suggestion. Your help is greatly appreciated!