Sports
Theo Pourchaire Biography: A French Racing Driver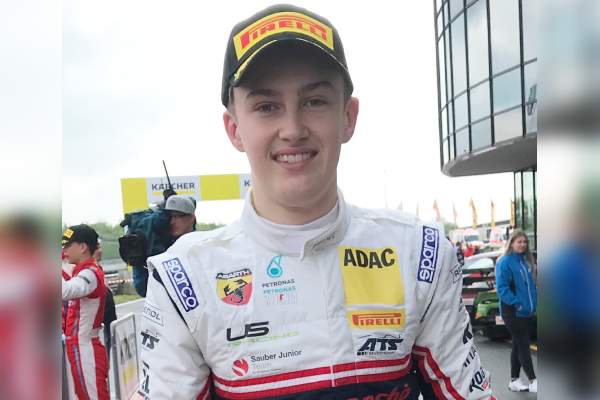 Theo Pourchaire Biography. Image Credit: Wikimedia Commons.
Full Name

Theo Pourchaire

Age

20 yrs

Birth Date

August 20, 2003

Country

France

Relationship Status

Single

Nationality

French

Profession

Racing Driver

Awards and honors

FIA Formula 2 Championship Winner

Height

6 feet
Bonjour, Mesdames et Messieurs. The world of motorsports is a diverse and exciting one, where the heart-pounding roar of engines and finely tuned machines come together in a mesmerizing display. Embarking on such a journey is Theo Pourchaire, a French rising star and a skillful racing driver.
Dear readers, the motors accelerate several miles per hour in seconds on the track. Similarly, after going through Théo Pourchaire biography, you will realize how fast the F2 driver's career is moving on the leaderboard.
At present, Pourchaire is competing in the Formula 2 championships for the French motor racing team ART Grand Prix. Considered one of the most promising racers, who knows, Théo might fill in the shoes of Michael Schumacher or Lewis Hamilton in the future.
Early Years Framework: Bond With The Family
Born in the Provence-Alpes-Cote-d'Azur region called Grasse in France,  Theo would sit on a go-kart at the early age of 2 because his father, Jerome Pourchaire, wanted to make his son a racer. Meanwhile, his mother, Sandrine Pourchaire, has been helping him outside of the motorsports world. Similarly, Theo would practice racing for hours with his older sister, and they quickly went on to become the best junior drivers in their region.
Born Théo Jerome Julien Pourchaire on August 20, 2003, he considers his parents, Jerome and Sandrine, as his biggest source of inspiration. Meanwhile, his older sister, Pauline Pourchaire, is an ex-karting champion, a sports enthusiast, and a television celebrity who appeared in the French reality TV series Koh-Lanta based on the popular international Survivor format.
Theo's natural talent behind the wheel quickly became evident, and he debuted at age 7, competing in regional and national karting championships. He claimed multiple championships in France, as well as finishing third in the CIK-FIA OKJ and DKM Junior championships. Further, his commitment to sharpening his skills and his unwavering determination set the stage for his rapid rise through the motorsport ranks.
ALSO READ: Pato O'Ward Biography: The Journey of a Motorsport Phenomenon Towards Checkered Flags
The Rise Of Junior Champion: FIA Formula 3 Championship
From 2010 to 2017, Pourchaire claimed 12 wins, including victories at the Julie Tonelli Trophy, Championnat de France, National Series Karting, and others. In 2018, he debuted in a single-seater competition at the Junior French F4 championship. At just 15, the former kart-racer finished the championship with 7 podiums. Meanwhile, in the junior category, Théo claimed 16 junior victories to be crowned the Junior Champion.
In 2019, Pourchaire switched to the ADAC Formula 4 Championship as part of the US Racing-CHRS outfit. He would claim a few podiums at the Red Bull Ring and German Grand Prix. In October 2019, Théo attended the post-season test at Circuit Ricardo Tormo, contesting all three sessions with Carlin Buzz Racing and ART Grand Prix.
In 2020, Pourchaire made his debut in the FIA Formula 3 Championship with the ART Grand Prix team. At the 2020 2nd Red Bull Ring FIA Formula 3 round, Pourchaire took his first FIA Formula 3 victory after Jake Hughes and Liam Lawson collided in the race. As a result, Theo became the youngest driver to win in FIA Formula 3 at age 16.
Pourchaire qualified third at the Hungaroring but soon came first and was untouchable throughout the race, winning by 12 seconds. Therefore, Pourchaire took his second consecutive victory with Oscar Piastri in second and Logan Sargeant in third.
During the whole season, Theo managed eight podiums, including two victories, and was one of the few full-time drivers to finish every race. Further, his impressive performances earned him recognition as one of the most promising young talents in French motorsport.
Formula 2 Championship: Spot In The Podium After Multiple Risks
In October 2020, Theo debuted at the FIA Formula 2 Championship in the final two rounds of the 2020 season at the Bahrain International Circuit. At the post-season Formula 2 test in December 2020, he drove for the ART Grand Prix, and a month later, he joined the team again for the 2021 Formula 2 Championship.
At the 2021 Monaco Formula Round 2, Pourchaire took his maiden and only F2 pole of the year, breaking the record for the youngest F2 polesitter.  Similarly, he became the youngest driver ever to win an F2/GP2 race, a record previously held by British-Belgian racing driver Lando Norris. The victory helped Theo move into third place in the championship.
At the 2021 Baku Formula 2 Round, Pourchaire was involved in an accident at the start. During the feature race, he broke and fractured his wrist on his left arm in a first-lap collision with Marcus Armstrong and Dan Ticktum.
Pourchaire won his second F2 race of the year, winning the opening race at the 2021 Monza Formula 2 Round. During the season, Pourchaire accomplished a total of one pole position, two wins, and three podiums.
Net Worth and Personal Life
The world of motorsport is highly competitive, and the path to Formula 1 can be challenging and exhausting. However, the journey is surely exciting, and the reward is surely lucrative. Now, a question may arise: How much is Theo Pourchaire's net worth? As he is regarded as a rising motorsports racer, people are always curious to know about his earnings.
Although Pourchaire's career is on an upward trajectory, the salaries of Formula 2 drivers vary depending on several factors, including their experience, performance, and the teams they race for.
As Theo races for ART Grand Prix, he receives an estimated salary that ranges somewhere between $65,000-$75,000. Meanwhile, some drivers may earn a full-time salary, and others may receive payment on a race-by-race basis.
From his championships, Pourchaire attracted some of the biggest partners and companies. A few of his sponsors include FFSA Academy, Arai, Simu Morion, Julie, Netto, Roady Centre Auto, Intermarche, Nice-Matin, American Car Wash, Brico Marche, and Poivre Rouge Restaurant.
Now, enough talking about his wealth, as Theo Pourchaire still has a lot of time to build his fortune. Let us shed light on his personal life, as people are also curious to know about his relationship status.
The French native Theo Pourchaire's girlfriend is a topic whose particulars are far behind the track. In an interview with Motorsport.com, Theo revealed that his dream is to be a Formula 1 driver and Formula 1 world champion. As he is completely focused on his professional career, Pourchaire prefers to stay single as of now.
In the same interview, Theo said that even if he won the championship, he wouldn't be in Formula 1 in 2023. Some reasons might be his average performance and his young age, so the Grand Prix driver is working on himself to become the top echelon of motorsport.
Similarly, you might want to read about British Racer Olli Caldwell's Net Worth.
2022 Vice Champion: Demonstrating His Readiness For Formula One
For the 2022 season, Pourchaire stayed with ART Grand Prix, and despite facing problems in the sprint race, Purchaire's fortune would eventually be reversed in the feature race. The second round at the 2022 Jeddah FIA Formula 2 round went horribly for him as Theo suffered a crash in practice, and an engine failure in qualifying led him to qualify 21st.
At the 2022 Monaco FIA Formula 2 Round, Theo qualified second, and in the 2022 Silverstone FIA Formula 2 round, he qualified fourth. Meanwhile, in the championship, he held on to second, scoring three wins and seven podiums.
Theo remained with ART Grand Prix for a third consecutive season in 2023. During the first round in Bahrain, he qualified on the pole for the second time. In the 2023 Jeddah FIA Formula 2 round, he was given a grid penalty after missing the braking point and colliding with Oliver Bearman.
Currently, a member of Sauber Academy, Theo Pourchaire serves as a test and reserve driver for Alfa Romeo Racing. For the 2022 season, he moved into a testing role with Alfa Romeo F1 Team and made his FP1 debut at the 2022 U.S. Grand Prix.
Looking back at his decade-long journey from karting to Formula 2, Theo has come a long way and still has a lot of roads to cover. In conclusion, Theo Pourchaire biography is a story of talent, determination, and rapid rise in the world of motorsport. Fans can eagerly anticipate the day when Pourchaire joins the elite ranks of Formula 1, representing France on the global stage and competing against the best drivers in the world.
References
Did you notice an error ?
Please help us make corrections by submitting a suggestion. Your help is greatly appreciated!