Celebrities
Sisi Stringer Biography: Straight Out of Drama School To Mortal Kombat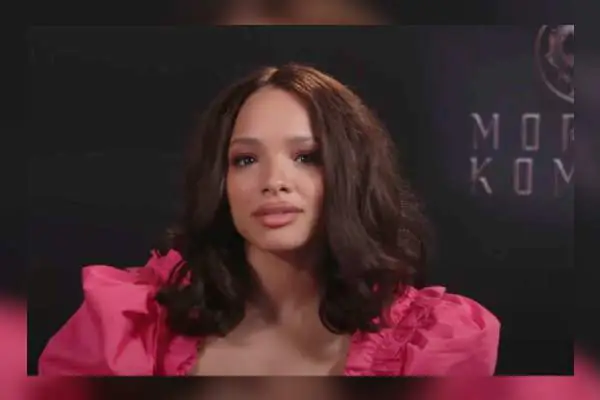 Sisi Stringer Biography. Image Credit: Social Media.
Full Name

Sisi Stringer

Age

26 yrs

Birth Date

January 10, 1997

Country

Australia

Relationship Status

Not Confirmed

Nationality

Australian

Profession

Actress

Height

5 feet 1 inch
In the fast-paced and competitive acting industry, winning the viewer's attention is equal to finding a pool of fortune. Sisi Stringer, an Australian actress, despite a few credits to her name, has been making raves among the audiences.
Best known for appearing as Mileena in the 2021 movie Mortal Kombat, Stringer's ability to take on a diverse array of characters on screen impresses everyone. So today, we will shed light on more interesting facts through this article, Sisi Stringer biography, exploring her early years and discussing her breakthrough moments.
Apart from a few roles, Sisi is also known for appearing as Rosemarie Hathaway in the 2022 horror TV series Vampire Academy. In a short period of time, the actress has been able to build a portion of her fan base in the world of entertainment with her charm, exceptional talent, and dedication to her craft.
Early Life
Sisi Stringer was born on January 10, 1997, in New South Wales, Australia, to parents whose influence and guidance played a significant role in shaping her career aspirations. Although she hasn't revealed anything about her family background, Stringer grew up with a sister in the suburbs of an Australian city.
Growing up, Sisi was also infatuated with the world of glamour and fame. Initially, she started dancing at an early age but later developed a deep interest in acting. After completing school, Stringer attended Dance Dance Dynamics Musical Theater and studied dancing, acting, and film production. Moreover, she started her career shortly after graduation.
ALSO READ: Nicole Fortuin Biography: Know The Actress, Dancer, and Theatre Maven
Movies and TV Shows
Stringer began her career as an assistant director for the short film Matt Gaffney Must Die in 2018. But she debuted in the film industry in the 2020 movie Bloody Hell in an uncredited role. The same year, she appeared in the role of Tanika in the movie Children of the Corn.
In 2022, Stringer portrayed the character of Grace in the adventure film Carnifex alongside Darren Gilshenan, Harry Greenwood, and Alexandra Park.  In 2023, she will star with popular actors such as Eric Bana and Anna Torv in the upcoming Australian mystery thriller film Force of Nature: The Dry 2, which is a sequel to the 2020 movie The Dry.
Besides acting, Sisi is a talented dancer and martial artist with a bright future ahead of her. A promising future in the world of entertainment, the Brisbane-bred actress has carved out her unique path, performing in both film and television.
Similarly, you might want to read about South African theater, TV, and film actor Sven Ruygrok's Biography.
Flawless Victory With Mortal Kombat Led Her To Vampire Academy
Sisi Stringer's career breakthrough came in 2021 when she got the opportunity to act in the reboot of the cult classic video game franchise Mortal Kombat. Fans lauded her performance as Mileena, a deadly fighter and the adopted daughter of Shao Khan, the Emperor of Outworld. She wasn't particularly interested in the role, but once she was in Adelaide for a screen test and costume fitting, Sisi was drawn to Mileena.
In an interview with the Student Edge YouTube channel, Stringer revealed that to play Mileena, she did a lot of research as the video game still has such a devoted fan base. Likewise, she went into the audition, performed her own stunts, and watched people play the game.
Stringer's performance in MK displayed her versatility as an actress, as she seamlessly transitioned between intense action sequences and emotionally charged moments. Meanwhile, her dedication to the role, rigorous training, and commitment to authenticity all contributed to her successful portrayal of Mileena.
After MK, Stringer got the opportunity to appear in the 2022 Peacock TV series Vampire Academy alongside Kieron Moore, Daniela Nieves, Jonetta Kaiser, and others. The show was based on Richelle Mead's novel series of the same name, which is one of the most beloved pieces of work in fiction. To star in Vampire Academy was a dream come true moment for Stringer. Well, as a teenager, she and her sister had read all vampire books. In the show, Sisi portrayed the character of Rose Hathaway, a vampire-human hybrid, and took praise for her work.
Low-Key Personal Life
Following the release of Mortal Kombat, Stringer somewhat became a familiar name in Australia and in the international market. While the Carnifex actress has already become a public figure in the entertainment world, she prefers to keep her personal life relatively private. Therefore, information regarding Sisi Stringer's boyfriend is difficult to find. Although rumors that Sisi was dating Daniel Gabriel were circulating on the internet, these rumors were baseless.
From a young girl with dreams of the silver screen to becoming an emerging star in Hollywood, Sisi has come a long way. She still has yet to deliver a blockbuster, but her talent and dedication are a testament to the fact that the future is bright for Stringer.
In the end, Sisi Stringer biography is a tale of an actress who managed to mark her name in the entertainment industry. Meanwhile, fans eagerly anticipate her upcoming projects and performances on the big screen.
References
Did you notice an error ?
Please help us make corrections by submitting a suggestion. Your help is greatly appreciated!