Net Worth
Unveiling Chris Lamica Net Worth: How Rewarding Has Been His Acting Career?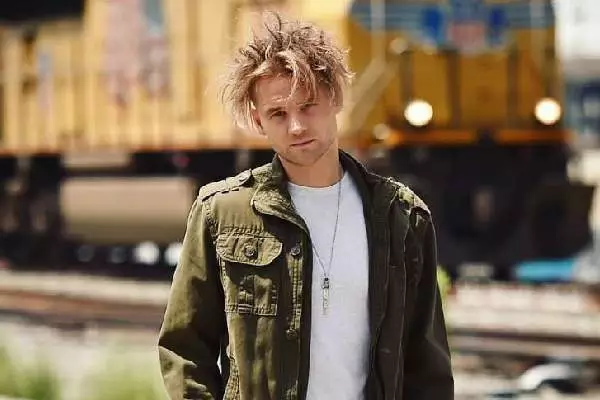 Chris Lamica Net Worth. Image Source: Instagram
Success requires both dedication and patience because when the right time comes, it will totally be worth the wait. Looking at the actor Chris Lamica net worth, it seems his longtime acting career has been finally paying off despite all those years of obstacles and uncertainty.
From a basketball player to a silver and big screen actor, the Pam & Tommy actor has weaved dreams from the threads of his struggles backed by his passion. So stick with us and relax a bit. Today we are revealing the actor's fortune. Be prepared to learn Chris Lamica's earnings from his rewarding acting profession.
Chris Lamica Early Life: A Superstar Basketball Player
The handsome actor, Chris Lamica, grew up in the beautiful small town of Averill Park, New York.
From an early age, he was interested in sports and played football and basketball at Averill Park High School.
In 2004 Lamica attended SUNY Potsdam, New York, but a year later transferred to Johnson State College in Vermont. From 2005-2008, Chris became a member of Johnson Athletics Badgers.
A notable member of the men's basketball program, Lamica received his B.A. in Elementary Education with a minor in Psychology. There he received his Elementary teaching license (k-6) through their program.
Like most athletes, Chris was dreaming of becoming a professional sportsperson. Unfortunately, an injury forced him to leave sports, and later he pursued a teaching career before shifting to acting.
Sports and Education Helped Him Become a Better Actor?
During college, Lamica was a lead player for the Harlem Globetrotters type of exhibition team. For the information, Globetrotters are a basketball team that combines athleticism, theater, and comedy in their style of play. As a Johnson State's standout player, Lamica unintentionally developed artistic skills by doing countless hours of tricks and ball spins in the Carter gymnasium of Johnson College.
Further, Lamica has stated that without that experience, he couldn't have toured the country, entertaining thousands, nor could he have gone on to be an American Basketball Association All-Star. Do you know he also met his future wife at college? Stick with us to know more.
Chris has had the pleasure of utilizing his basketball skills in a handful of national commercials for popular brands. He says that when filming shows like NCIS: Los Angeles, The Rookie, Lucifer, SWAT, etc., he always brings his passion for entertaining and inspiring others, which can be directly linked to his degree in Elementary Education. Moreover, he believes there are a lot of transferable skills from teaching to acting, though teaching is way harder.
Chris' took his unique basketball style to such professional organizations, and his talents were also displayed in the Finish Line Shoes So Fresh national commercial campaign featuring the late rap icon Mac Miller.
After an injury, Lamica with his wife returned to Vermont and became teachers. Some people cope with their grief with music, some with food, and some with traveling. However, Chris copes with the loss of his dream with movies. He felt just how powerful the medium of film and storytelling could be. Unknowingly, the sportsperson turned teacher was now dreaming of becoming an actor.
ALSO READ: Game of Thrones and Star Wars actress, Gwendoline Christie's Net Worth.
Tv and Movie Career: Forced Decision or Wise Conclusion?
A series of events happened when Chris was teaching at high schools. More people often came to him, mistaking him for either a model or an actor. One day when a guy offered him a short project, Lamica decided to take the job and auditioned. The director later called and asked him to appear in his film. That led to a few other experiences filming, and at that time, it became a passion and obsession for Lamica to act.
Luckily, Chris found renowned acting coach Richard Waterhouse, who gained a level of prestige training film actors in Los Angeles. After a few weeks, Chris started his formal acting training. Within a few months, he got an opportunity to star in a film with Chevy Chase, as well as performers from Game of Thrones, Harry Potter, etc.
After his first project, Chris met with a few talent agents. He gathered the most talented cinematographer, editors, performers, and filmmakers he knew. Then he wrote an entire season of an original series called "Twenties: The Series." Chris and his team were able to sell it and get it on platforms like Amazon Prime. Across all streaming platforms, the series has gained staggering views. Lamica's dedication eventually paid off as he got into bigger audition rooms.
At present, Chris has been in many films and television shows, such as The Rookie, SWAT, Lucifer, and so on. One of his most notable works is a recurring role on NCIS: Los Angeles as Navy Seal Petty Officer Michael Cole. In the show, he appears alongside icons such as LL Cool J and Chris O'Donnell.
Chris Lamica Personal Life: Longtime Wife
Chris Lamica's wife, Jenna Lewis Lamica, graduated with Bachelor's in elementary education from Johnson State College. They first met while in college, studying Elementary education together. The couple has been together since the mid-2000s. Like Chris, Jenna was also a prominent women's basketball player. In 2021, she was inducted into the Johnson Athletics Hall of Fame.
During her college basketball career, Jenna earned NAC honors as a first-team All-Conference selection (2007-2008), All-Conference Honorable Mention (2008-2009), and All-Academic Team (2007-08, 2008-09).
Jenna was a member of the Student-Athlete Advisory Committee, a residential hall advisor, and a summer camp counselor for basketball. Chris Lamica's spouse was proposed by the actor in Carter Gymnasium, on the exact spot they first met. Unfortunately, there is not enough information about Lamica's personal life.
Chris Lamica Net Worth: A Fortune Worth of Desiring
The Screen Actors Guild's associated actor, Chris Lamica net worth is estimated at around $800,000 as of 2023. Actors can earn a lot of money, depending on their level of experience, the popularity of the project they are working on, and their negotiating skills. Nevertheless, Chris Lamica's earnings show a desirable number on the charts.  
Some of the highest-paid actors in the world earn millions of dollars per movie or TV show. For example, Dwayne Johnson is one of the highest-earning actors and reportedly charges around $20 million for a movie. Similarly, other factors that can affect an actor's earnings include the years they have worked in the industry, the type of roles they typically play, and their star power.
The average salary for a television actor in the U.S is $50,739 per year. However, salaries can range from $20,000-$200,000, depending on the actor's experience, level of fame, and the show they are on. Do you know actors in popular shows like Friends, The Big Bang Theory, and Game of Thrones earned millions of dollars per season?
As of now, Chris is represented by Caviar Entertainment Corp. (CA) and Stars Talent Studio (UT). Likewise, in the commercial division, he is represented by Aqua Agency, while in the theatrical division, Courtney Peldon, head of the theatrical division, represents him.
Talking about his acting, Chris appeared in a minor role in the 2013 drama movie Before I Sleep, starring David Warner and Bonnie Wright. Further, he appeared alongside actors David Keith, Tera Patrick, and Scott Evans in the 2017 Apple Tv+ movie Madhouse Mecca. For a season, Lamica appeared alongside Nathan Fillion and Toks Olagundoye in the 2018 crime series, The Rookie.
View this post on Instagram
As a director, Chris Lamica directed, wrote, and starred in the 2021 movie, Everything You Are. For his work in The Tempest, Chris Lamica received a "Best Actor" award from the AMAWNYC Film Festival.
Encourage everyone to find their passion and relentlessly pursue it. Understanding that if the mountain is high and difficult, you just keep putting one foot in front of the other, and eventually, you will get to the top. Just have to keep making purposeful progress every day.
References
Did you notice an error ?
Please help us make corrections by submitting a suggestion. Your help is greatly appreciated!