Net Worth
Find Out Deryck Whibley Net Worth: A Look Into His Finances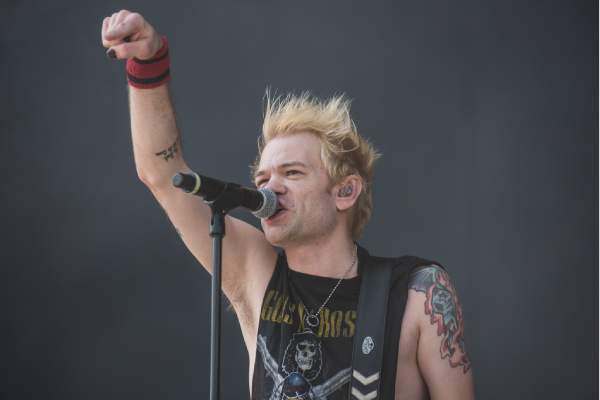 Deryck Whibley Net Worth. Image Credit: Wikimedia Commons.
Following the news of the disbanding of the Canadian rock band Sum41, fans are going through a mix of emotions. They are sad and worried at the same time because Sum41 entertained global audiences with their raw energy and unapologetic attitude. Meanwhile, people are roaring to find out Deryck Whibley net worth as he founded the band back in 1996.
One of the global icons of Punk rock music, Deryck Whibley, an internationally renowned Canadian musician, stands as a rebellious hero of the brave spirit. Deryck is much more than just an accomplished singer and songwriter. As the frontman of the rock group Sum41, Whibley managed to build a generous fortune.
In this article, we will dive deep down into the riches of Deryck Whibley, who is best known as the lead vocalist, guitarist, and primary songwriter for Sum41. Besides, he has also been involved in various musical projects and ventures throughout his career.
Deryck Whibley: An Angel Who Embraced His Demons
They say the demons we fight are the demons we become. Deryck Whibley, a man who nearly lost his life due to excessive drinking, turned his life completely upside down. He managed to make the most after experiencing a near-death situation. Here's a brief overview of the singer.
Born on March 21, 1980, in Scarborough, Canada, Deryck Jason Whibley grew up in a single household family.
Whibley was raised by a single teenage mother, Michelle Gordon. His father left him before he was born, so Deryck uses his lyrics to cope with the absence of his father throughout his life.
From a young age, Whibley was interested in punk rock music. However, his first band, The Powerful Young Hustlerz, was a hip-hop band that covered Beastie Boys songs.
Battling with substance abuse and the pressures of fame, Deryck eventually hit rock bottom. On one occasion, he drank so much that during one night, Deryck collapsed to the ground unconscious. Hadn't it been his then-fiance, he wouldn't have made it.
Deryck Whibley Net Worth: A Lavish Lifestyle Maniac Turned Sober
During his musical career, Whibley was prone to using substances, and his drinking got uncontrollable. Every night and after every show, he used to party hard with his friends and partner. After years of drinking and nearly losing his life, Deryck chose the right path. Deryck Whibley then married his second wife, Ariana Cooper, and with their future ahead, the couple embraced a sober lifestyle.
Deryck Whibley's primary source of income has been his music career. He co-founded Sum41 in 1996, and the band gained international fame with their debut album "All Killer No Filler" in 2001. Sum41's albums, including "Does This Look Infected?" (2002), "Chuck" (2004), and "Underclass Hero" (2007), sold millions of copies worldwide, contributing significantly to his earnings. The band continued to release successful albums and tour extensively, which generated substantial income from record sales, merchandise, and concert ticket sales.
ALSO READ: A Detailed Look Into Apolo Ohno Net Worth: How Rich is He?
Frontman of Sum41: A Global Punk Rock Icon
Deryck Whibley net worth is estimated at $6 million. Likewise, Sum41 has sold over 15 million albums worldwide and has released seven studio albums since 2001. As the primary songwriter for Sum41, Deryck Whibley earned royalties from the band's music. This includes earnings from album sales, streaming platforms, and licensing their music for movies, commercials, and video games. Meanwhile, looking at the band's official website, Sum41's every tour is sold out.
Deryck Whibley also pursued solo projects, including his 2014 solo album "Screaming Bloody Murder." While his solo career may not have been as commercially successful as Sum41, it still added to his overall income. Like many musicians, Whibley likely earned income from endorsements and sponsorships with brands related to music and fashion.
Real Estate Portfolios: Buying and Selling of Luxurious Condos
It's common for successful musicians to diversify their income through investments and business ventures. Deryck Whibley has invested in real estate or other businesses to grow his wealth further. In March 2017, Whibley sold his Sherman Oaks digs for $2.05 million, following the release of the band's first album in five years.
In conclusion, after 27 years of entertaining global audiences, Deryck Whibley net worth and his legacy stand as one of the most influential figures in punk rock. Furthermore, the singer's story is about the enduring musical legacy that evolved and adapted while staying true to his punk roots.
Did you notice an error ?
Please help us make corrections by submitting a suggestion. Your help is greatly appreciated!